Cole Sprouse Facts
7 Facts About Riverdale's Sexy Outcast, Cole Sprouse
If you're a fan of the film Big Daddy or the TV show Friends, then you probably know the adorable face of Cole Sprouse. The actor and his twin brother, Dylan, played the role of Ross's son Ben on the hit show and the adorable Julian in the Adam Sandler flick. The brothers, who started acting at just 8 months old, have crazy-long résumés, including starring in their own Disney Channel show, The Suite Life of Zack and Cody, from 2005 until 2008. The two are now 24, and Cole stars as lovable outcast Jughead Jones on Riverdale. Long story short: he grew up, and we noticed.
While my intense new crush on Cole has ignited feelings of confusion (seriously, he's little Ben from Friends!), Riverdale has made me see him in a whole new light, and to be honest, he's really f*cking sexy. Just like it is with any new celebrity crush, I want to know more about Cole, and it turns out that his life is pretty interesting. From graduating from NYU to his bromance with costar KJ Apa, keep reading for some fun facts about the not-so-little-anymore Cole Sprouse.
He wasn't born in America. Cole was actually born in Arezzo, Italy, on Aug. 4, 1992. His parents were teaching English there, but the family moved back to America when Cole and Dylan were 4 months old.
He didn't choose to start acting. During a Tumblr audio post, Cole revealed that he probably wouldn't be famous right now if it were up to him, saying, "My brother [Dylan] and I were put into acting when we were 8 months old by our mother because we needed the money. I never made the decision to join the arts, or acting specifically. It was never my passion. To be honest, if she never thrust me into it, I probably never would have thought of it as a career choice for myself."
He had a massive crush on Jennifer Aniston during Friends. Cole, who shared the role of Ben Geller with his brother, told the New York Post that the actress made him flustered during their scenes together. "I had a really, really hard time working with Aniston because I was so in love with her," he said. "I was infatuated. I was speechless — I'd get all bubbly and forget my lines and completely blank . . . It was so difficult.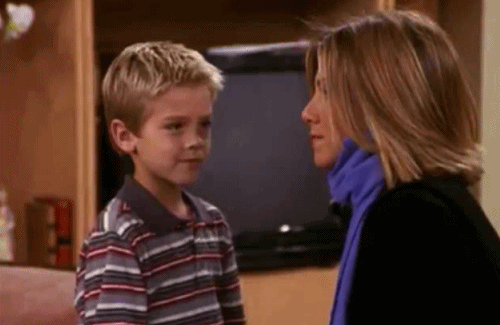 Image Source: NBC
He went to college. Cole graduated from New York University's Gallatin School of Individualized Study in 2015 after studying archaeology. On his decision to leave Hollywood for a more normal life, Cole told Teen Vogue, "Dylan and I made the conscious decision to distance ourselves from the industry quite a bit. Right after [The Suite Life of Zack and Cody] ended, we were being hounded. So we really wanted to step out and fade away from the industry." Another fun fact: they received each other's diplomas at graduation because they figured "no one's going to notice."
He's into photography. In addition to being a talented actor, Cole is also an insanely gifted photographer. He frequently posts photos of his work on his Instagram, including shots he takes of his Riverdale costars.
He had a college girlfriend. Cole dated Bree Morgan after meeting at NYU in 2013. She posted a few photos of them together on social media during their romance, but they reportedly split sometime in 2014.
He has a hilarious outlook on fame. When it comes to being a celebrity, Cole admits that he doesn't really care about all the hype. "Dylan and I really like to have fun with our image in the industry," he told Teen Vogue, with Dylan adding, "Both of our IMDb pages have like black and white photos from when we were maybe 13. So we're trying to keep that going."