Are Justin Timberlake and Ryan Gosling Still Friends?
Here's the Status of Justin Timberlake and Ryan Gosling's Childhood Friendship
Image Source: Getty / Kevin Winter
Justin Timberlake opened the Oscars with a high-energy performance of "Can't Stop the Feeling," but one of the most memorable parts of his act had to be when he had a mini-reunion with his former Mickey Mouse Club costar, Ryan Gosling. Not only did the two appear in multiple skits together on the '90s show, but they were briefly roommates when Ryan's mother had to return to Canada during their stint on the show. While the duo looked quite chatty during a commercial break, things seemed a little tense when Justin shimmied his way past the La La Land actor. So, was Ryan's resistance to dance along all an act for the cameras, or do the two secretly have some unresolved childhood beef?
Well, the answer is complicated. Even though the two aren't enemies, they aren't exactly best pals either. Shortly before their run-in at the show, Justin "nonchalantly" confirmed to The Hollywood Reporter that he wasn't the closest of friends with Ryan anymore. Of course, the Oscars wasn't their only reunion in recent years. In December 2015, the two made all of our childhood dreams come true when they caught up during a Saturday Night Live afterparty in NYC. While they're not as tight as they used to be, there still seems to be a lot of respect between the former costars. Still, we can't help but wonder what a playdate with their little kids would look like. Mickey Mouse Club 2.0?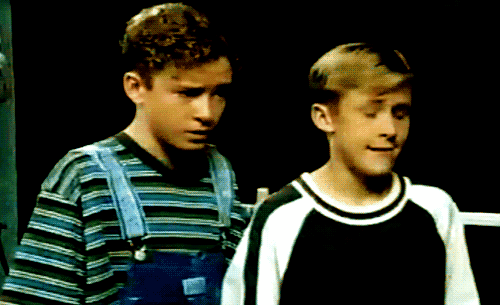 Image Source: Disney