Prince Harry's Net Worth in 2020
Prince Harry's Net Worth Is Impressive, but It Might Not Be as Much as You'd Expect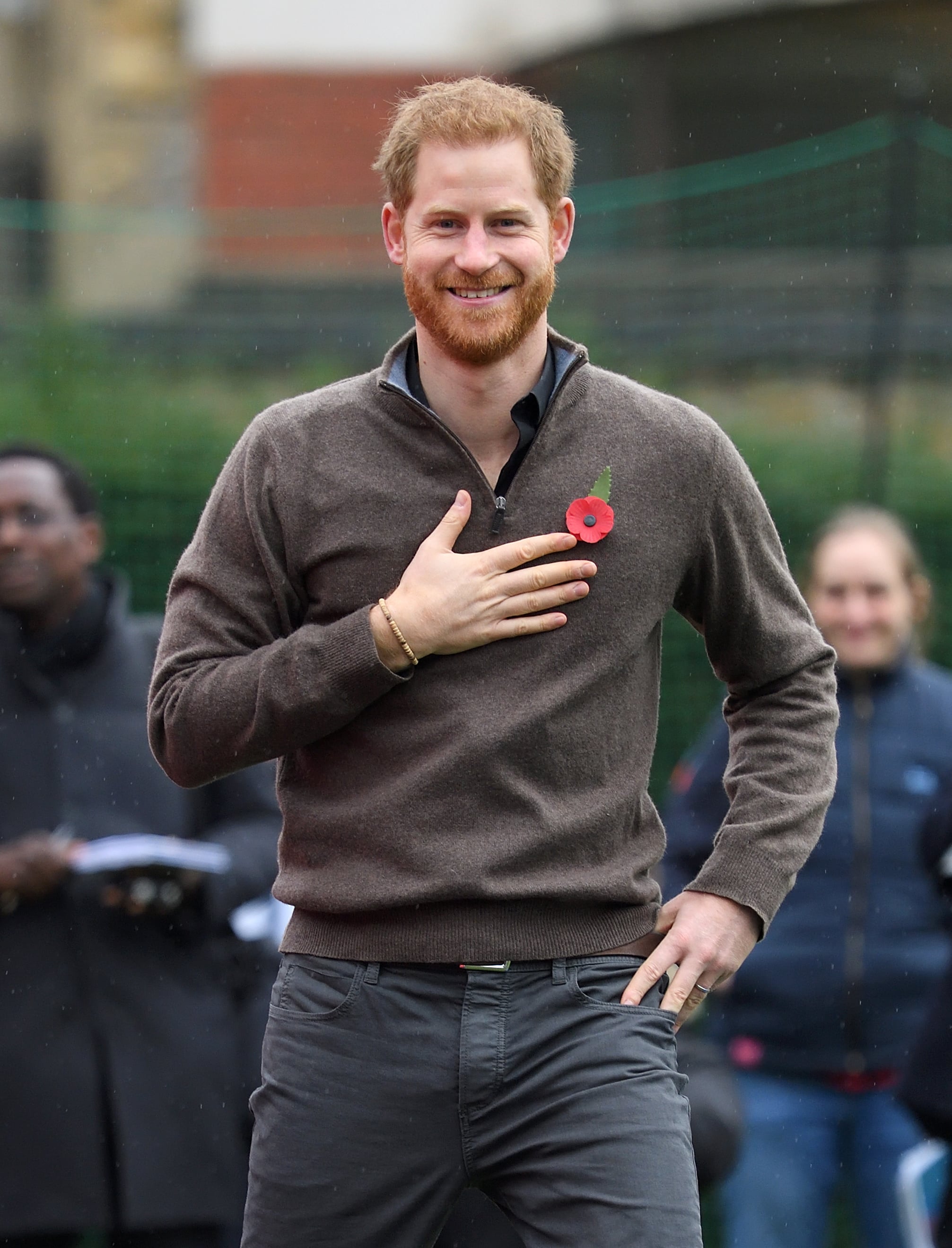 You might expect that Prince Harry's net worth would be astronomical, given that he's a high-profile member of the British royal family and the son of a future king. In reality, though, everyone's favorite red-haired prince is actually worth quite a bit less than some nonroyal celebs. It all comes down to salaries and inheritance, so let's break it down.
According to Business Insider, Prince Harry is worth somewhere between $25 million and $40 million. Upon his 30th birthday, Harry received his inheritance from his late mother, Princess Diana, worth around $14 million. Forbes also reported that Diana's estate provided further income for her sons. Beginning when they each turned 21, both William and Harry began receiving dividends of around $450,000 annually from their mother's estate.
The same Forbes report also revealed that Prince Harry's actual salary, while he was in the military, was actually quite ordinary. His pay as a helicopter pilot for the Army Air Corps was in the neighborhood of $50,000 to $53,000 annually. Fortunately, Harry doesn't actually have to pay for a large portion of his expenses, at least those related to his official duties as a senior member of the royal family. Those are covered by the Duchy of Cornwall, aka the large portfolio of income belonging to his father, Prince Charles. The official financial report from the Prince of Wales's office for 2016-2017 included about $9 million in expenses to cover the official duties of Prince William, Prince Harry, and the Duchess of Cambridge.
Another portion of Princess Diana's estate belongs to Prince Harry, along with his brother William, but the public doesn't actually know how much it's worth. Diana's jewelry collection, which was pretty large by the time of her 1997 death, was also bequeathed to her sons. The values of those jewels isn't known, but we can safely assume that they're worth a lot!
Although Prince Harry's personal salary was pretty average, his total net worth is still quite a bit more than his wife, Meghan, who had a larger salary during her professional career but a lower overall net worth. Fortune reported that she made around $450,000 per year from her leading role on Suits. Town and Country also pointed out that she'd earned paychecks from roles in a few movies, as well as fashion collections with a Canadian store, Reitmans, and several sponsorships on her lifestyle/influencer Instagram. Ultimately, by the time she left her Hollywood career behind to become the Duchess of Sussex, Meghan had accumulated a net worth of around $5 million.
Of course, this is just a drop in the bucket in comparison to the royal family's overall net worth. As of 2017, Forbes reported that the British royals are worth a combined $88 billion — yes, billion. However, it's important to note that "only" $33 billion of that is calculated from their physical properties, many of which, including a swath of palaces, jewels, and artwork, are not theirs to sell but rather belong to the country. The other $55 billion in valuation comes from their "brand" — that is, how they add value to tourism, business, fashion, publicity, and more. In tourism alone, it's estimated that the royal impact brings in £550 million per year, while their cost to British taxpayers is £292 million annually.
Meghan and Harry made an announcement in early 2020 that they would be stepping back as senior royals and splitting their time between the UK and North America and focusing on their son, Archie, and their charitable entity. We'll have to wait and see how this decision affects their overall net worth as a family.