Reactions to Kanye West and Drake's Twitter Feud 2018
20 People Who Think Kanye and Drake's Feud Looks a Little One-Sided Right Now
In case you missed it, Kanye West is very upset with Drake right now. We've been on a social media roller coaster with Kanye this week. There have been claims that Drake threatened the West family, claims that Kanye did not tell Pusha T about Drake's not-so-secret baby, and claims that Kanye hated Drake and Travis Scott's "Sicko Mode," which he later retracted. It's gotten so out of hand that even Kim Kardashian has stepped in, urging Drake not to mess with her or her husband, whom she added is "the most genius person."
Keep in mind that Drake has yet to even respond to Kanye's claims aside from few cry-laughing emoji on his Instagram Story, which has left the argument looking a little one-sided so far. Basically, gentlemen, we're tired: the year is almost over, and we're just trying to make it through to the end. All we can do is hope Drizzy and Ye can channel some of Ariana Grande and Miley Cyrus's energy and just move on. There are more important things happening in the world, and to quote the famous philosopher Kourtney Kardashian: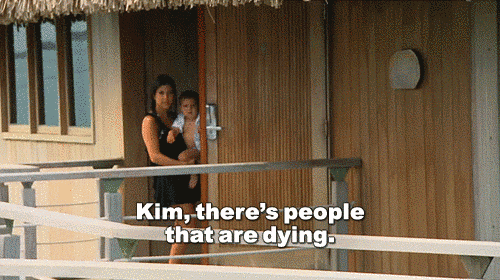 Read on to see reactions from more people who wish this wasn't happening.