Sterling K Brown Press Room Interview at the SAG Awards 2018
Sterling K. Brown Confirms That the Cast of This Is Us Really Is "Like a Family"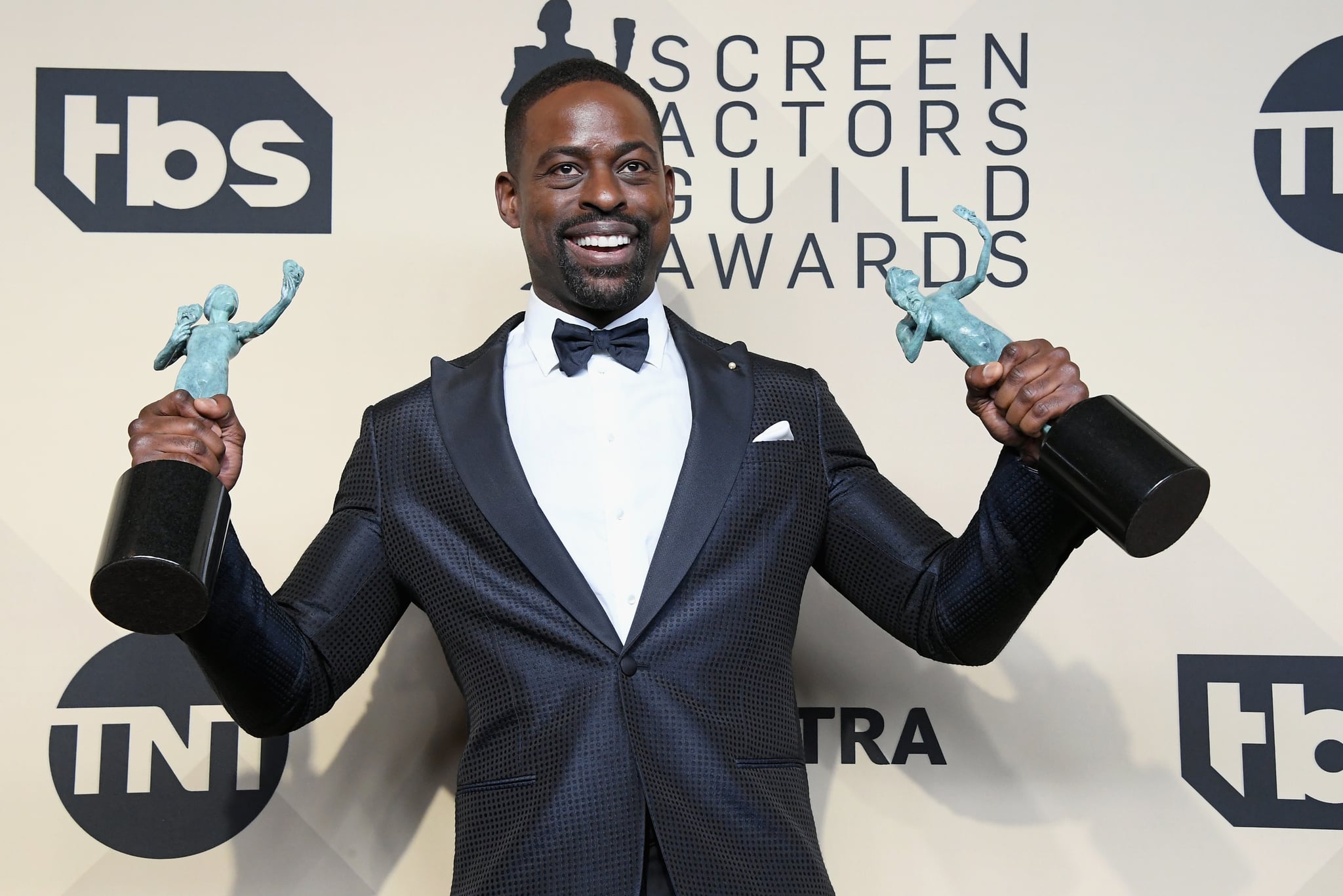 Sunday night's SAG Awards marked a sweet victory for NBC's resident tear-jerker This Is Us. If you watched the ceremony, you'll remember Sterling K. Brown's emotional acceptance speech for best actor in a TV drama, plus the cast's general excitement while accepting the award for ensemble in a drama series. But the love fest didn't stop there: once Sterling got backstage, he continued to gush about his onscreen family.
I was in the press room on Sunday night when Sterling stepped in to talk about his historic win (he's the first black man to win for best male actor in a TV drama!). "This was awesome," he said, referring to both his win and the cast's ensemble win. "My cast has been so generous in celebrating me and this wonderful journey that I have been on. That tonight we get a chance to celebrate each other, we get a chance to celebrate together . . . this is the dream."
While he was on stage, Sterling also admitted that the cast did not expect to win. "We were all ready for them to say The Handmaid's Tale, and we were all waiting to politely and deservedly say, 'The Handmaid's Tale is dope.' But when they called our network TV drama, you know, none of these shows look like us! The fact that we get a chance to come, and we won?! This is a very special night, and I told my cast this is a 'top five' special night. In terms of these awards, it's nice to be able to do it with the family."
After a few minutes, the rest of the This Is Us cast joined Sterling on stage in the press room, and he continued to gush about how much the night meant. "To be up here with these people right now," he said, "the fact that we all get a chance to stand up here in front of you guys, in victory, this is a beautiful moment. Beautiful." When asked if everyone in the cast is really as close as they appear, he offered some final words before handing the mic over to his peers. "It is like a family," he responded with a smile. "It seems so cliché and it's like, 'Do they really love each other as much as it seems?' And the answer is yes. Like, joy is what I feel for my brother and sister, for my wife, for my mother and father. My mom, who's younger than me! My dad, who's younger than me, but it's like Mom and Dad!" It's so sweet to see this family finally getting the praise they deserve.