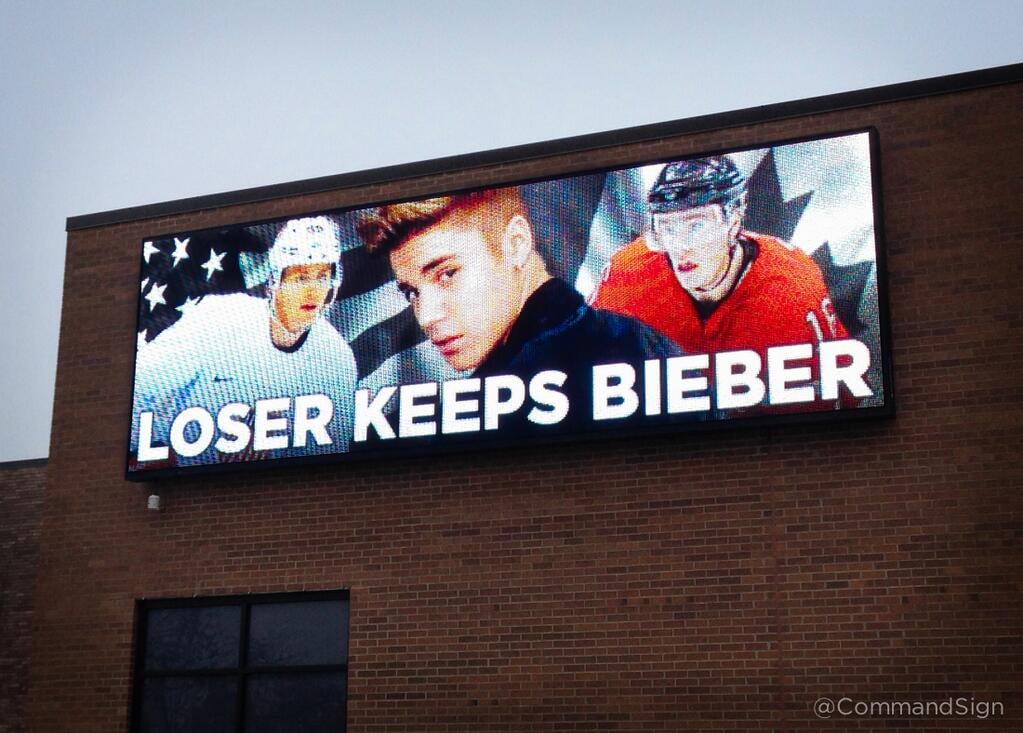 Source: Twitter user CommandSign
Friday's men's hockey semifinal prompted a lot of Team USA vs. Team Canada buzz — including a beer bet between the countries' leaders — and one Chicago billboard added new stakes: loser keeps Bieber. Following the Canadian singer's legal troubles last month, a petition to have Justin Bieber deported garnered more than 100,000 signatures, reaching the threshold that requires the White House to respond. Now #loserkeepsBieber has become a top Twitter trend thanks to Command Sign, a Chicago company that poked fun at the issue with its electronic billboard.
The first billboard featured Justin Bieber's face between two of the Chicago Blackhawks hockey team's top players, Canadian captain Jonathan Toews and American player Patrick Kane, who competed against each other in the Sochi semifinal. On Saturday, following Canada's victory, the company changed the Billboard to say "worst bet ever," with the American bald eagle wearing a "Belieber" chain. One of Command Sign's executives talked about the billboard and said the company made it to "just have fun," noting that it once also jokingly featured a Chicago Bulls player using a fire extinguisher against the Miami Heat's LeBron James.
Nothing is higher than the stakes of tomorrow's game. pic.twitter.com/usqJ9EPTpg

— Command Sign (@CommandSign) February 20, 2014
Hey Canada, best 2 out of 3… errr… best 3 out of 5? pic.twitter.com/n7tLp8qyu0

— Command Sign (@CommandSign) February 21, 2014