Adam Sandler Finally Got His Milkshake After Reuniting With IHOP Hostess From TikTok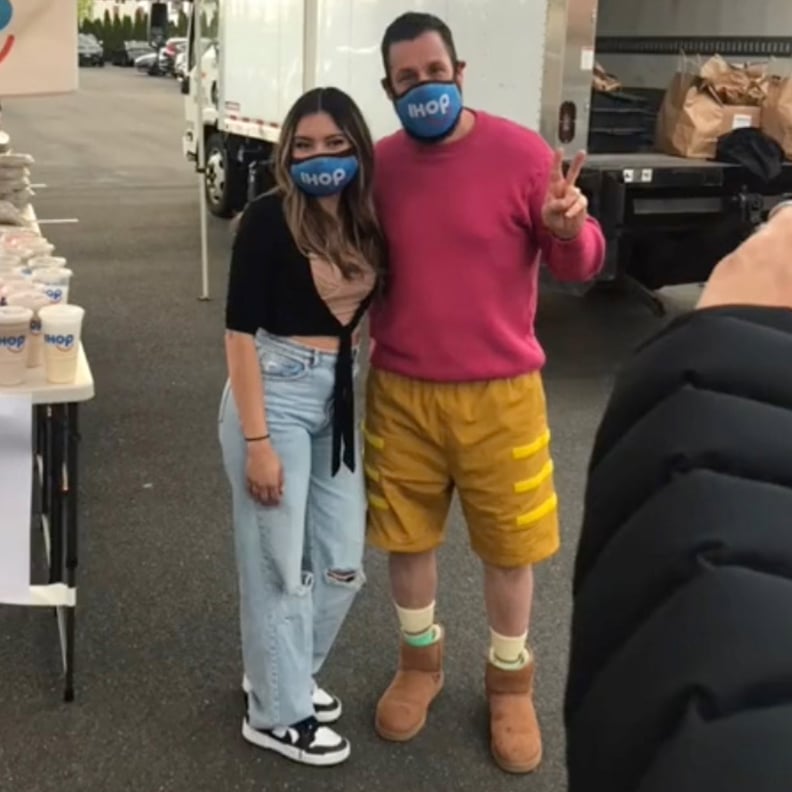 Some stars go viral for their latest film release or a new chart-topping album, but all Adam Sandler has to do is walk into his local IHOP and ask for a milkshake. "Not realizing its Adam Sandler and telling him its a 30min wait and him ofc leaving bc hes not going to wait 30mins for IHOP [sic]," IHOP hostess Dayanna Rodas captioned the now-viral TikTok video of Adam waiting for a table at the restaurant with his daughters. "Pleaseee come back."
With over 11.4 million views, the video had viewers wondering how Dayanna didn't recognize the award-winning actor. "Everyone's asking how I didn't recognize him, because he had a big beard," she said. "I've never seen Adam Sandler with a beard, and the mask didn't help." A few days later, Adam clarified that he wasn't turned away but that he left in search of a milkshake. "For the record, I only left the IHOP because the nice woman told me the all-you-can-eat deal didn't apply to the milkshakes," he wrote in a tweet on May 3.
To celebrate the viral moment, IHOP recently hosted its first official Milkshake Monday promotion, offering all-you-can-drink milkshakes across all of its Long Island, NY, locations, and you bet Adam showed up. "Couldn't have been more excited!! Thank you Adam Sandler!" Dayanna captioned a video slideshow on TikTok after being reunited with the guest of honor, who showed up in a comfy pair of UGG boots. "Thank u IHOP for Milkshake Monday," Adam captioned his own Instagram post, which featured a picture of a bulldog under a sign that read "IHOP [hearts] Sandman."
For every milkshake purchased nationwide on Monday, the restaurant pledged to donate $1, up to $50,000, to Comedy Gives Back, a charity that's provided support and resources for comedians during the COVID-19 pandemic. So it looks like more good came out of the viral TikTok moment than we thought! Relive the thrilling Adam Sandler IHOP saga ahead.