Asante Blackk, Ethan Herisse, and Reed Shannon Host a Thought-Provoking Series About Race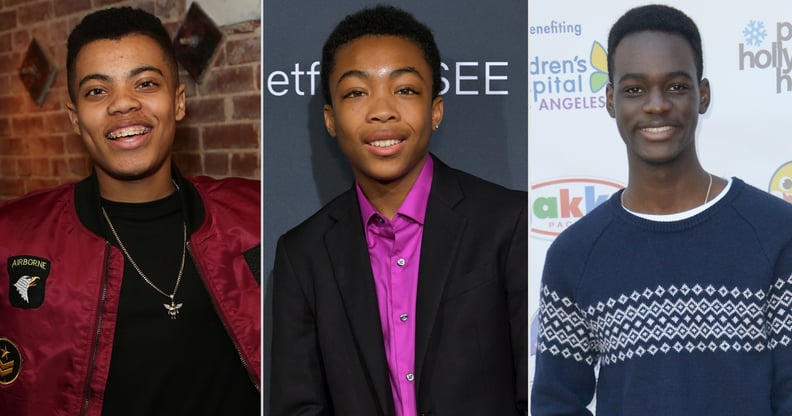 When They See Us costars Asante Blackk and Ethan Herisse have teamed up with actor Reed Shannon to host Speak Up Series, a show about race and social justice. The first installment, which dropped on June 12, featured conversations with Asante's This Is Us costar Niles Fitch, Little Fires Everywhere's Lexi Underwood, and Euphoria's Storm Reid. The young stars discussed a range of topics, including their experiences in the entertainment industry and the effects of Black Lives Matter protests.
Storm, who has continuously used her platform to support racial equality, opened up about her mission to take up space in the predominantly white Hollywood field. "We're born into a world where we're seen and we're deemed as nothing, but it truly has nothing to do with us," she said. "It has everything to do with them and how this world was built on oppressing us and making sure that we stay as low as possible. It's a systematic and cultural problem. I don't think it has anything to do with how we act or how we move through the world."
Asante, Ethan, and Reed also spoke to Niles, who highlighted the importance of mental health in the Black community. "I think therapy's beneficial," he said. "When you're dealing with, you know, whether it's death or any type of trauma, it's sometimes good to talk it out or hear other people that have gone through what you're going through talk about their journey, where they're at, their hurt, and so forth."
"In my eyes, Black women are like superheroes." — Lexi Underwood
The debut episode — which highlighted a GoFundMe dedicated to supporting Breonna Taylor's family — ended on a discussion with Lexi, who recently delivered a speech at a Black Lives Matter protest in Los Angeles. The actress talked about the importance of remembering the plights of Black women within the dialogue of race relations. "It's absolutely devastating the amount of erasure that Black women get even in the midst of tragedy and death," she said. "It goes back to, honestly, just slavery times where, you know, Black women have always kind of held these burdens on their back. We're always constantly kind of seen as the protectors and the providers and the ones that are supposed to be strong in the midst of these tragedies. But, in reality, there has to be a moment where sometimes you just have to let us breathe. . . . In my eyes, Black women are like superheroes."
Other stars who have appeared on Speak Up Series include David Dobrik, Joey King, Defending Jacob's Jaeden Martell, On My Block's Brett Gray, and Dora and the Lost City of Gold's Isabela Merced. Ahead, watch every episode released so far.
Watch Episode 1 of Asante Blackk, Ethan Herisse, and Reed Shannon's Speak Up Series
Watch Episode 2 of Asante Blackk, Ethan Herisse, and Reed Shannon's Speak Up Series
Watch Episode 3 of Asante Blackk, Ethan Herisse, and Reed Shannon's Speak Up Series
Watch Episode 4 of Asante Blackk, Ethan Herisse, and Reed Shannon's Speak Up Series