Ben Affleck Is Hilariously Mistaken For Matt Damon in His New Dunkin' Ad
Ben Affleck's love of Dunkin' coffee is no secret, and it continues to show through in his latest commercial for the brand released on April 3. Instead of featuring famous wife Jennifer Lopez like his hilarious Super Bowl ad, the follow-up features a small shoutout to his fellow Bostonian actor bestie, Matt Damon.
In the ad, Affleck arrives at a Dunkin' and informs the employees at the counter that he's there to film his Dunkin' run commercial, which he is taking very seriously. "I thought it would be authentic and meta. Yes, I'm doing the commercial, but am I doing the commercial? You know, I don't do commercials. I'm a real actor. This is an art form for me," he rambles to the employees. In a hilarious turn of events, however, they mistakenly think he starred in "The Departed," aka Damon's movie.
As the employees gush about Damon's work ("I love him... he's had a really consistent career, I think," one says), Affleck cringes, begrudgingly offering, "Some of his work [is good]."
Previously, on Feb. 12, Affleck's favorite coffee chain dropped their Super Bowl big-game ad the same day as the NFL championship, with the actor fully embracing his gig as an honorary employee working the drive-through, only for his day at Dunkin' to be cut short by Lopez.
They even released Affleck's comical outtakes. The bonus footage released by Dunkin' on the day of the 2023 Super Bowl, features Affleck's funny behind-the-counter antics, with him doing everything from messing with patrons' orders to surprising them at the window.
Fans got a glimpse of what would come in the Dunkin' commercial with paparazzi photos taken on Jan. 10, in which Affleck serves coffee to his wife through a drive-through window, all decked out in his Dunkin' employee uniform and signature hat.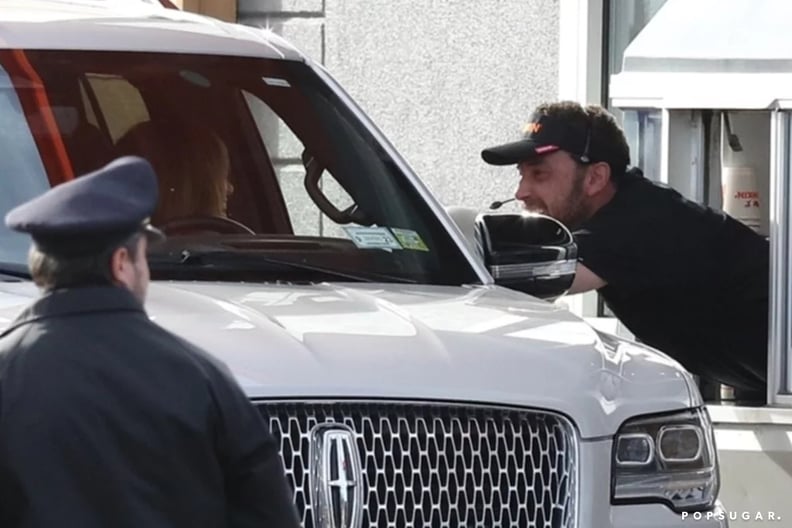 That same day, the Twitter account Film Updates shared a video of the couple in the store, along with a tweet saying the stunt was part of a Dunkin' commercial they were filming in Boston. In the video, Affleck thanks the people around him and says, "When I come back here, I don't want to be in 16th place," suggesting that he may not have a natural talent for serving coffee and doughnuts.
Affleck has long been open about his love for the chain. "I have Dunkin' Donuts [every day]," he told Collider in 2019. "It's very weird, I have it every day and people are always like, 'Where is that? Is that near here?' So, I feel like I'm spreading the word."
He also talked about his reason for filming his newest commercial in a recent interview with People, jokingly telling the outlet, "I think people already sort of think that I work for Dunkin'." The Massachusetts native added: "In Boston, it was such a big deal. I think I became kind of associated with it, and this sounded like a fun opportunity to kind of play with that association, and a chance to come back here to shoot it at home in Boston."
On the flip side, Lopez has been clear about her preference for Starbucks; she's even the proud owner of a Swarovski-crystal-covered Starbucks cup. But the couple seem to have found a way to compromise: in December 2022, Affleck was spotted strolling with Lopez outside of a Starbucks, frappuccino in hand, as shown in photos from Page Six.
Affleck and Lopez dated from 2002 and 2004, only to break off an engagement just before their wedding date. They got back together in 2021 and finally tied the knot in a small ceremony in July 2022, followed by a much larger celebration in Georgia that August.