Cardi B Shares an Adorable, Never-Before-Seen Photo From Her and Offset's Wedding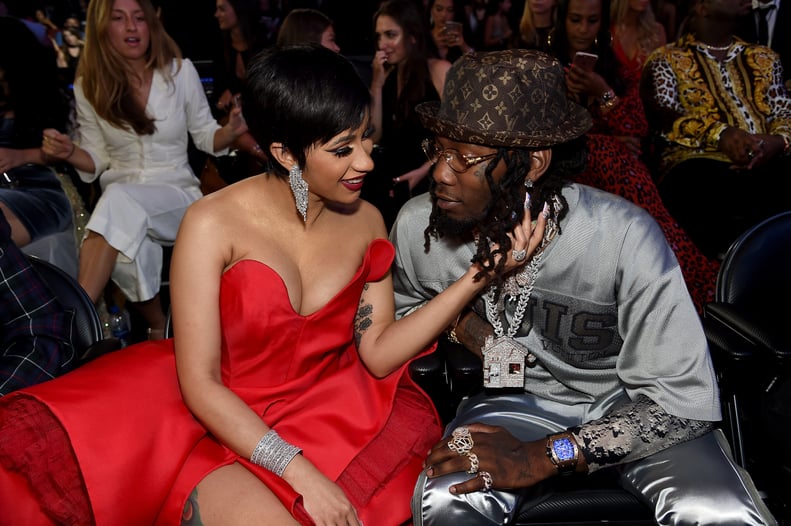 Cardi B and Offset are living a modern-day rap industry fairy tale, and now we finally have a glimpse into one of their most romantic days together: their wedding day.
The pair started dating last year, and by October, the "Be Careful" rapper began blinding us with her stunning engagement ring, which Offset gave to her during a surprise proposal at Power 99's Powerhouse concert in Philadelphia. What most fans didn't realize is that, at that point, the couple were already married! In September 2017, the pair had actually tied the knot in a low-key wedding ceremony. So low-key, in fact, that they were able to keep their marriage a secret until June!
"There are so many moments that I share with the world and there are moments that I want to keep for myself! Getting married was one of those moments!" Cardi later explained in a series of tweets. "Our relationship was so new breaking up and making up and we had a lot of growing to do but we was so in love we didn't want to lose each other . . . We found someone to marry us, and she did, just the two of us and my cousin. I said I do, with no dress, no makeup and no ring!"
While we still don't have an official photo of their 2-month-old baby girl, Kulture, Cardi — who recently got tangled up in an altercation with Nicki Minaj during New York Fashion Week — shared a never-before-seen snapshot from her and Offset's wedding day via Instagram on Sept. 20. The image features the 25-year-old musician wearing a white tracksuit with a gold stripe and holding hands with the Migos rapper, 26. The caption simply reads, "TBT . . . September 20th."
So sweet! Hopefully we'll get more glimpses of their no-frills wedding — and little baby Kulture! — on Instagram soon.