Celebrities and Politicians React to Texas Elementary-School Shooting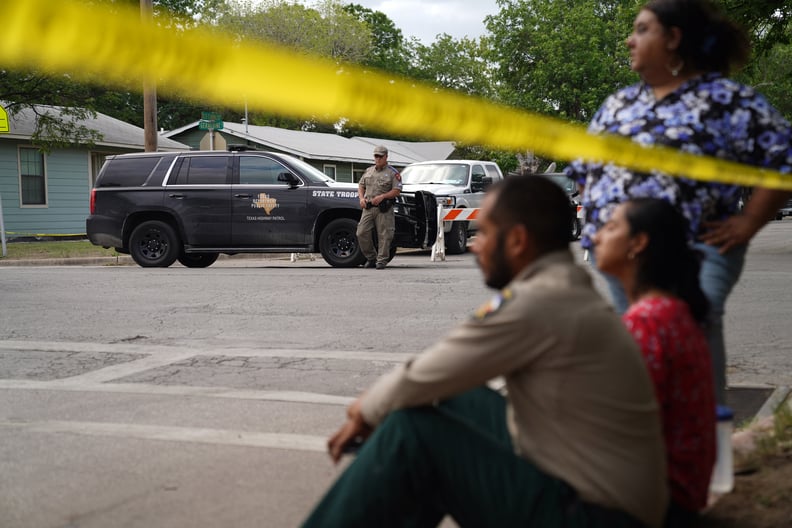 Getty | Allison Dinner
On May 25, 19 children and two teachers were killed in a mass shooting at Robb Elementary School in Uvalde, TX, officials confirmed. At least nine more children were reportedly injured.
Robb Elementary School teaches second through fourth grades, and students are generally between the ages of 7 and 10. Ninety percent of the students are Hispanic, and 81 percent are considered economically disadvantaged, according to state data. Texas Governor Greg Abbott said in a statement that the 18-year-old active shooter, Salvador Ramos, shot and killed "horrifically, incomprehensibly, 14 students and killed a teacher." The shooter is also suspected of shooting his grandmother. The shooter himself is deceased, and it is believed that responding officers killed him, Abbott said.
The tragedy marks the 27th shooting at a K-12 school since the start of 2022, meaning there has been a mass shooting roughly once every 5.3 days this year. It comes only a little over a week after 10 people were killed in a shooting in a supermarket in Buffalo, NY. One day later, one person died and five people were injured in a shooting in a church in California.
Celebrities, politicians, and public figures such as President Joe Biden, former president Barack Obama, and Golden State Warriors coach Steve Kerr have spoken out about the most recent of this string of senseless, entirely preventable tragedies. Read their statements ahead.
If you're looking for more information on how to get involved in the fight against gun violence, Everytown offers a wealth of resources. Newtown Action Alliance also offers resources and opportunities to get involved in the movement for gun control.
10
Steve Kerr
"I'm fed up. I've had enough. We're going to play the game tonight. But I want every person here, every person listening to this, to think about your own child or grandchild, mother or father, sister, brother. How would you feel if this happened to you today?" Steve Kerr, coach of the Golden State Warriors said. He went on to implore Congress to mandate background checks for gun purchases.
12
Stephen Colbert
"Let's pray this time our leaders show a modicum of courage in trying to prevent this from ever happening again," Stephen Colbert said. "But prayers won't end this. Voting might, so when you vote, ask yourself this question: who running for office has publicly stated that they are willing to do anything and everything in their power to protect your children from the criminally insane number of guns in America?"
14
James Corden
"As a father, I can't imagine the horror of that phone call," James Corden said. "When I dropped my kids off at school this morning and kissed them goodbye, it doesn't cross your mind that that could ever be the last goodbye. And the thought of that phone call, that your child is the victim in a mass shooting, is beyond comprehension as a human being."
He continued, "I'm so deeply sad for the families of these children, the trauma of the survivors, and for the future these kids will never see. It doesn't make sense to me. It doesn't reflect the country that I think America is, the America I have always admired. You have a problem, you solve it. Yet, on this issue, America is one of the most backward places in the world. This year, there have been no school shootings in England; there have been no school shootings in Japan. This year, there have been no school shootings in Australia. This year, there have been 27 school shootings in America and 212 mass shootings, and we are just five months into the year. I'll probably be stood here in a week or two talking about another place. Words of thoughts and prayers will come from our leaders, but I fear change never will. I hold out hope that this country will eventually change this senseless gun culture, and my heart simply goes out to every person in Texas tonight."
19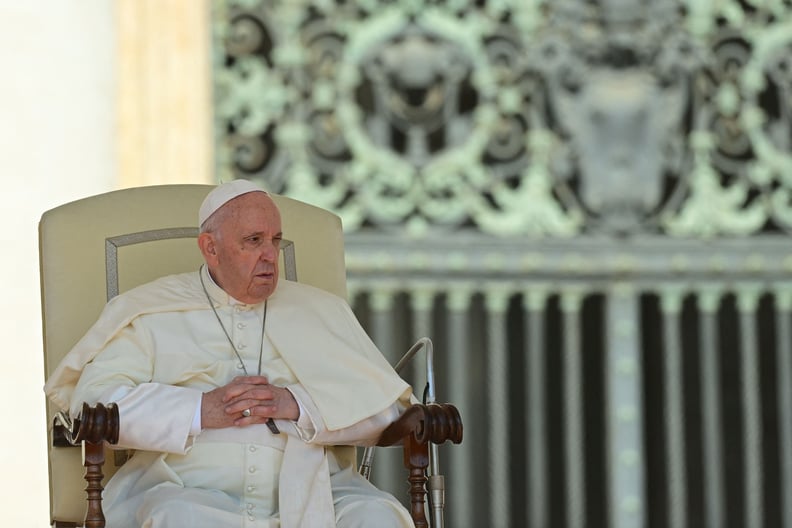 Pope Francis
In his weekly general address at St. Peter's Square, Pope Francis said, "I am heartbroken by the massacre at the elementary school in Texas. I pray for the children and the adults who were killed and for their families. It is time to say 'enough' to the indiscriminate trafficking of weapons. Let us all make a commitment so that tragedies like this cannot happen again."
20
Kim Kardashian
21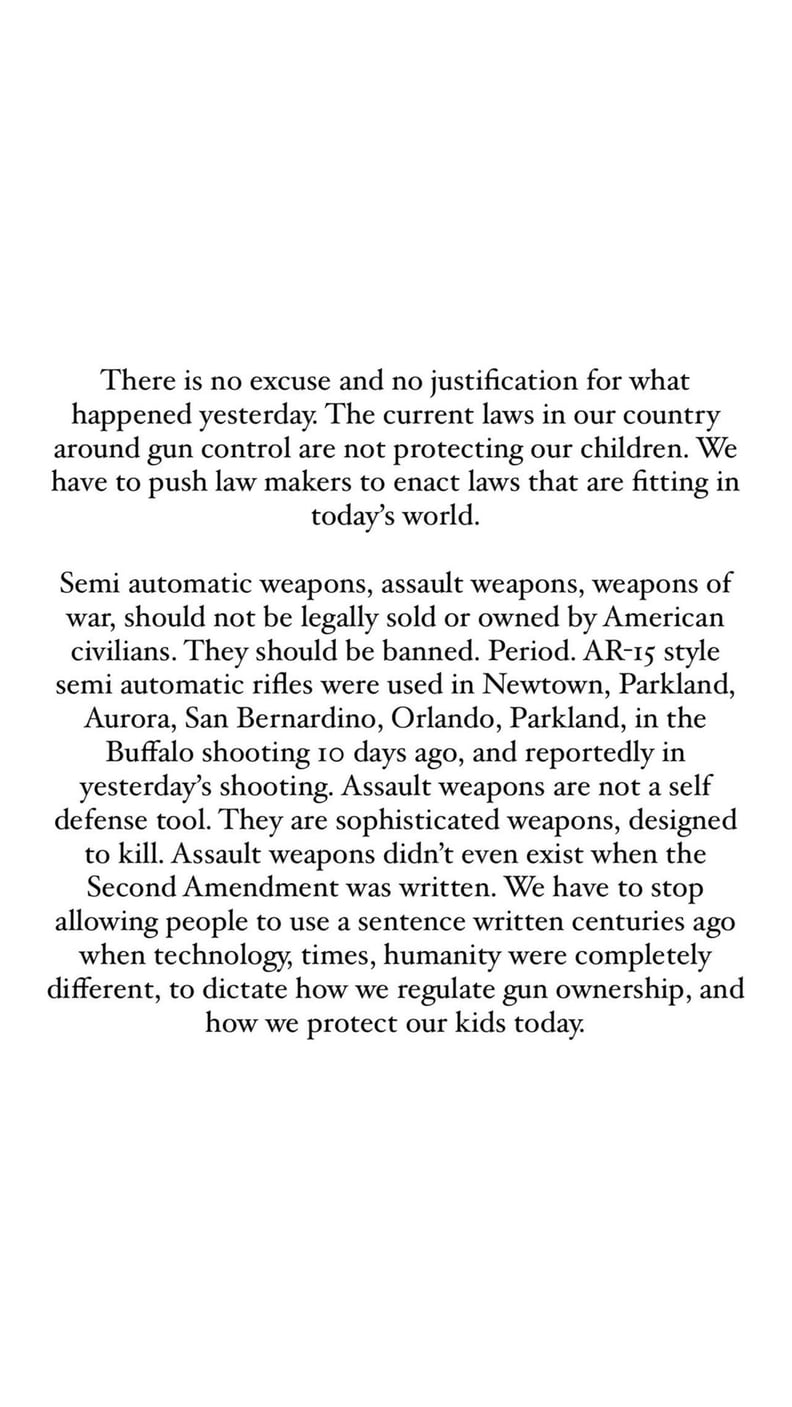 22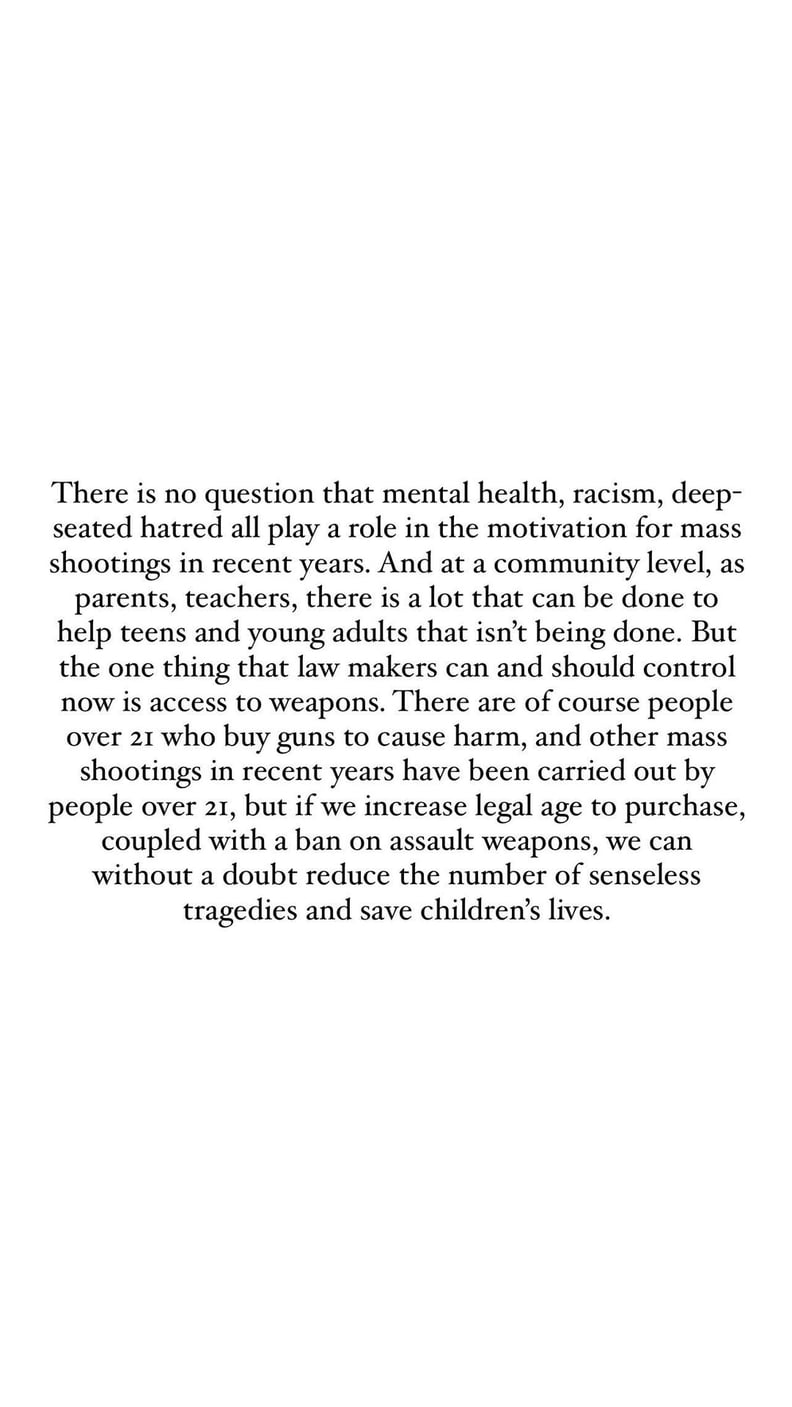 23
24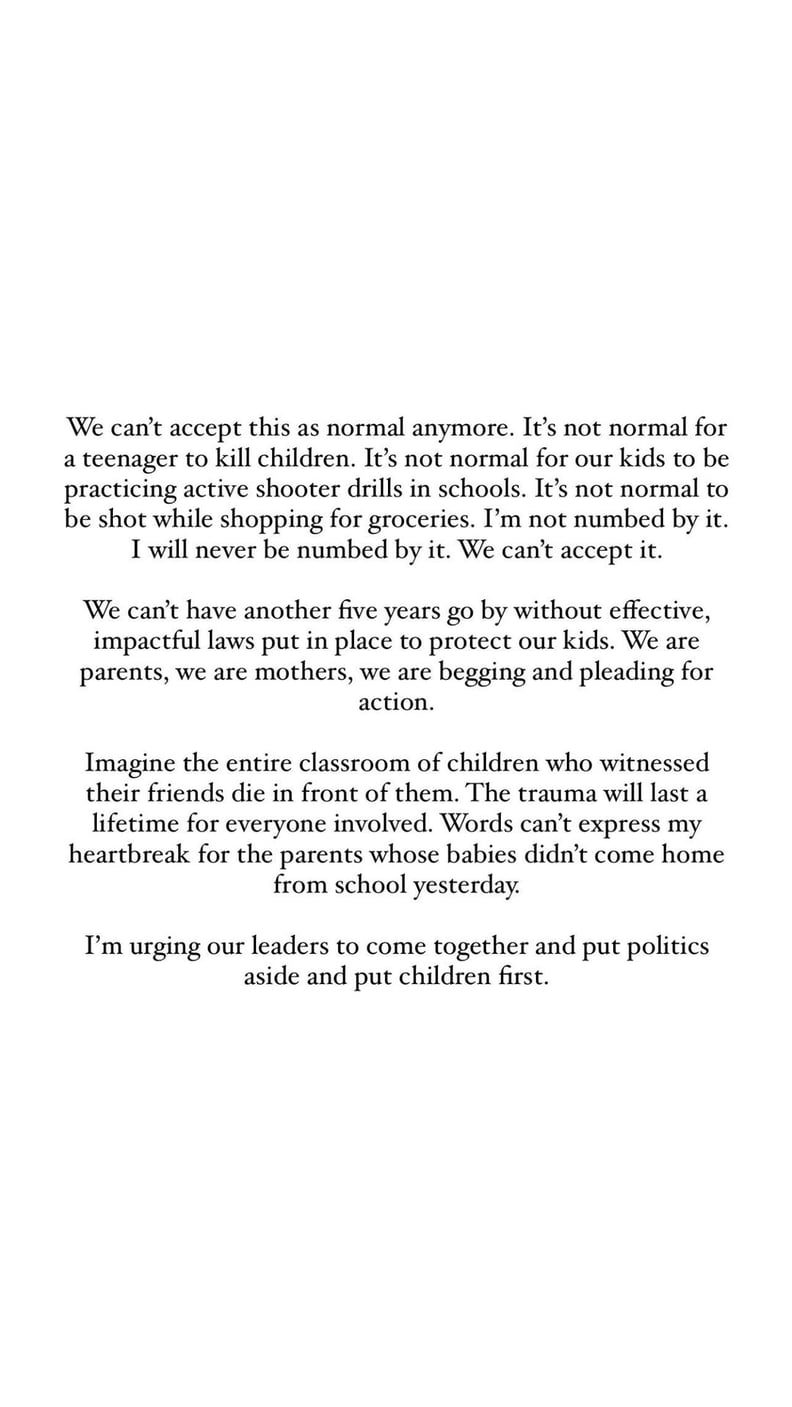 25
Indya Moore
"Someone called me boring on my Instagram live because I am asking and pleading with us to evaluate the power we have to make change- and how we give it away to the nothingness that eventually alchemizes to death," Indya Moore said in the caption to a video they posted on Instagram.
"We must choose to exercise who we are into loving and deeply protective beings for all of life on earth," she continued. "We have got to grow !!!! And we can do it!! ABOLISH GUNS!!!! GROW TREES!!!!"
33
Lilly Singh
"What to even say? I'm not sure," Lilly Singh wrote on Instagram. "Posting feels meaningless because I know in a few days the internet will get distracted by something else. But the reality we live in is just so, so sad sometimes. I cannot even fathom the amount of grief and absolute heartbreak the families are feeling in Ulvada. What an unimaginable pain. What a senseless act. What a helpless feeling.
We don't need thoughts, prayers, redundant conversations or false promises when it comes to gun control and protecting lives, we need action. It outrages me that the same people who will try to control a women's body to 'save lives' will turn a blind eye when actual children are getting killed by guns. Wtf is it with people and guns?! How heartless can you be?! What kind of person are you to choose profit and power over innocent lives? You are evil.
It's sick and disgusting and the leadership is embarrassing. This image is the America you are building. Time and time again I will hear about how 'America is the greatest country in the world…' and time and time again I'm thinking HOW. Womens rights, LGBTQ+ rights, gun rights, racism… need I go on?
I'm so sorry to everyone impacted. I'm just so sorry. You deserve better.
And if this artwork gives you chills, it should. This is the reality we live in rn until change happens.
NEW CHOICES. BETTER LEADERSHIP."
34
Jimmy Kimmel
"Here we are again, on another day of mourning in this country," Jimmy Kimmel said on May 25. "Once again, we grieve for the little boys and girls whose lives have been ended and whose families have been destroyed while our leaders on the right — the Americans in Congress and at Fox News and these other outlets — warn us not to politicize this. They immediately criticize our president for even speaking about doing something to stop it, because they don't want to speak about it. Because they know what they've done, and they know what they haven't done, and they know that it's indefensible. So they'd rather sweep this under the rug."
"They're listening to the NRA," he continued. "They're listening to the people who write them checks, who keep them in power, because that's the way politics work. That's the idea we settle on, that's what we tell ourselves — but it doesn't have to be that way. Not for this. This is a time to be loud — and to stay loud — and not stop until we fix this. Some people say this is a mental-health problem. Others say it's a gun problem. It is both, and it can be both. So let's work on both of those."
"So if you care about this — and we all do, doesn't matter what party we vote for, we all care about this — we need to make sure that we do everything we can . . . to make sure that unless they do something drastic, that let's make sure that not one of any of these politicians ever holds office again."
35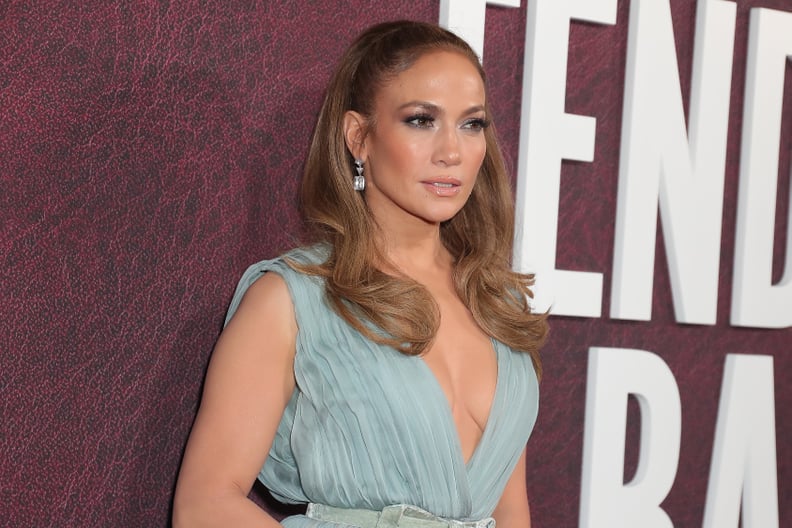 Jennifer Lopez
"Broken-hearted… I've been so emotional and crying a lot since I heard the news about these beautiful children and teachers," Jennifer Lopez wrote on Instagram under a repost of a video of Steve Kerr speaking out about the event.
"Along with so many others, I'm demanding for law makers to stop the violence that is happening across this country!!! Our country!! I am so sad and scared for our kids and loved ones. I'm scared for all of us who send our children to school every day or going to the grocery store!! My heart goes out to all of those who have been impacted by this unimaginable act!! I can't think of anything more cruel or diabolical than to target small children. God help us!!! We need some serious change!!! And we need it NOW!!!"
36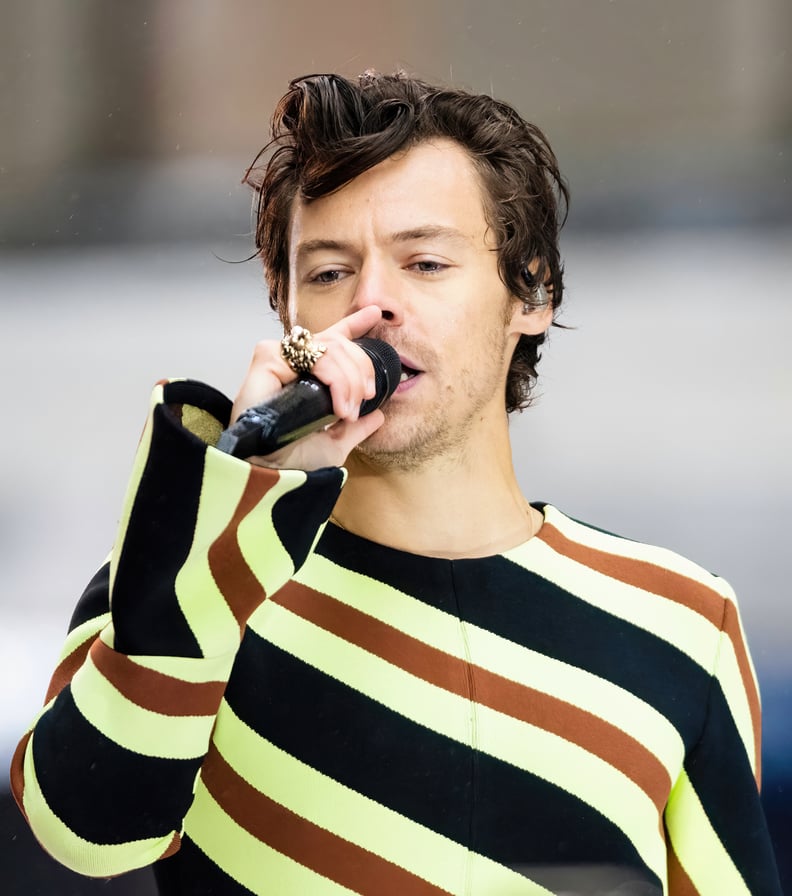 Harry Styles
The "Harry's House" musician issued a statement via Instagram on May 27 demanding an end to gun violence. "Along with all of you, I have been absolutely devastated by the recent string of mass shootings in America, culminating at the latest in Robb Elementary School in Uvalde, Texas," his post reads. "On our North American tour, we will be partnering with Everytown who work to end gun violence, donating to support their efforts and sharing their suggested action items."