Watch Coach Steve Kerr's Emotional Plea For Gun Legislation
Warriors Coach Steve Kerr Pleads For Urgent Gun Legislation in Viral Press Conference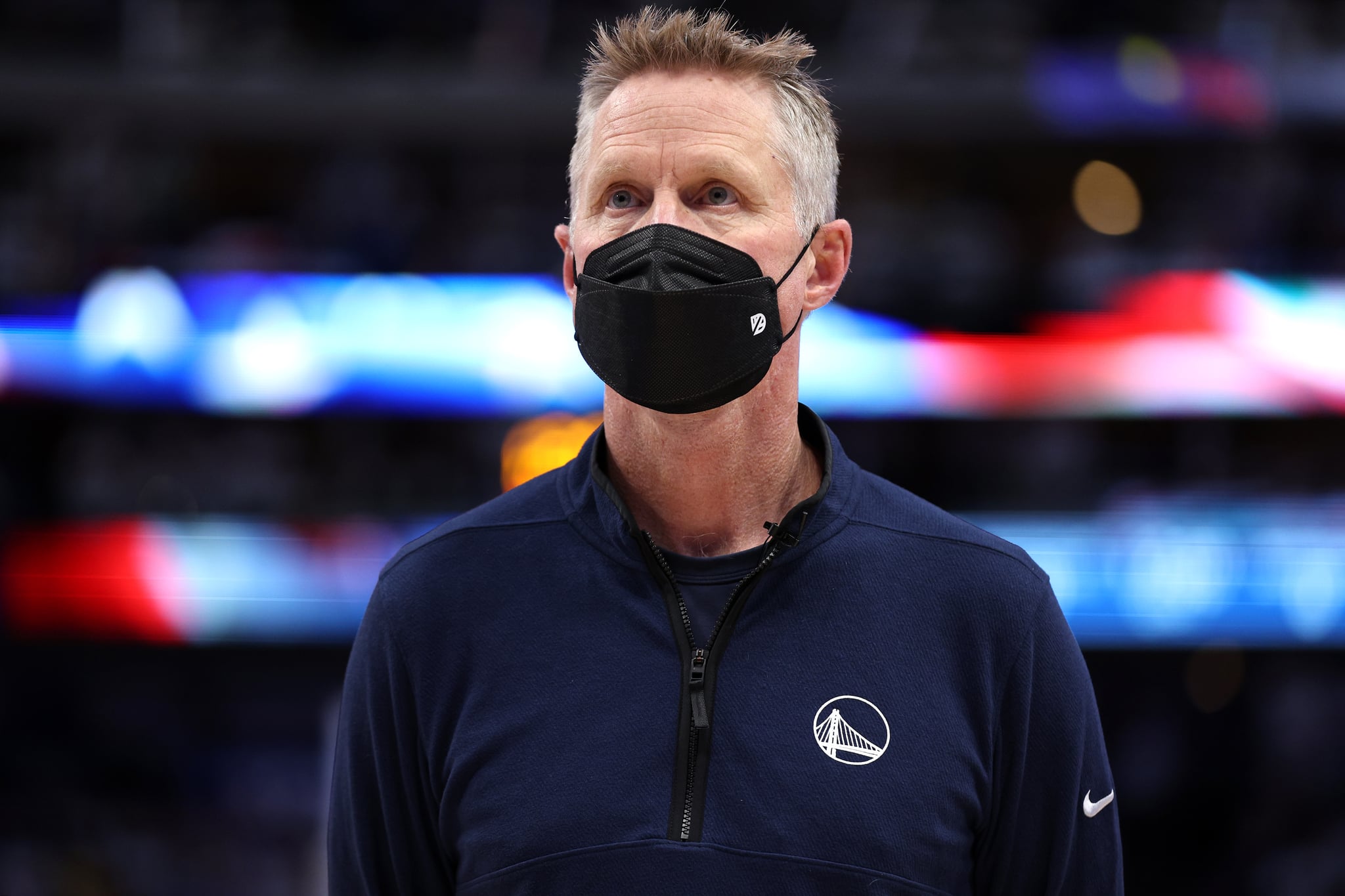 Image Source: Getty / Tom Pennington
Steve Kerr is being commended for his widely shared plea for urgent gun legislation. In a pregame press conference on May 24, the former basketball player and Golden State Warriors head coach shared his anger over the government's inaction on gun reform. Kerr was responding to the shooting earlier in the day at Robb Elementary in Uvalde, TX, where a gunman killed two teachers and 19 children. "I'm not gonna talk about basketball," Kerr said at the start. "Any basketball questions don't matter."
"When are we gonna do something? I'm so tired of getting up here and offering condolences to the devastated families that are out there. I'm tired of the moments of silence. Enough," Kerr said. He also mentioned other mass shootings in the nation in recent weeks, including one at a supermarket in Buffalo, NY, on May 14 and one at a church in Laguna Woods, CA, on May 15.
"Are you going to put your own desire for power ahead of the lives of our children?"
Kerr then drew attention to HR8, a bipartisan bill that would establish background-check requirements for the sales and transfers of firearms. The bill was previously passed in the House but has been sitting in the Senate. "It's been sitting there for two years, and there's a reason they won't vote on it: to hold onto power," Kerr said. Directly addressing the Senate and Minority Leader Mitch McConnell, he asked, "Are you going to put your own desire for power ahead of the lives of our children? And our elderly? And our churchgoers? Because that's what it looks like. It's what we do every week. I'm fed up. I've had enough."
Kerr ended the conference by imploring listeners to resist apathy. "How would you feel if this happened to you today? We can't get numb to this," he said. "We can't sit here and just read about it and go, 'Well, let's have a moment of silence. Go Dubs. C'mon Mavs, let's go.' That's what we're gonna do. We're gonna go play a basketball game, and 50 senators are gonna hold us hostage."
There was indeed a moment of silence held before the Western Conference Finals game, which took place in Dallas. The NBA also tweeted, "The NBA family is devastated by the horrific shooting that took place today in Uvalde, Texas. Our thoughts and heartfelt condolences go out to the victims' family and friends, and the entire Robb Elementary School and Uvalde community."
In a press conference following the game, Kerr was asked about the mood among the team. "There was an unspoken awareness of what happened today. It was a very quiet locker room," he said. "As a coach, my job is to get the team ready to play. It's difficult to sort of keep perspective on a day like today. The shock and the grief and the anger, it's there from all of our guys, and from I'm sure everybody in the building."
Kerr has previously been vocal about politics and was openly critical of former President Donald Trump. He's also voiced his support of the Black Lives Matter movement, and in June 2020, he met with organizers for the Black Organizing Project in Oakland, CA, to discuss the need for more counselors and mental health professionals in schools. "It's really important to work with grassroots organizations to understand that the people with boots on the ground are the ones who really know what's going on," he said at the time. "And then you figure out how you can best support them."