Are Chase Stokes and Madelyn Cline Back Together?
Chase Stokes and Madelyn Cline Are Sparking Reconciliation Rumors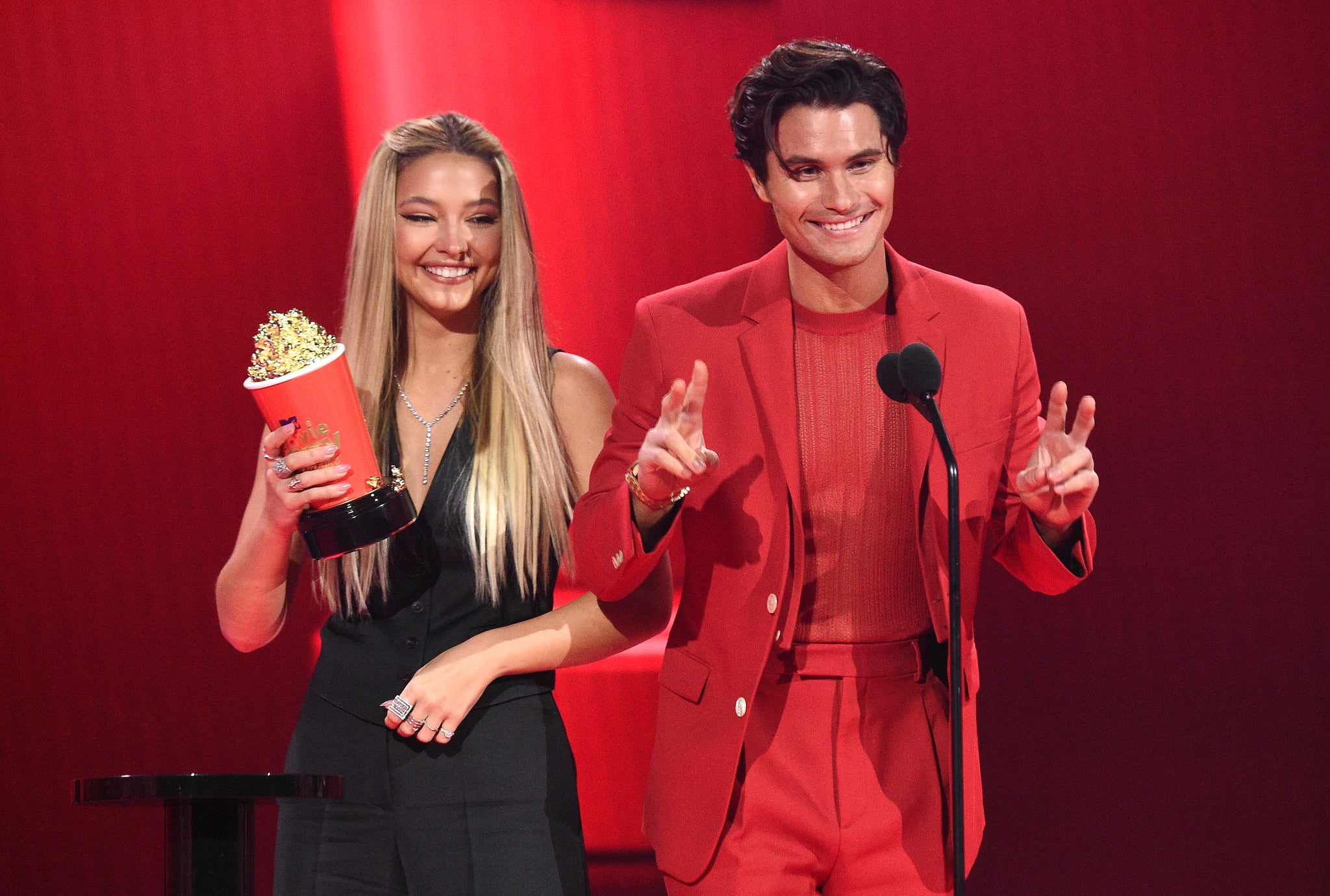 Image Source: Getty / Kevin Mazur
It's the question on every "Outer Banks" fan's mind this week: are Chase Stokes and Madelyn Cline back together? Rumors are swirling that the former couple — who portray onscreen lovebirds John B and Sarah Cameron on the Netflix series — may be dating IRL again after they posed hand in hand on set. And before you say, "Oh, they were probably just in character and filming a scene," it doesn't seem likely they were.
In a series of photos snapped while filming season three of "Outer Banks," Stokes and Cline are holding hands in a sunny, palm-tree-filled field and walking alongside costars Rudy Pankow (JJ), Drew Starkey (Rafe), Carlacia Grant (Cleo), Madison Bailey (Kiara), and Jonathan Daviss (Pope). Surfboards are in tow, and everyone's all smiles, most notably Pankow, who's happily giving Starkey a piggyback ride. This scenario would never happen on the show, seeing as Rafe and JJ are sworn enemies, and Rafe isn't stranded on the deserted island with the rest of the Pogues at the end season two. Hence, we have cause to believe Stokes and Cline weren't simply acting as John B and Sarah for the photo shoot but rather actually patched things up.
After meeting on the set of "Outer Banks" in 2019, Stokes and Cline confirmed their offscreen romance in the summer of 2020, just one month after season one of the popular series debuted. They dated for more than a year, winning the MTV Movie & TV Award for best kiss and starring in a steamy Kygo music video together, before going their separate ways in 2021. They've since deleted most photos of one another on their Instagrams, and Cline was spotted out with DJ Zack Bia on multiple occasions after the breakup, although they never made their relationship official. Neither Cline, 24, nor Stokes, 29, has publicly commented on whether the recent reconciliation rumors are true, but seeing as Sarah and John B got (unofficially) married during season two, we hope they're on good terms at least and back together at best.