Da'Vinchi Talks BMF, His Best Love Advice, and More
Da'Vinchi Actually Prefers the Simple Things When It Comes to Romance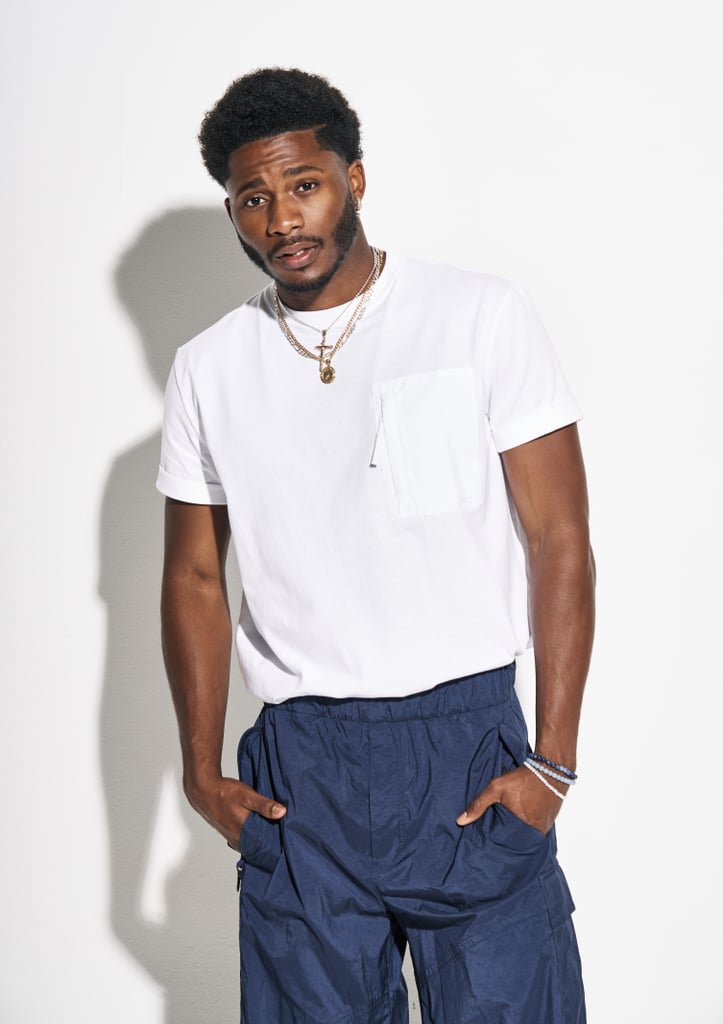 Image Source: The Riker Brothers
In our Q&A series POPSUGAR Crush, we get to know some of our favorite celebs' more intimate details — from their first celebrity crush to the best love advice they've ever received. This month, we're crushing on BMF star Da'Vinchi.
Da'Vinchi is at the top of his game with two lead roles in his pocket. In the last few years, the 26-year-old actor has popped up in a few of our favorite shows — from Grown-ish to Jessica Jones to All-American — but his Broadway debut and latest role on Starz's new hit series BMF has him on a hot streak.
In BMF — the 1980s set crime drama that tells the true story of Detroit brothers Demetrius "Big Meech" and Terry "Southwest T" Flenory — Da'Vinchi portrays Terry as the level-headed brother who's always about his business and his family. The young actor can also be seen in one of the newest plays to hit Broadway, Thoughts of a Colored Man — a drama that shares the journeys of seven Black men — where he plays the role of Lust. Though Da'Vinchi couldn't say much about what to expect of him from the play, he did warn us to "bring some tissues when you see it."
"Honestly, when you're doing it and you're so into it, you're not feeling the magnitude or the weight of how much you're doing."
Great Hollywood success has found Da'Vinchi so early on in his career, and right now he seems to have everything going for him. Yet in the midst of these incredible moments, the BMF star can't even begin to describe how life is feeling for him. "Honestly, when you're doing it and you're so into it, you're not feeling the magnitude or the weight of how much you're doing," he told POPSUGAR. It's worth noting that only a handful of stars like Da'Vinchi can say they've reached this pinnacle at such a young age. And like him, many of them get so caught up in the hustle and grind that they don't even get a chance to stop and reflect on the extent of their work. "I just feel like I'm just working," Da'Vinchi said. "But people on the outside looking in, they're like, 'Oh my God, you don't realize you're doing [these] two really great projects at the same time right now, both [making] history in their own way.' I know it's great, I'm grateful and I'm thankful, but I don't feel any different yet. I know it's going to hit me after this year's over and I'll look back like, 'Damn, I was doing a lot this time.'"
Both BMF and Thoughts of a Colored Man came into Da'Vinchi's world shortly after one another. He knew nothing about BMF until this time last year, and he certainly couldn't have predicted the splash it would make, with the show already getting picked up for a second season. "I knew nothing about that show," he says. "I didn't even know it was a show that was in the making. I tend to live life in my own little bubble so I don't even know a lot that's going on, but that was a project that was kept [quiet]."
While he was busy filming the Starz series in Atlanta, he got the call for Broadway, too. And get this, he almost turned it down because he was so focused on BMF! But even with these two great projects on his plate right now, Da'Vinchi is still holding out for his dream role that he hopes to land one day: he wants to play a superhero. And before you ask, yes, he plans to become a part of the Marvel universe.
BMF airs every Sunday on Starz and Thoughts of a Colored Man can be seen on Broadway now until March 2022. But in the meantime, read ahead for Da'Vinchi's thoughts on love, dating, and more in our POPSUGAR Crush interview.
Who was your first celebrity crush?
Damn, my first celebrity crush. It probably was Beyoncé or Rocsi [Diaz] from 106 & Park or [Lauren London]. Those are probably my top three.
What's your signature scent or go-to cologne?
I don't [really] have one, as long as it's not too strong. I don't like smelling like a grandpa [with] some strong ass cologne.
What's your go-to coffee/tea order?
It's [tea] — peach and ginger turmeric.
Do you have a favorite pickup line? If so, what is it?
Nah, I don't need pickup lines, them sh*ts is corny as hell. [They are] funny, though, I be hearing some pickup lines. I heard people have creatively used my name in pickup lines that have made me die laughing, but I can't even think of one right now.
Do you slide in the DMs using flirty emojis?
Nah, I'm more like an in-person type thing. I have gone out my way and DMed first and stuff like that, but I like being in person. I'm old school.
What would your dating profile say about you?
I would never use a dating app, but I think it would probably be something that has nothing to do with what I do. I don't even know what it would be. It would just be something that's way off from [what I do].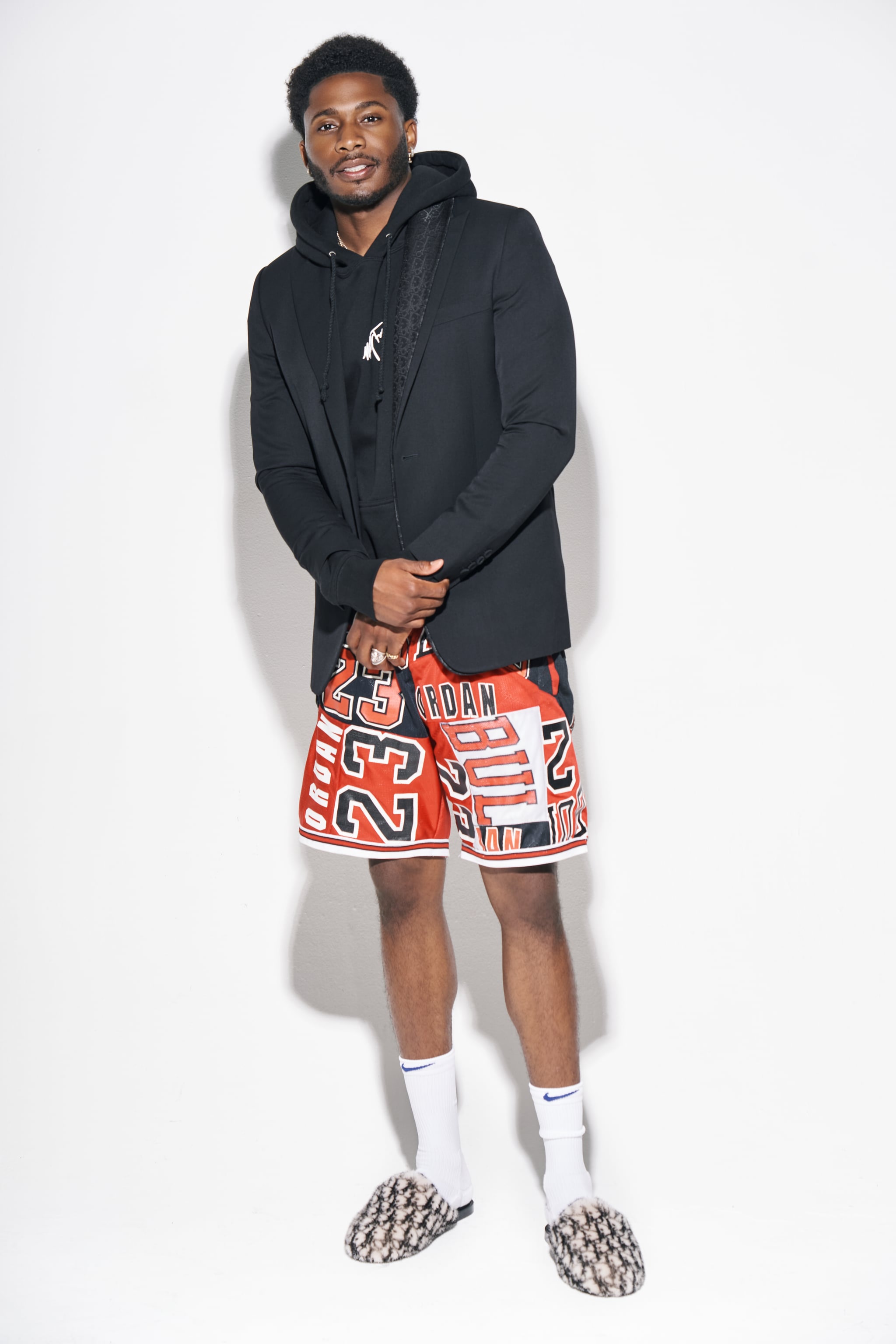 Image Source: The Riker Brothers
What's your ideal first date?
Probably doing something out in nature, like riding horses or [having] good food, just chilling. Something down to Earth.
What's your favorite thing to cook?
Probably some fish or chicken, mixed vegetables, and then rice and beans or something like that.
What's your biggest turn off/turn-on?
Biggest turn off, wow, there's a lot. I think when a person is just not down to Earth at all, like if they're super materialistic where we can't even have a conversation. I think that's one of my biggest things — when a person's completely lost touch with the common and they're just in a whole other level with their bougieness or whatever. I'm like, "Oh, alright. I'm cool."
Biggest turn-on, [when] she's a pretty girl but it's like she's so down to Earth and chill. She don't do too much to look a certain way. She's just mad chill. We don't have to be dressed up, we could just throw some sweats on and go out.
Favorite gift you've ever received?
When I was a sophomore in high school, my father said if I make nothing but all A's, he'll get me the new iPod touch. It was the iPod touch [the] fourth generation one. He got it for me as a gift because I made all A's out of 4.5 [GPA] that year in high school. I was happy as hell, I didn't even eat that day. That iPod was everything.
What's the most romantic thing you've ever done/that's ever been done for you?
Oh, I can't give my secrets away. I think probably being surprised, coming home with a whole bunch of stuff, like flowers and different things. I'm mad simple, so anything for me is romantic. I'm not a person who's like, "Oh my God, I love getting big gifts and stuff like that."
What's the best love advice you've ever received?
One time I read [something] and it was like, "If a bird and a fish fall in love, where would they live?" I remember I had a situation basically to where I was in love, but we were just such polar opposites. It's like you could still fall in love, but you guys don't live in the same dimensions. You [could] have the fish come on land to meet the bird, but then the fish would have to be in a fish tank and it'll compromise the integrity of that fish.
Sometimes with love it's like you guys got to make sure you abide by similar principles and laws in life. Otherwise, you guys can fall in love, but you can't exist with each other because you're just so different. I think a lot of times we get in relationships with people [and we] fall in love, but [we're] so different that so many problems start happening because you just let the love override the fact that you guys are basically two different species. I think that's the best advice I've ever gotten about love.