Chris Hemsworth Shares Photos From His Family's Vacation in Spain: "A Little Fun in the Sun"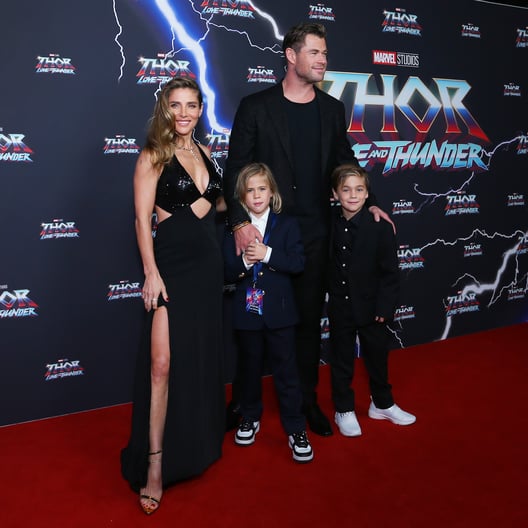 Actor Chris Hemsworth may be known for his recurring role as superhero Thor in Marvel's Thor franchise, but in his personal life, Hemsworth also plays a different type of superhero role — a father to three children. Hemsworth shares his children, eldest India and twins Tristan and Sasha, with wife Elsa Pataky, whom he married in 2010.
Despite his superstar status, Hemsworth is sure to carve out lots of time with his kids. In a June 6 interview with GQ, he revealed that he had spent the past few months at home, far away from the cameras, focusing on appreciating every moment with his little ones. Even so, he revealed, he sometimes wishes for quality time with just his wife. "There are nights where I'm just like, 'Just go to sleep,'" he said. "Or all three of them want to sleep in the bed, and we're like, 'We just want a night alone.'" Still, he told the outlet, he knows that his kids' childhoods are flying by. "They're not jumping on you, cuddling you, kissing you and all that in the same way," he said. "That for me is a real slap into the moment just to soak it up."
Hemsworth and Pataky also seem determined to teach their kids to be humble, work hard, and be appreciative of everything they have. The actor told GQ Australia in 2018, "Elsa and I talk a lot about how we instill that same appreciation and respect for things. I don't want them to feel like they're privileged in any way. The fact that we have money and their parents are famous, that somehow they're special, that scares me because we grew up with no money."
The "Extraction 2" actor clearly demonstrates just how thoughtful and caring he is about his children, whether in interviews or his frequent social media posts. While Hemsworth's children are young, they are taking after their famous dad in a handful of ways — for example, whether they're surfing, riding horses, or biking, all of them seem to love being outdoors like their father. On July 11, Hemsworth shared photos from their family vacation in Spain where their squad was soaking up family time in the great outdoors. Learn more about the actor's children — and see their vacation pics — ahead.
India Hemsworth
Hemsworth and Pataky's first child, India Rose, was born on May 11, 2012. The couple had a pretty special reason behind the name of their daughter, with the actor revealing to USA Today in 2012, "We love the country and love the name."
From day one, Hemsworth has been an enthusiastic girl dad and cited his own mother for her influence on his views regarding fatherhood. "Coming from a family of three boys, my mother was very much a feminist. When we would call each other 'girls,' she would say, 'What is wrong with a girl?' Girls can be strong and you have to respect that," he told the outlet.
While not too much is known about India's interests and personality, Hemsworth and Pataky have shared some snippets of life with their daughter on Instagram, which give a little bit of insight into what she likes. Much like her parents, as it turns out, India seems to enjoy the outdoors and plenty of fun, physical activities. In July 2021, Hemsworth posted a video of India skateboarding in a hilly park, and in April, Pataky shared a bunch of photos of India and herself taking part in a riding competition. "She is going to be much better than me in a blink! So much fun to share all this moments with you Indi!" Pataky wrote in the caption.
Outside of the typical fun activities she does with her folks, India also helps to make the world more environmentally friendly. "When my daughter picks up a bit of plastic on the beach, she's like, 'Yeah, that kills animals. Doesn't it, Dad?'" Hemsworth told GQ Australia in 2018. "This generation is where we're gonna see real change and that's exciting."
Tristan and Sasha Hemsworth
Hemsworth and Pataky welcomed twins Tristan and Sasha on March 18, 2014. Pataky shared the good news on her Instagram, posting a picture of the babies' feet with a caption that read (translated from Spanish), "They are already at home!! Tristan and Sasha came into this world on March 18 just after the full moon. Complete happiness!!"
Tristan and Sasha are still young, but they have already developed strong, contrasting personalities. Talking to GQ Australia, Hemsworth shared, "Tristan is so athletic but there's not an aggressive bone in his body. He's the most emotional one. Whereas Sasha is like a little gangster."
The twin boys also spend a lot of time outdoors, doing anything from motocross biking to skateboarding, which has been documented frequently on Hemsworth's Instagram. Outside of their typical kid hobbies, Tristan and Sasha also appear to be fans of their superhero dad as Thor. On March 19, 2023, for their ninth birthday, the actor paid tribute to his boys on Instagram, writing, "Happy 9th birthday to my two little men! Only one way to eat cake in this house and that's to have mum slam your head into it face first!! 'Hey mum I don't like chocolate cake I prefer vanilla' 'oh really son, what about now'? @elsapataky."
Photos of Chris Hemsworth's Kids