In our Q&A series POPSUGAR Crush, we get to know some of our favorite celebs' more intimate details — from their signature scent to their perfect date night. This month, we're crushing on "Minx" star Jessica Lowe.
Jessica Lowe's Bambi is the beating heart of "Minx." The series, which moved to Starz for its second season, follows the titular women's magazine, which combines feminist essays with very sexy pornography, featuring men exclusively. And while her coworkers may overlook her from time to time, Bambi embodies what it means to be a Minx woman more than anyone else.
"She's an icon," Lowe tells POPSUGAR of her character. "A sexually open, stunningly stylish icon." Lowe describes her character as "not academic" with "a lot of grit." But when her coworkers overlook her — as they often do in season two — it deeply hurts Bambi. Combine that with her angst over her failed relationship with Shelly (Lennon Parham), and bright and sunny Bambi is in a bad place during the second season.
"She's heartbroken. And she's just really still struggling with finding her role at Bottom Dollar," Lowe says. Viewers see her attempts at other jobs during the season — in one episode, she and Doug (Jake Johnson) invent Chippendale's, only for Joyce (Ophelia Lovibond) to squash the idea — and even when Bambi does well, she never gets credit or praise.
"I think she realizes that business can be really mean and evil," Lowe explains of Bambi's transformation over the season. "And so at the end [of the season], I think she realizes what she really wants is a familial connection."
One of the most delicious parts of the series is how Bambi's queerness has been explored through her relationship with Shelly, played by comedian Lennon Parham, a housewife who's realized she's not exactly straight, but she's not ready to leave her husband just yet. "I've been a giant fan of Lennon forever. I think she is truly glorious," Lowe spills. She describes her costar as having "such a warmth" and a "cozy" presence. "And getting to smooch her is also a career highlight," she jokes.
Bambi, Lowe thinks, is "probably pansexual." "She just falls in love with individuals and doesn't need a label. And I think it's been really refreshing to play that type of character," she explains. "I think I am that way as well. I fall in love with everybody."
Her husband, comedian Chris Alvarado, is a huge fan of her role. "He just thinks it's very fun to see me in a new light," she explains. "One of my highlights from last season was watching my husband watch Lennon and my sex scene. I recorded it. It's on my Instagram. And it is hilarious, but he's so supportive. It's the best."
Before filming "Minx," Lowe was at home during COVID-19 lockdown, and she described her style at the time as "Kirkland Signature, mostly sweatpants." And then she started filming "Minx" and stepped into Bambi's closet. "Going from that to wearing extremely short outfits, where if I sat down my taint would touch the chair, was a little jarring," she jokes. "This is also my first time ever not wearing a bra in public, and on national television, so that was something to get used to."
Keep reading for more revelations from Lowe, including the most romantic thing she's ever done.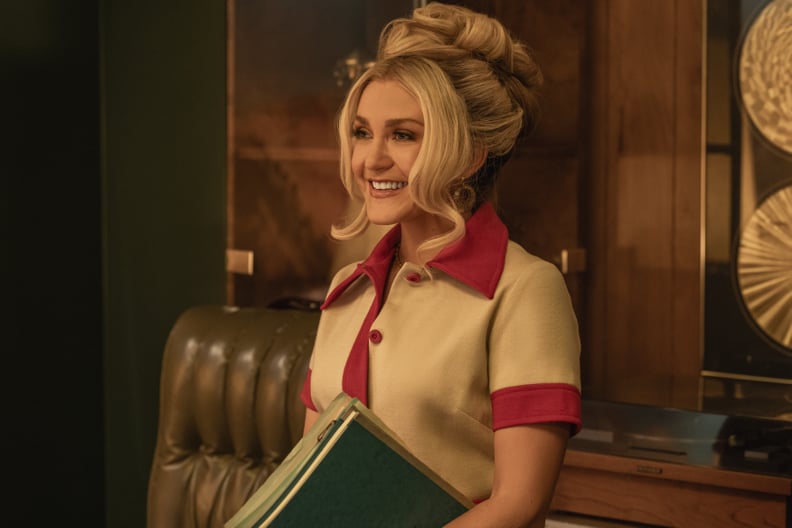 Who was your first celebrity crush?
Bruce Willis in "Die Hard." I loved him just getting dirtier and dirtier and just bloody and being such a hero.
What's your favorite flirtatious emoji?
I do the tongue-out one the most. 😛
What's your favorite form of self-care?
I really love skin care. And I really invest in skin care and skin-care devices. I own the NuFace, which is a microcurrent machine, and I feel like that is one of the best investments I've made for my skin. And I love the Dr. Dennis Gross LED mask. When I use both those things in the morning consistently, I see a change in my face.
Are you a dog or cat person?
I'm the biggest dog person. We have a perfect mutt we adopted right before COVID. And his name is Sonny and he's the love of my life.
What's your biggest turnoff and biggest turn-on?
Turnoff is selfishness, and turn-on is selflessness and humility.
What's your go-to movie night movie?
I love "Clueless," but then I also love "Speed," the Rock, "Die Hard." "Die Hard 3" — "Die Hard With a Vengeance" — was incredible. Any of those '90s blockbuster action movies. And I also love "Amelie," and "Moulin Rouge," stuff like that.
What's the best love advice you've ever received?
When I was a junior at Northwestern, I took an adulthood and aging class, and I had to interview people in romantic relationships that were in their 20s, their 50s, and their 70s. And my dad, who is a scientist and sort of an unemotive Norwegian man, when I was asking him about my mom, and how their relationship has changed. He was saying, you know, at first you start with an attraction. And then it grows into a partnership. And now it's grown, so I just cherish her. And I think that you have to be open to an ebb and flow and being able to see that you're not only always just going to be all over each other. It's more about a partnership, and showing and listening to each other. It made me cry.
What's the most romantic thing you've ever done for someone?
My husband and I first started dating right before the holidays in December. And then he went to Maryland and I went away. We had only been on maybe five dates. And I was leaving to shoot a show in Fiji, so I used all of my Chase Sapphire points to fly him to visit me on set. He stayed for a week and we had really great rooms.
The "Minx" season two finale premieres Friday, Sept. 8, on Starz.
This interview was conducted before the SAG-AFTRA strike began on July 14.