Jordan Fisher Talks About Fiancée Ellie Woods and DWTS
Jordan Fisher on the Adorable Last Thing He Did With His Fiancée, Ellie Woods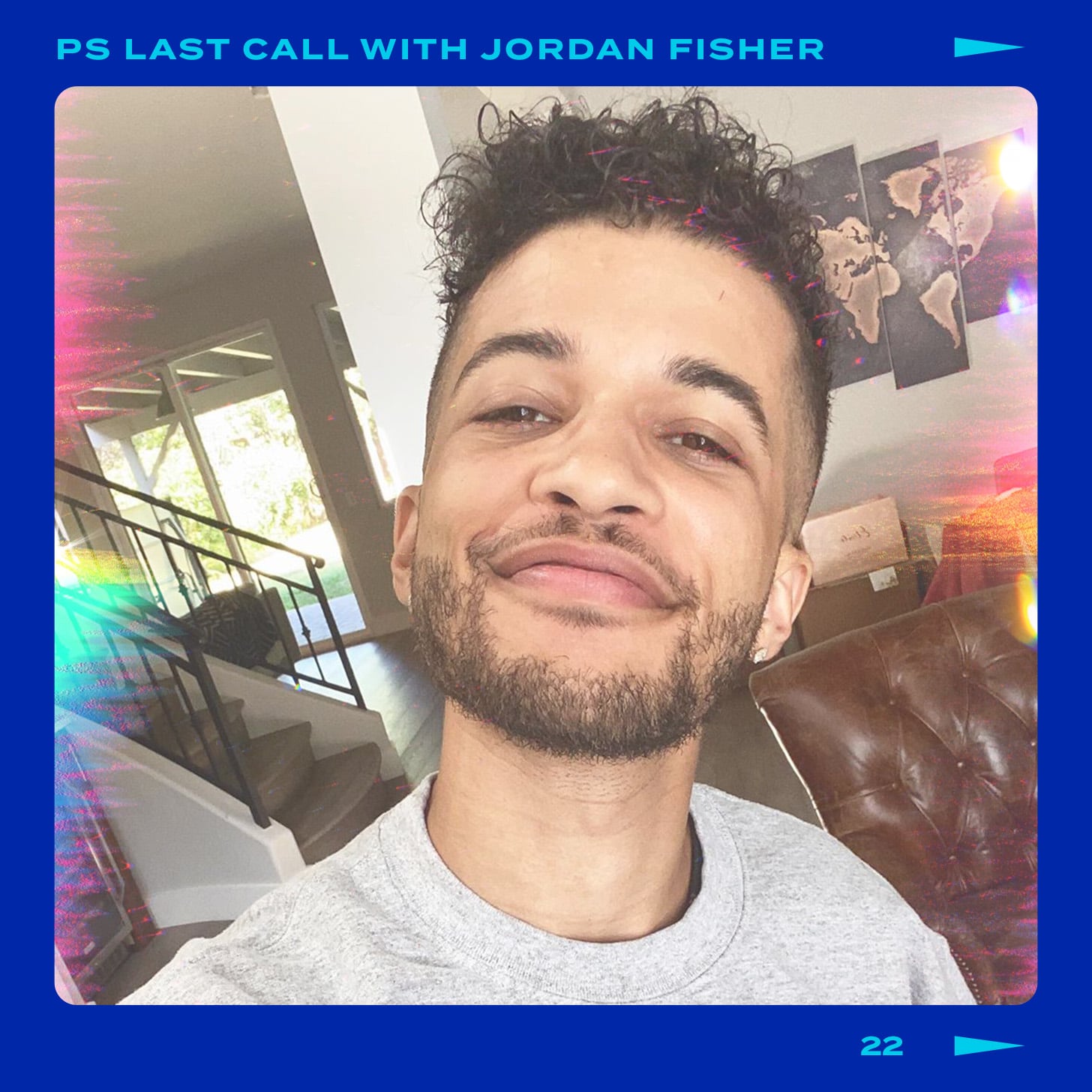 In our Q&A series Last Call, we get down to the bottom of every last thing with some of our favorite celebs – from the last thing they texted to the last thing they binge-watched. This week, actor and singer Jordan Fisher takes our call.
Ever since Jordan Fisher stepped onto the scene with Disney Channel shows and movies like Liv and Maddie and Teen Beach Movie, we've been obsessed. Since then, the 26-year-old has captivated audiences with his smooth moves on Dancing With the Stars, his beautiful voice on Fox's Grease: Live and Rent: Live, and his swoon-worthy acting in Netflix films like To All the Boys: P.S. I Still Love You and Work It. Yep, Jordan really is a triple threat.
Seeing that Jordan is always busy with a new project, his latest collaboration with Verizon — for which he's helping explain what 5G Ultra Wideband really is in a four-part video series — is the perfect fit. "Where 5G is concerned, where Verizon is concerned, I've always admired how they continuously lift and reset the bar in terms of speeds and accessibility and access and ease of access," he told POPSUGAR. "It's something that I'm amped about coming from the perspective of a producer and somebody that is constantly needing to get information and send off information, as well as coming from the standpoint of a gamer. [I need a] good connection and fast speeds and whatnot in my day to day; it's very important."
In celebration of his new partnership, we chatted with Jordan about everything from his sweet romance with fiancée Ellie Woods to the last Dancing With the Stars performance that blew him away. Read his quotes ahead.
What is the last Dancing With the Stars performance that you watched that blew you away?
Milo [Manheim] and Witney [Carson] a few seasons ago had an incredible contemporary piece. It was so raw and they were so good together. It was like watching an episode of So You Think You Can Dance or World of Dance or something. I was absolutely blown away by both the choreography as well as the execution. I mean, Milo is not a contemporary dancer, but he very much looked like one.
Last thing you ordered online?
I'm in an undisclosed location, I'm preparing for a film right now, and I Instacarted some stuff from Walmart. I got some dish soap and a toilet scrubber, box of Red Bull, some Gatorade. I got an electric razor I can use in the shower. I have to be 17 and I am not 17.
Last photo on your camera roll?
I was texting with one of my producing partners and our director and we were talking about a meeting that we were having the next day, but one of my castmates and her family are here as well quarantining one floor above me, and we've been having some movie nights and game nights. So I was texting my producing partner and director a picture of our setup. So I had my iPad and the FaceTime on the iPad and we were about to watch Super Bad.
Last thing you do before going to bed?
Set, double check, and triple check my alarm clock and I pop in my night guard and put some lavender oil on.
Last fun thing you did with your fiancée, Ellie Woods?
Have you seen the Target Tick Tock challenge, like the date-night challenge? You, your significant other, you go to Target and allow yourself an amount of time and a budget. You have to keep it all secret, wait until you get home and check out separately and load [your stuff] in the car separately, whatever it's like, favorite color, favorite snack, favorite beverage, something that they need and something that you want them to try, but that they haven't. So you go to Target and do all that and you grab [it] all and then go home. And then you build a date night out of that.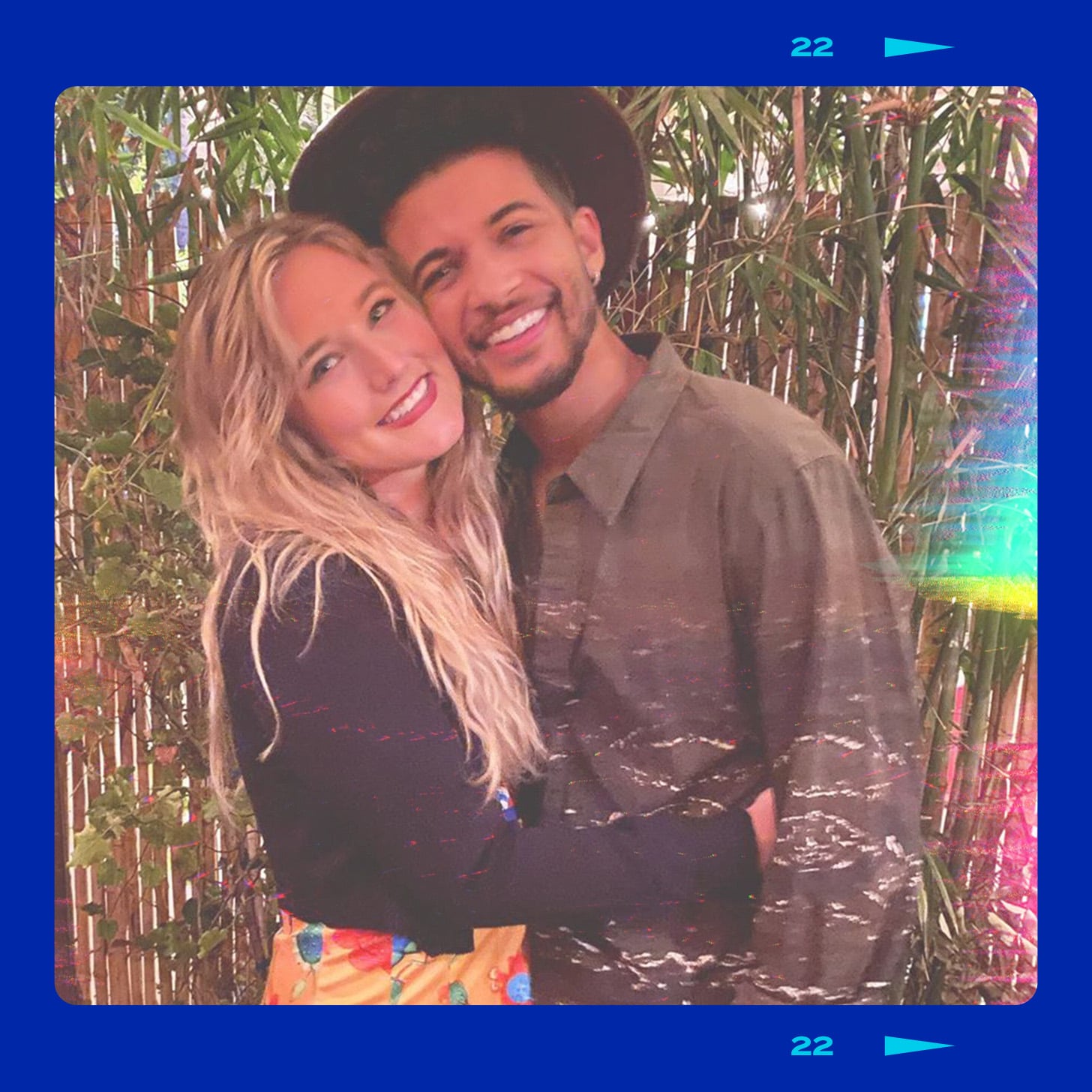 Last gift you received?
A bottle of wine from Verizon.
Last thing you took home from a set?
Probably some wardrobe from Rent: Live. They have to keep an archive, a lot of wardrobes and stuff for museums and that kind of thing, but there was something that I got to [keep], I think my Converses. I had them rig a pair because they were high tops. So I had [them] rig a pair, like the main pair that I wore for the show, and then my backup pair with a zipper on the side. I did it cause lacing up high tops is not fun. That way they could stay laced, but I could just zip my foot into it.
Last great fashion purchase?
I love earrings a lot. I love like crazy, long, doughty earrings, so probably that. I have this really cool gold [earring]. It's a safety pin that has a gold chain. There's a chain that's hanging from it. I think that's probably my last really cool fashion purchase.
Last time you got dressed up?
Too long? We went on a little double date recently. There are some restaurants in LA that had outdoor seating options, so we went on a double date and got dressed up for that. It was really nice.
Last workout?
Yoga yesterday.
Last book you read?
That I finished? I have a habit of reading multiple books at the same time. So let me think about that for a second. I think Endgame?
Last song or album you listened to?
Troye Sivan's new EP.
Last time you were starstruck?
It's always going to be an athlete. I respect actors and artists a lot, but athletes to me are like superheroes, they're superhumans to me. I was watching a stream on Twitch recently, Wonder Boys — he's one of my favorite fighters in UFC – he was hosting a watch party of footage that he loves and I went on there and chatted with him. He was like, "Jordan Fisher!" And I was like, "What?" It was so cool.
Image Source: Jordan Fisher