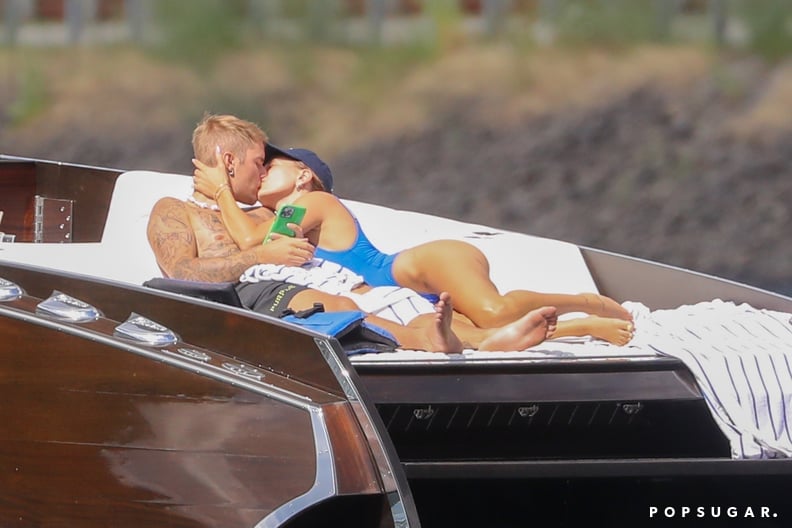 Splash News | Backgrid
Splash News | Backgrid
Justin Bieber continues to enjoy some much-needed time off following his Ramsay Hunt syndrome diagnosis. On July 11, the 28-year-old singer was photographed on a boat day with wife Hailey Bieber and friends in Coeur d'Alene, ID. The two looked smitten as they cuddled up and shared some kisses while soaking up the sun. Justin also shared an Instagram album featuring photos from his trip that same day.
Back in June, Justin postponed his North American tour and shared details of his facial-paralysis condition in an Instagram video. "Hey everyone, Justin here, I wanted to update you guys on what's been going on. Obviously, as you can probably see from my face, I have this syndrome called Ramsay Hunt syndrome, and it is from this virus that attacks the nerve in my ear and my facial nerves and has caused my face to have paralysis," he said in the clip. "As you can see, this eye is not blinking, I can't smile on this side of my face, this nostril will not move. So there's full paralysis on this side of my face."
He has since continued to update fans, revealing that his condition is improving. "Each day has gotten better and through all of the discomfort I have found comfort in the one who designed me and knows me," he wrote in an Instagram Story last month. "I know this storm will pass but in the meantime Jesus is with me."
Hailey also shared an update on her husband's condition during her June appearance on "The Tonight Show Starring Jimmy Fallon." "Obviously, it's been a weird turn of events the last couple months and the last even few days," she said, referencing her ministroke in March. "He's OK. He's going to be totally OK."
See photos from Hailey and Justin's PDA-filled boat day ahead.