5 Facts About Katy Perry and Russell Brand's Wedding That Will Make You Say "Huh"
Katy Perry has had a few of Hollywood's sexiest men on her arm in recent years, but before she romanced the likes of John Mayer and Orlando Bloom, she was married to British comedian Russell Brand. The two first got together in 2009 after she threw a water bottle at his head during rehearsals for the MTV Video Music Awards. "I was really annoyed but when she came up to me she was so mouthy, smart, and cocky," he said of their encounter. "It made me really interested." Katy and Russell got engaged that New Year's Eve during a trip to India, and they tied the knot in October 2010. Russell filed for divorce after just 14 months of marriage, and while they've both clearly moved on, their wedding facts aren't any less interesting. Despite neither being of South Asian descent or practicing the Hindu faith, their wedding massively incorporated both.
1. It Was in India
The couple returned to the country where Russell popped the question to say "I do." The ceremony took place near the Ranthambore tiger sanctuary in Rajasthan that featured the "inspirational and majestic countryside of Northern India" as the backdrop. There were also only 80 guests in attendance.
2. The Rehearsal Dinner Was . . . Different
The couple hosted a Bollywood-themed party on the Friday night before the wedding. Russell reportedly wore a white kurta pyjama, a traditional Indian outfit of loose pants and a shirt, while Katy wore a red sari. "The young children looked very pretty, with the boys wearing small turbans too," Rafiq Khan, who was inside the party as part of a musical tribute to the couple, told People. "As the guests entered, my troupe of drum players played our Nagara drums (Indian kettle drums) to welcome them."
3. There Were Elephants
Two elephants named Laxmi and Mala were on hand for the big day, even entering the venue on a red carpet. During the bharat, or traditional Indian wedding procession, the groom and his male relatives and friends walk to the spot where the bride awaits. While he is usually on a white horse, an elephant is seen as more luxurious. The pair also incorporated traditional Indian music during their ceremony, including Rajasthani folk music and sacred Vedic chanting.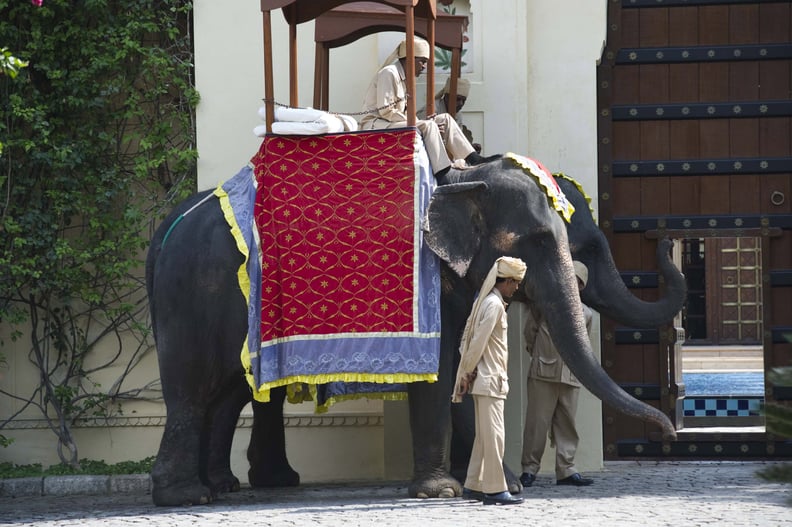 4. They Spoiled Their Guests
In addition to treating their guests to various song and dance performances, Katy and Russell also reportedly showered their closest friends and family members with shopping sprees and safari trips.
5. The Ceremony Was Spiritual
Despite relying heavily on the Hindu faith and South Asian wedding traditions for the ceremony, it was actually performed by a Christian minister and longtime friend of Katy's family (the singer has spoken at length about her strict Catholic upbringing). A rep for the couple told People at the time that it was "very private and spiritual."