How the Pandemic Inspired Kelly Rowland to Take a Leap of Faith
Kelly Rowland has many reasons to celebrate these days. Between giving birth to her second child with husband Tim Weatherspoon to recently ringing in her 40th birthday and dropping her K EP, I can't even begin to imagine how she found the time to design a whole footwear and apparel collection with JustFab.
Kelly is currently the global face of the brand, and the spring collection marks her first as a fashion designer. In lieu of a traditional press release, Kelly penned a letter honoring all the "amazing women" in her life, which includes Tina Lawson, or as Kelly calls her Mama T. I got the chance to chat with Kelly ahead of the collection's release, and we discussed everything from her new line to what she's been binge-watching on Netflix to the biggest lesson she learned following the trying year that was 2020. Check out our conversation ahead.
POPSUGAR: Congrats on your new collection with JustFab! You previously collaborated with the brand, but I understand this is your first collection as a fashion designer. To introduce it, you chose to write a letter dedicated to the women that inspire you versus a traditional press release. What inspired you to do it this way?
Kelly Rowland: I really wanted to do something different. With the type of year it's been, I just wanted to basically express, one, what that's been like, and two, just what my thoughts were behind being a designer. Like I said in the letter, it was always me being a little apprehensive with it because so many of my friends did it, and now it's just like, "Well, why not?" Especially in a pandemic, it was just allowing myself to do something I've always wanted to do and express my creativity in another way.
PS: This might be a tough one, but what's your favorite piece from the collection?
KR: Oh my goodness, the active knit shoe. As soon as I put it on, it just felt right. It felt great. And I just thought it would be a great piece that the customers would love.
PS: If you had to choose a song of yours to describe your collection, what would it be?
KR: Flowers. PS: You mentioned in your letter that your collection is a tribute to all the amazing women you grew up watching who used their creativity to bring their dreams and ideas to life. Who are some of those women, and what is the most important lesson you've learned from them?
KR: I learned so many great things from so many women in my life. Between growing up when I was much smaller like 5, watching my great aunts with their personal style, to being older and being raised in the salon with B's [Beyoncé's] mom, Tina [Lawson]. My Mama T would have all these different women with so many different occupational backgrounds and they would come in there with so much style and flare. So, I can't say one thing in particular with one woman. I feel like they all have given me something special that I will always and forever take with me.
PS: In your letter, you also mentioned what a tough year 2020 was, given the COVID-19 pandemic. Did you develop any new hobbies? Binge-watch any shows?
KR: I binge-watched shows. I [watched] All American, and recently, it's been Bridgerton, Lupin, and Little Fires Everywhere. I've also watched some foreign films and documentaries, so I've kind of gotten into a lot of different things.
PS: What are some ways that you practiced self-care?
KR: A lot of bubble baths and just hanging outside. Just actually chilling in my front yard and having my own little picnics.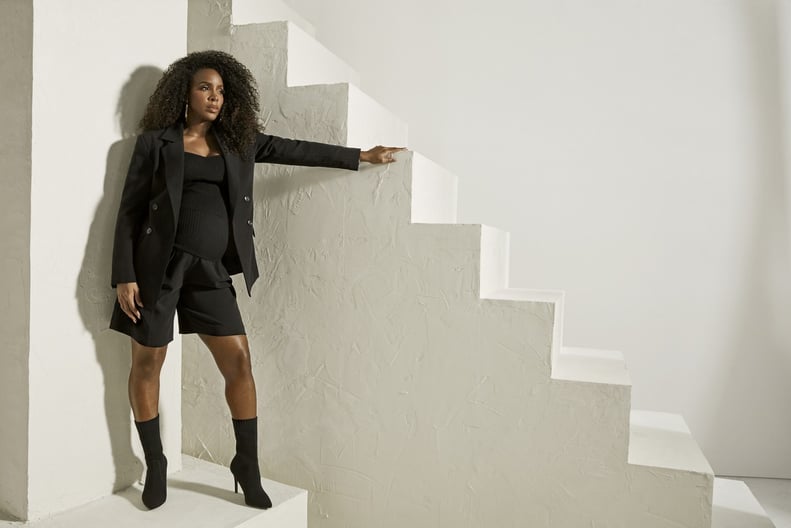 PS: What was your biggest takeaway from spending all that time at home? Did you learn anything new about yourself?
KR: I learned a lot about myself. I also learned about my son Titan's love language. He just loves to play. I think that being on the road sometimes you can miss certain things, and that was definitely one that I missed. But just being a real mom and being honest about mine, I was just like, "Oh, he loves this and he loves that." Seeing that and us being lost or me being lost in his world of playtime was so much fun.
PS: And you recently doubled down on your role as a #BoyMom. What's your favorite part about raising little boys?
KR: My favorite part about raising my boys is the love that we share amongst each other and the bond. The bond is just unbreakable, and I love being their mom.
PS: I understand that you're dropping your K EP tonight. What can you tell us about the project?
KR: It's been complete love poured into this project. I've worked on it for so long, and it's been a really exciting journey. And for me, I really wanted to get some tempo from this project, because I know usually with every, with all of my records, I love mid tempos and I just felt the need to have tempo right now. It was like trying on different shoes to see if they fit. And with this one, when I heard certain songs like "Black Magic" or "Hitman" or "Crazy," it just felt so perfect for me. It felt urgent, and it felt like it was just exciting and alive. I hope that everybody else listening enjoys it and it feels alive to them as well.
PS: Are there any exciting collaborations or songs that you're looking forward to releasing the most?
KR: No, the whole body of work is what I'm really excited about because it's been six and a half years since I put out music.
PS: Speaking of exciting moments, you recently celebrated your 40th birthday, which I hear is the best decade of a woman's life. What are you most looking forward to at this point in your journey?

KR: You know what? Because 2020 threw us all a curve ball, it taught me not to put so much [pressure] on anything. Just take everything as it comes. When it comes in, great, cherish those moments. When it comes in, and it's just a little challenging, there's obviously a lesson to learn in that season. I take everything one day at a time, but if 40 is what everybody says then — I mean, I was excited before, but that makes me even more excited.