Relive Kendall Jenner and Devin Booker's On-Again, Off-Again Relationship
Kendall Jenner and Devin Booker have reportedly called it quits again. A Nov. 21 report in People broke the news, revealing that a source told the outlet that they ended their relationship in October, citing their "incredibly busy schedules."
This isn't the first time the pair have broken up. They reportedly first called it quits in June and reconciled their relationship later in the summer. On June 22, "Entertainment Tonight" announced the couple's first split, but on July 19, E! News reported, per a close source, that Jenner and Booker had "worked out their issues" and are "spending a lot of time together."
Since then, the two had been spotted hanging out a handful of times, particularly on date nights, during New York Fashion Week, and at the 2022 US Open, which they attended on Sept. 11 for the men's singles final.
Over the course of their relationship, Jenner and Booker largely kept their romance under wraps. Despite being from one of the most public families in Hollywood, Jenner kept her relationship with the NBA star mostly to herself — only sharing photos every now and then on social media.
With the Kardashian family's Hulu show, some fans had hoped to get an inside look at Jenner's relationship with Booker. For season one, "The Kardashians" showrunner Danielle King told Variety in an April interview that the model didn't plan on bringing her love life to the screen.
"We'll see Kendall with her friends more than you did in 'Keeping Up.' But she is keeping her relationship private," King said at the time. The same has applied to the show's second season, which is currently underway, but it's possible that something about Jenner and Booker could make it onto the series eventually. Keep reading for a recap of the couple's relationship.
01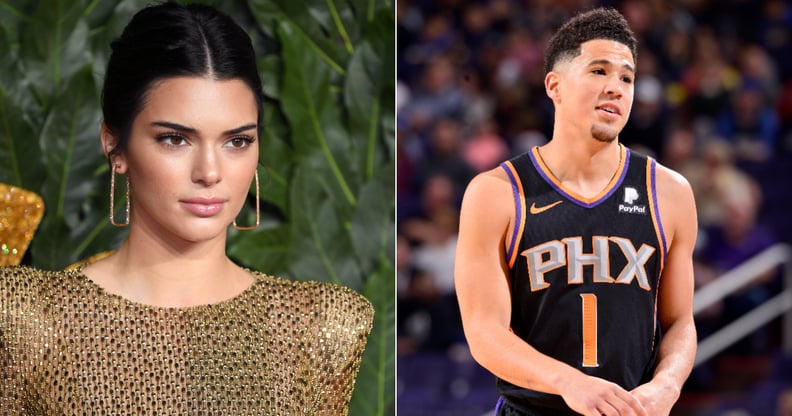 May 2018: Kendall Jenner and Devin Booker Are Spotted Together For the First Time
According to a report from TMZ, Jenner and Booker were spotted on a double date in May 2018, but not with each other. Jenner was out with her ex Ben Simmons, while Booker was with his ex Jordyn Woods, according to the report. It wasn't until much later, though, that these relationships fizzled, making way for Jenner and Booker to date.
02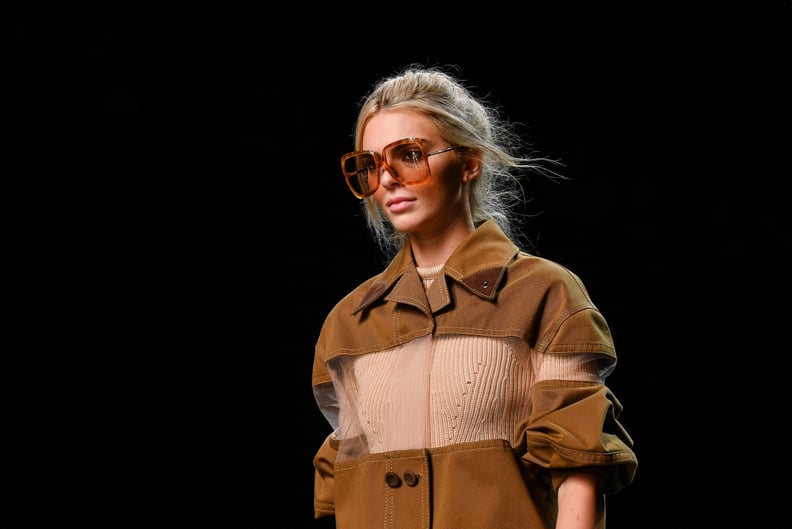 April 2020: Kendall Jenner and Devin Booker Take a Road Trip
The first time Jenner and Booker were spotted together as possibly more than friends was in April 2020 on a road trip in Arizona, according to TMZ. When it made the rounds on Twitter that the two might be dating, Jenner clapped back at trolls who joked about her history of dating basketball players.
03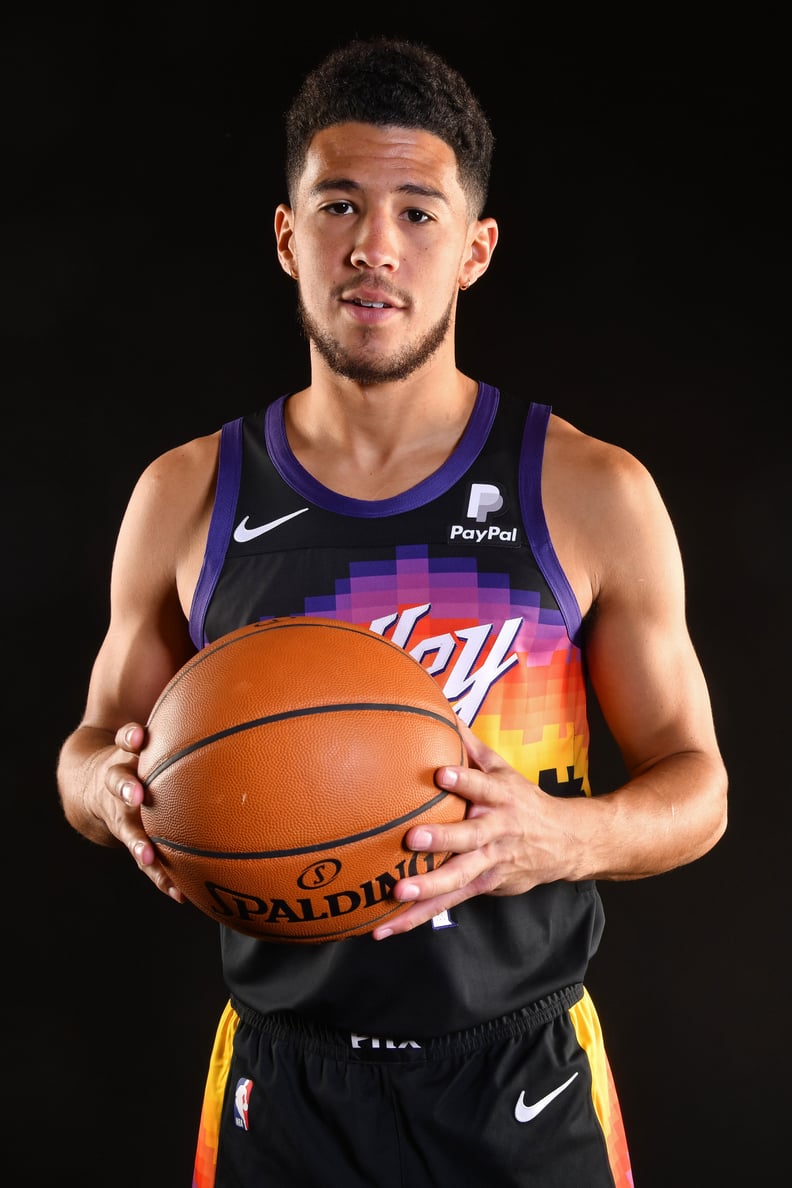 September 2020: Kendall Jenner and Devin Booker Vacation With Justin and Hailey Bieber
According to People, the foursome escaped to Idaho for a vacation in September 2020. Though a few pictures were posted on social media, none of them were of Jenner and Booker together — though sources snapped photos of all of them.
04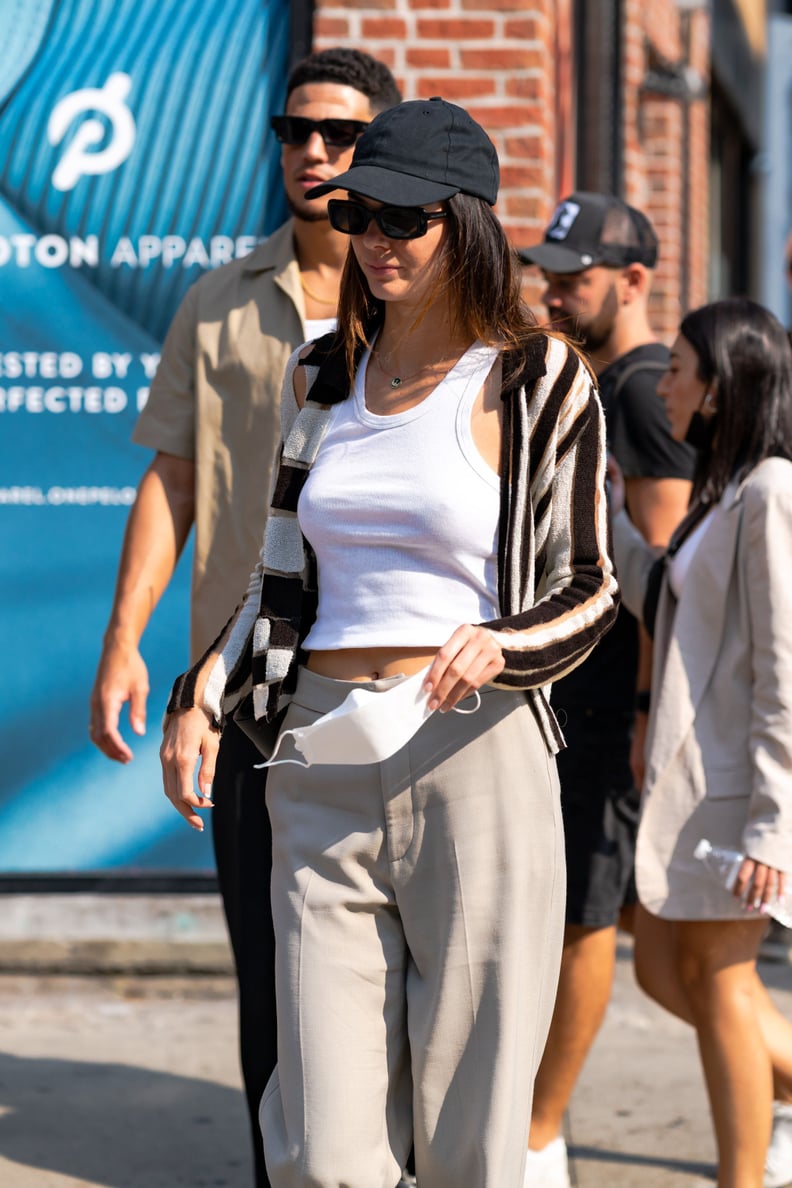 February 2021: Kendall Jenner and Devin Booker Are Instagram Official
To celebrate Valentine's Day, both Jenner and Booker shared some sweet snaps of each other on their Instagram Stories, per People. This sealed the deal with the public, especially since there had much speculation about the duo's relationship status when Jenner shared a photo of her and Booker during her 25th birthday in 2020.
05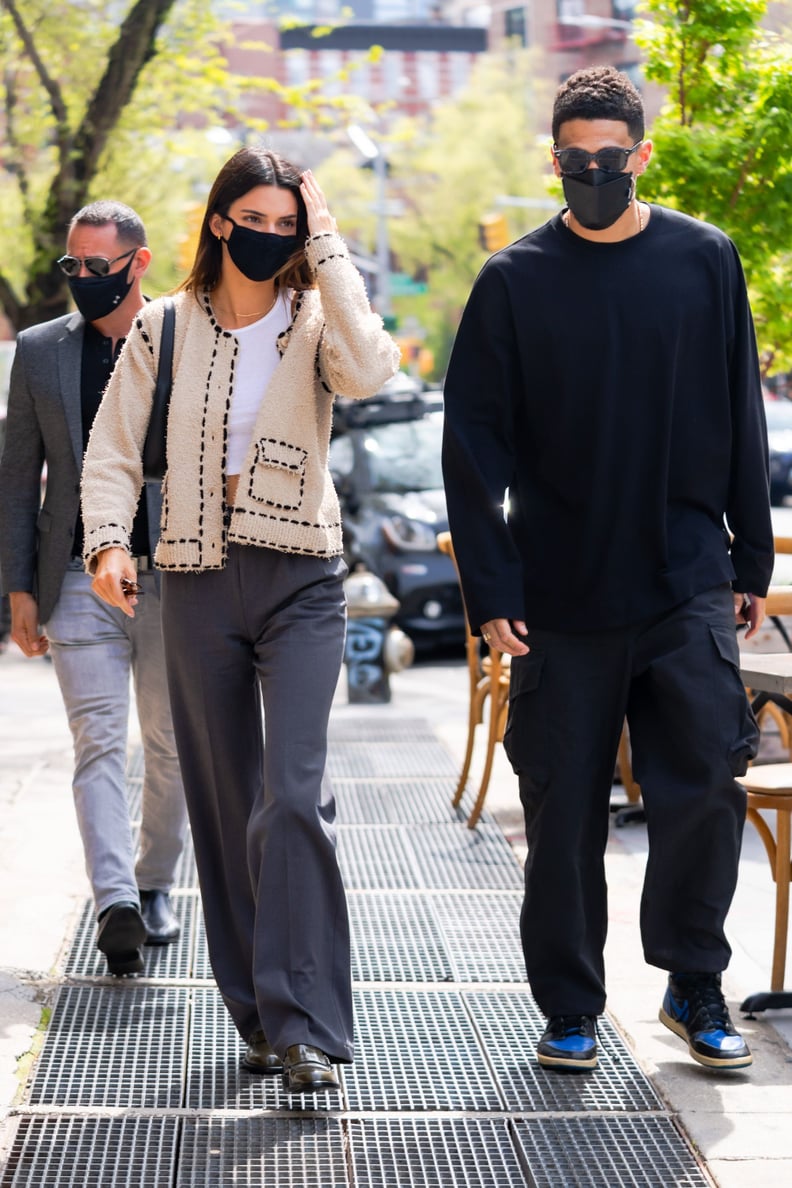 June 2021: Kendall Jenner and Devin Booker Celebrate 1 Year Together
In June 2021, the couple shared cute pictures on their Instagram Stories to celebrate one year together, according to People. Booker wrote "365" on one of his photos and "52" on another to signify their year together. On the third photo, he simply wrote a "1" for their first year.
06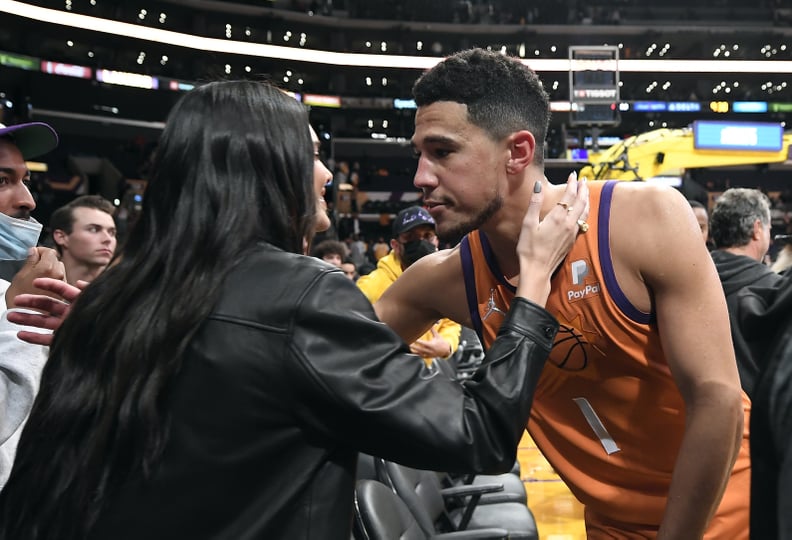 July 2021: Kendall Jenner Supports Devin Booker in the NBA Playoffs
Jenner is ultra supportive of Booker's basketball career, often showing up at games to cheer him on. She was courtside in July 2021 rooting for Booker and the Phoenix Suns during his NBA Playoffs debut.
07
September 2021: Kendall Jenner and Devin Booker Get Away to Italy
Jenner headed out on a trip with a few of her loved ones, including Booker. She shared a carousel of snaps on Instagram, ending with a cute photo of the two of them walking together.
08
September 2021: Kendall Jenner Says Devin Booker Loves Her Nieces and Nephews
The first time Jenner spoke out about Booker was to tell Jimmy Fallon that he loves her nieces and nephews — especially Kylie Jenner's daughter, Stormi. "He loves them," she told Fallon. "Him and Stormi have an amazing relationship. She has the biggest crush on him, and I'm, like, jealous sometimes. I'm like, 'Stop. Can you guys not?'"
09
January 2022: Kendall Jenner and Devin Booker Ring In 2022
The couple escaped to a cozy countryside to ring in the new year. Jenner showed off a selection of photos on Instagram that included one of her and Booker looking happier than ever to be together.
10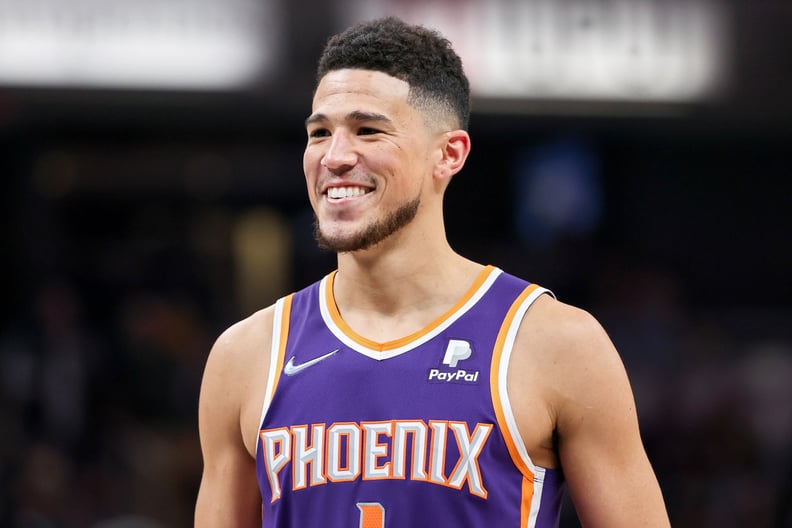 March 2022: Devin Booker Hints at His Happiness With Kendall Jenner
In an interview with WSJ Magazine, Booker discussed his relationship with Jenner in more detail. "I'm enjoying life to the fullest, and that came off my tongue so easily because it wasn't always this way, but I feel like I'm in a good place right now," he said. "I love the people around me."
11
April 2022: Kendall Jenner Says She Never Misses One of Devin Booker's Games
In an interview with Jimmy Kimmel, Jenner said she does everything she can to watch each of her boyfriend's games. She told Kimmel, "I watch every game unless I have — last night, I had a dinner, but all my friends and family know that I, like, sit with my phone wherever I am with the game on."
12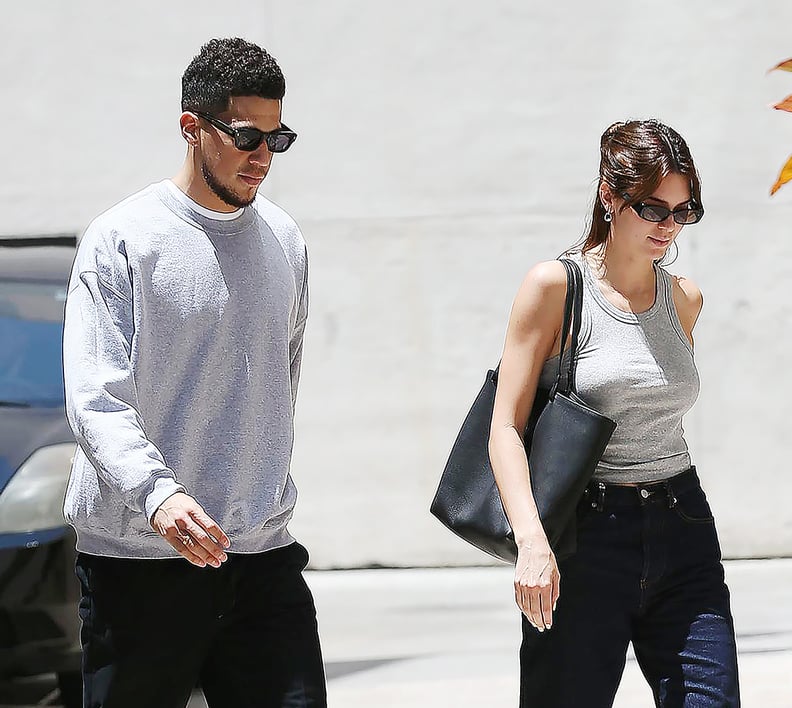 June 2022: Kendall Jenner and Devin Booker Reportedly Break Up
On June 22, Entertainment Tonight reported that the pair had broken up. "They are not on the same page" regarding the future, a source said.
13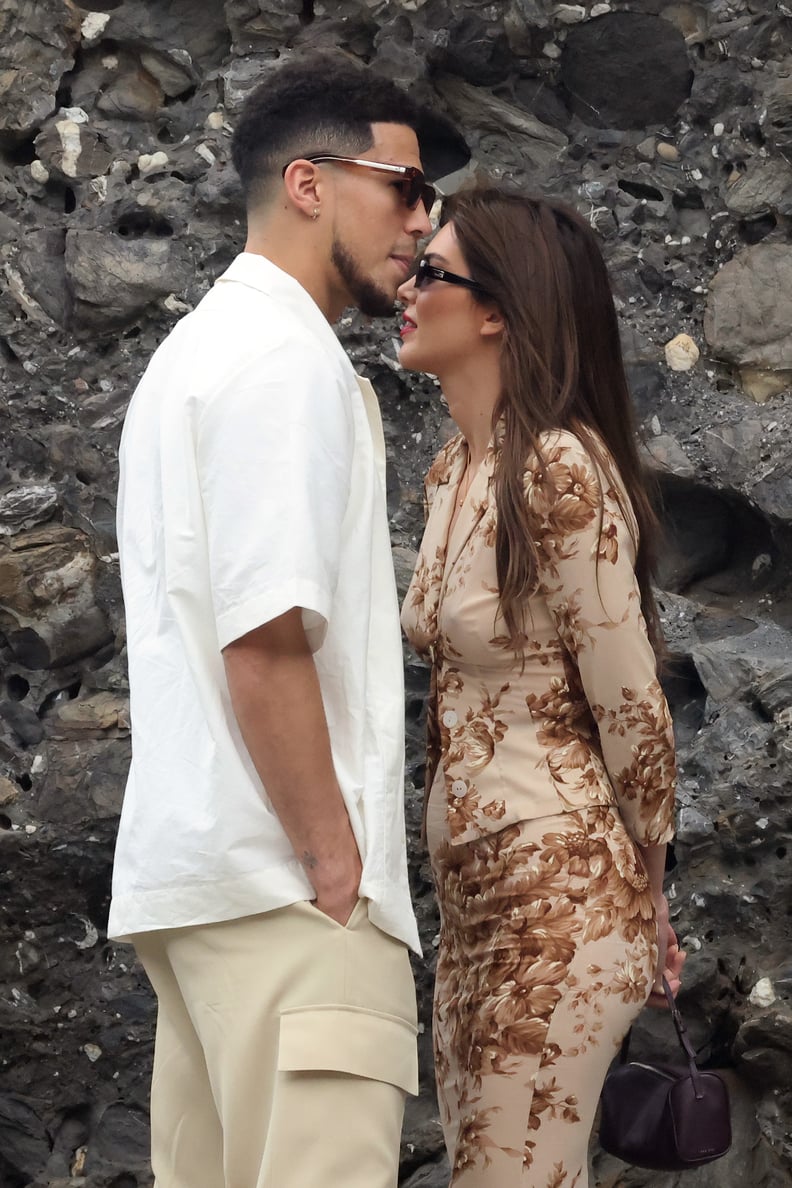 July 2022: Kendall Jenner and Devin Booker Reportedly Get Back Together
Nearly a month after the pair's reported breakup, a source told E! News that Jenner and Booker are now "fully back together." "They worked out their issues and decided they want to move forward and be together," they added. The insider also said the couple has been "spending a lot of time together recently," as Booker accompanied Jenner to her friend's wedding in Napa on July 16. Fans suspected a reunion between the two after the "Kardashians" star posted an Instagram Story of her posed with a man assumed to be Booker, though his face was cut off from the photo.
14
October 2022: Kendall Jenner Wishes Devin Booker a Happy 26th Birthday
On Oct. 30, in honor of Booker's 26th birthday, Jenner shared a brief but sweet tribute post on her Instagram Stories with a photo of the pair captioned, "birthday boy @dbook," with a red heart emoji. The athlete seemed to appreciate the gesture, as he reposted the Story on his own page.
15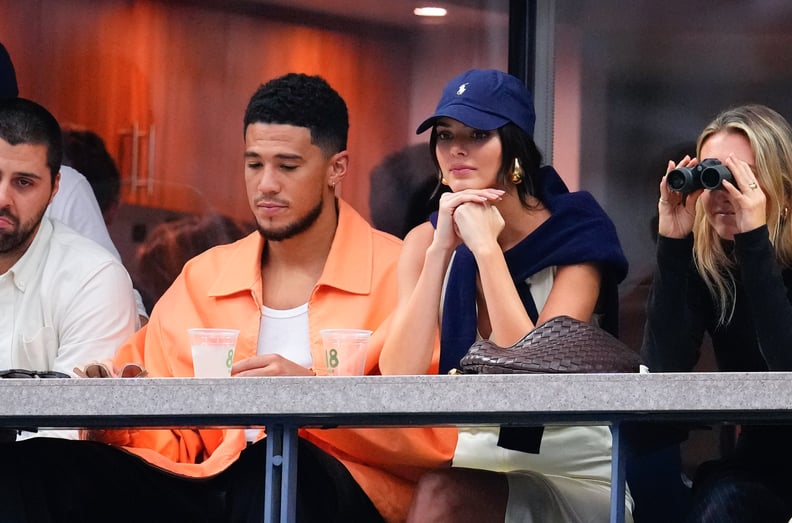 October 2022: Kendall Jenner and Devin Booker Reportedly Break Up Again
On Nov. 21, People reported that the pair had broken up again in October due to their schedules. "Both have incredibly busy schedules right now with their careers and they've decided to make that a priority," a source told the outlet. "They have a lot of love and respect for each other and wish only the best." The source also said the decision to end their realtionship was mutual.