Genre-Bending Is the Secret Behind "La Bachata" Star Manuel Turizo's Success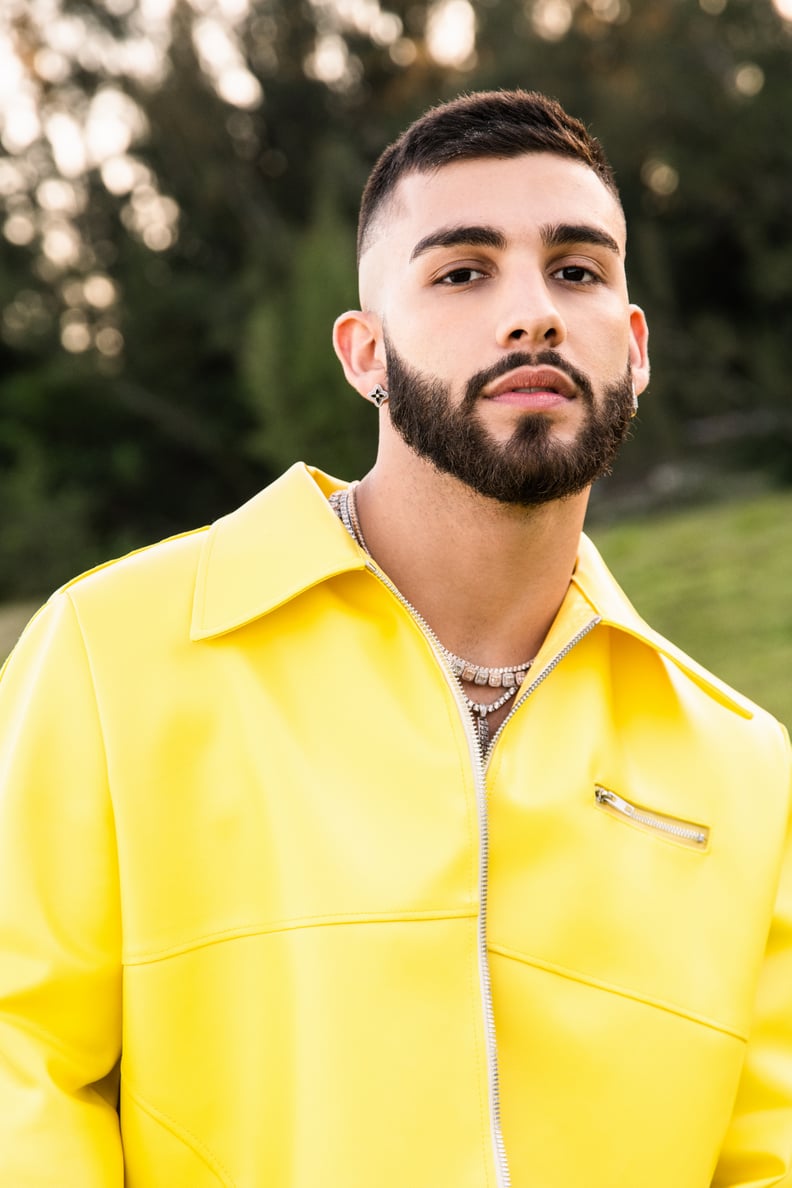 La Industria Inc
La Industria Inc
It used to be that recording artists had to be known for a specific genre to get signed to a label. But in recent years, more and more music artists have been experimenting with different genres — from The Weekend's bachata track with Rosalía to iconic pop singer Thalia's new urbano sounds.
Still, it's rare that you see an artist who isn't known for a specific genre skyrocket to fame. And yet Manuel Turizo has managed to beat those odds by creating music on his own terms. The 22-year-old Colombian singer and songwriter from Montería, Colombia, has released everything from pop music to reggaeton and vallenato. His latest megahit, "La Bachata," his first bachata song, rose to No. 1 in Latin Airplay and Tropical on the Billboard charts for multiple consecutive weeks.
But it doesn't stop there. On Nov. 14, Amazon Music announced new programming for the holiday season, which includes Turizo's cover of "All I Want For Christmas Is You," a classic originally created by Mariah Carey. It's a move most artists wait to make until further along in their careers, but refusing to be pigeonholed has served as the artist's secret sauce behind his wild success. In this year alone, Turizo has become one of 2022's most exciting and unpredictable artists. This is just the beginning.
"I've done reggae. I've done pop. I've done ballada. I've done reggaeton and now bachata. I just love music," Turizo tells POPSUGAR. "I didn't think about just one thing. I want to try and learn everything."
Surrounded by a family of musicians, Turizo says his love for music developed at infancy. His father played the guitar and saxophone, and his brother also played guitar, eventually becoming a producer and composer. By the age of 3, Turizo was already expressing interest in music, dancing to the rhythms played in his home, and eventually learning how to sing as well as play the drums and guitar. When he was 12, Turizo found a music teacher who helped him improve his singing techniques. It was during this time that the artist started to seriously consider music as a career and not just as a fun hobby.
"Before that, I used to think the music [route] was not for me," he says. "That's when everything started. I started to think, I can do this. It's not illogical to try it."
When he turned 15, the artist told his parents that he wanted to drop out of school and pursue a career in music. As he remembers: "They freaked out and were like, 'No way. You have to continue in school.' They were like, 'You want to do music? Show us you really want to do it and you really want to work to do it.' Because when you're young, you think that things are easy. You talk a lot but you have to act as much as you're talking."
Turizo took the challenge to heart and shortly after moved to the city of Medellín, started to meet people, and began recording and writing music with friends without having any specific genre in mind.
"I think that all those sounds influenced Manuel Turizo and the musical identity that I was creating."
"I really related to the urban sound because I used to hear reggae, I used to hear afrobeats, I used to hear reggaeton, of course, I used to hear pop, balladas —everything. I think that all those sounds influenced Manuel Turizo and the musical identity that I was creating," he says. "That's why if you look at my career and the music I have released [none of the] songs are the same. It's different types of sounds — each one."
Turizo is no overnight success, with popular songs like "Vaina Loca" with Ozuna, which dropped in 2018, and "La Nota" with Myke Towers, released in 2021. But despite his growing fame, his biggest hit has come after choosing to dip his toes in bachata. "La Bachata" kicks off his highly anticipated album "2000," slated to release in 2023. And it's only his second solo track to reach the top spot since his 2019 single "Sola."
"Manuel is absurdly versatile at a musical level, and he doesn't get stuck on a genre. He wants to do everything," Turizo's manager, Juan Diego Medina, told Billboard's chief content officer of Latin/Español, Leila Cobo, in an October Billboard Bulletin. "He hadn't released a bachata before, but had recorded another bachata, which actually Romeo Santos produced [and will also be included in "2000"]. . . . It was a bachata, but not the kind of bachata Romeo or Prince Royce would do. It had an urban touch, a sort of hidden dembow. It was a gamble."
In terms of getting the support from Santos, the king of bachata himself, Turizo feels honored. "It's like an extra payment. I'm a big fan," he says. "Whatever he can say about me or about my music, for me it's like, 'Oh man, Romero is talking about me. . . . I respect him a lot. I dream to do a song with him one day."
Santos isn't the only bachata OG Turizo would like to collaborate on a song with, though. "I would love to collaborate with Juan Luis Guerra," he adds. "He is a legend, and part of my memories as a kid with my mom [was] always listening to his music."
Not only has "La Bachata" helped Turizo's career take off, but its success is also an indicator that genre-bending will become more of a norm for rising artists. He plans on putting out more bachata songs while paying his respect to the Dominican Republic and the genre's originators.
"Bachata, of course, comes from the Dominican Republic. But right now it's a global genre."
"Bachata, of course, comes from the Dominican Republic. But right now it's a global genre," he says. "Even in Spain you see artists trying to do bachata. C. Tangana, who is one of the biggest artists from Spain, has done like three bachatas. Rosalia with The Weekend. Nathy Peluso from Argentina is doing bachata too . . . it's something that's already influenced our generation. It's pop music right now — it has something for everyone."
Just five weeks after the release of "La Bachata," Turizo dropped his latest single,"Extasis" (which translates to "ecstasy" in Spanish) with Argentine singer Maria Becerra. The Afrobeat-style track is his last single before the release of "2000."
"Thank God I've been successful doing different genres," Turizo concludes. "I could say I started with urban pop, and it was great for me. . . . I feel like I'm an example for the new generation to see that you don't have to do one thing. If you like everything, you can try everything. It doesn't matter. If you feel it, if you're connected with it, if you show the people, they are going to decide if it's right or not."
Indeed artists like Turizo are proving that the days of sticking to just one type of music might be behind us.