Lamar Odom was found unconscious at a Nevada brothel on Tuesday, and since then, there have been nonstop reports about his condition and the possible causes for his hospitalization. Fortunately, Lamar seems to be in a better state and was transferred to an LA hospital on Monday. Below, take a look at what we actually know as the story continues to develop, and then check out four things you might not have known about the athlete.
Tuesday, Oct. 13: TMZ reported that Lamar was found unconscious at Dennis Hof's Love Ranch South in Pahrump, NV. Lamar had reportedly arrived at the Ranch over the weekend and "was taking an herbal substitute for Viagra." He was found unconscious in a VIP room around 3 p.m. PDT. The manager of the brothel told TMZ he saw a "mucus-type liquid coming out of his nose and mouth." Once an ambulance arrived, Lamar was taken to Desert View Hospital. Medical personnel attempted to move Lamar to Sunrise Hospital in Las Vegas by helicopter, but at six feet, 10 inches, he was too large for the aircraft and had to be transported by ambulance. Kylie Jenner, who was in the middle of her live stream around 6 p.m. PDT, abruptly ended the show once news of Lamar's condition surfaced.


Had to end my live stream. I love you guys.— Kylie Jenner (@KylieJenner) October 14, 2015

That night, reports emerged that Khloé Kardashian, who was in a relationship with Lamar from 2009 to 2013, rushed to Las Vegas to be by Lamar's side. He also received a visit from his former NBA teammate Kobe Bryant, who left a preseason game to make the trip.
Wednesday, Oct. 14: According to People, both Kim Kardashian and Kris Jenner are at the hospital to support Khloé. In the morning, Kendall Jenner tweeted her thoughts for Lamar.


please don't go.— Kendall Jenner (@KendallJenner) October 14, 2015

People reported that Lamar has "had a couple of strokes" since he was originally found unconscious and that doctors revealed that "cocaine and opiates" were found in Lamar's system. Further evidence of drug use was reportedly seen by witnesses at the hospital and Us Weekly revealed that "a significant amount of cocaine was found in his system." People also reported that Lamar and Khloé are still legally married. Despite both signing divorce papers back in July, a judgement has not yet been entered into court to make things official. Legally this means that Khloé is still responsible for making medical decisions while Lamar is in a coma. Rev. Jesse Jackson spoke to press after visiting Lamar at Sunrise Hospital, where Khloé was by his bedside. He revealed that Lamar is on life support and that "there is some responsiveness now."The Kardashian family was reported to be saying their goodbyes to Lamar as he remains in a coma. According to a source, "Khloé is making decisions for him" since the two are still officially married and Lamar "never signed a living will." Kris Jenner posted a photo of Lamar on Instagram, writing, "Please pray for Lamar #ourfighter," while Rob Kardashian also shared a picture, adding, "Praying nonstop for my Brother."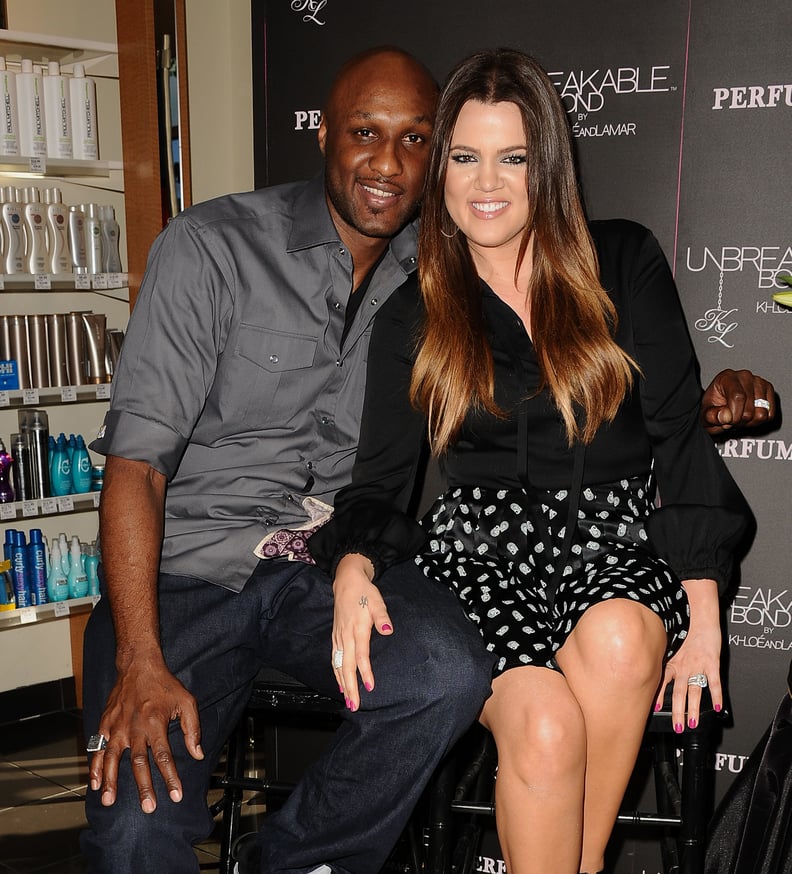 Lamar's ex Liza Morales and their children, Destiny and Lamar Jr., traveled to Las Vegas to be with Lamar. Kim Kardashian, who is pregnant with her second child with Kanye West, postponed her baby shower while the family dealt with Lamar's condition. Reports emerged that Lamar briefly opened his eyes and possibly squeezed Kim's hand, giving some hope that his condition was improving, but a source told Us Weekly that Lamar's "condition has not changed," and that "there's still brain swelling."
According to later reports from
People, Lamar is still breathing with the help of a ventilator. A source said that he's "on his last leg," and that everyone is "preparing for the worst."
According to Us Weekly, Khloé reached out to brothel owner Dennis Hof. "[We politely asked] him to respect Lamar's (and Khloé's) privacy during this difficult time and refrain from talking to the press," her rep said in a statement. "This is a very painful situation, as I know you are aware, and the idea that anyone would use it to seek publicity is really sad."
ET Online reported that Lamar "has opened his eyes and been able to communicate," while other reports maintained that his condition had not improved and that he is still in a coma. In the afternoon,
E! Online reported that Lamar woke up from the coma and had spoken to Khloé, while Us Weekly revealed that he opened his eyes. Later that evening, Liza took to Twitter to express her joy about Lamar's signs of improvement.
The TRUTH is God is good. All the time. Continued prayers for my children and their father. Thank you for the support and well wishes.
— Liza M (@TruLiza4u) October 17, 2015
According to Us Weekly, Lamar is continuing to improve. He's "slowly saying more words," and Khloé has been giving him sweet kisses on the cheek. Kim also hinted at his improvement when she posted a photo on Instagram, writing that she and Kendall had made him smile.
Us Weekly reported that Lamar would soon return to LA, where he'll be moved to a rehab center. The decision was apparently Khloé's, since she wanted him to be closer to her and her entire family.
According to People, Lamar was transported from Las Vegas to a hospital in LA via helicopter on Monday evening. Khloé reportedly wanted Lamar to be closer to her and to receive the best possible medical care.
New reports from Us Weekly claim that Lamar has undergone two emergency surgeries. All visitors have reportedly been banned, with the exception of Khloé. Earlier in the day,
Us revealed that Lamar is "not out of the woods," and it's "still really touch-and-go," according to another source.
Us Weekly stated that Lamar's condition remains dire. New reports show that he suffered several strokes while he was unconscious, and they have affected his motor skills. In an effort to remain by Lamar's side, Khloé has canceled the press tour for her upcoming book, Strong Looks Better Naked.