Madison Iseman Interview About Clouds
Madison Iseman on Filming Clouds and Which Vampire Diaries Star She Got Starstruck Over at an Oscars Party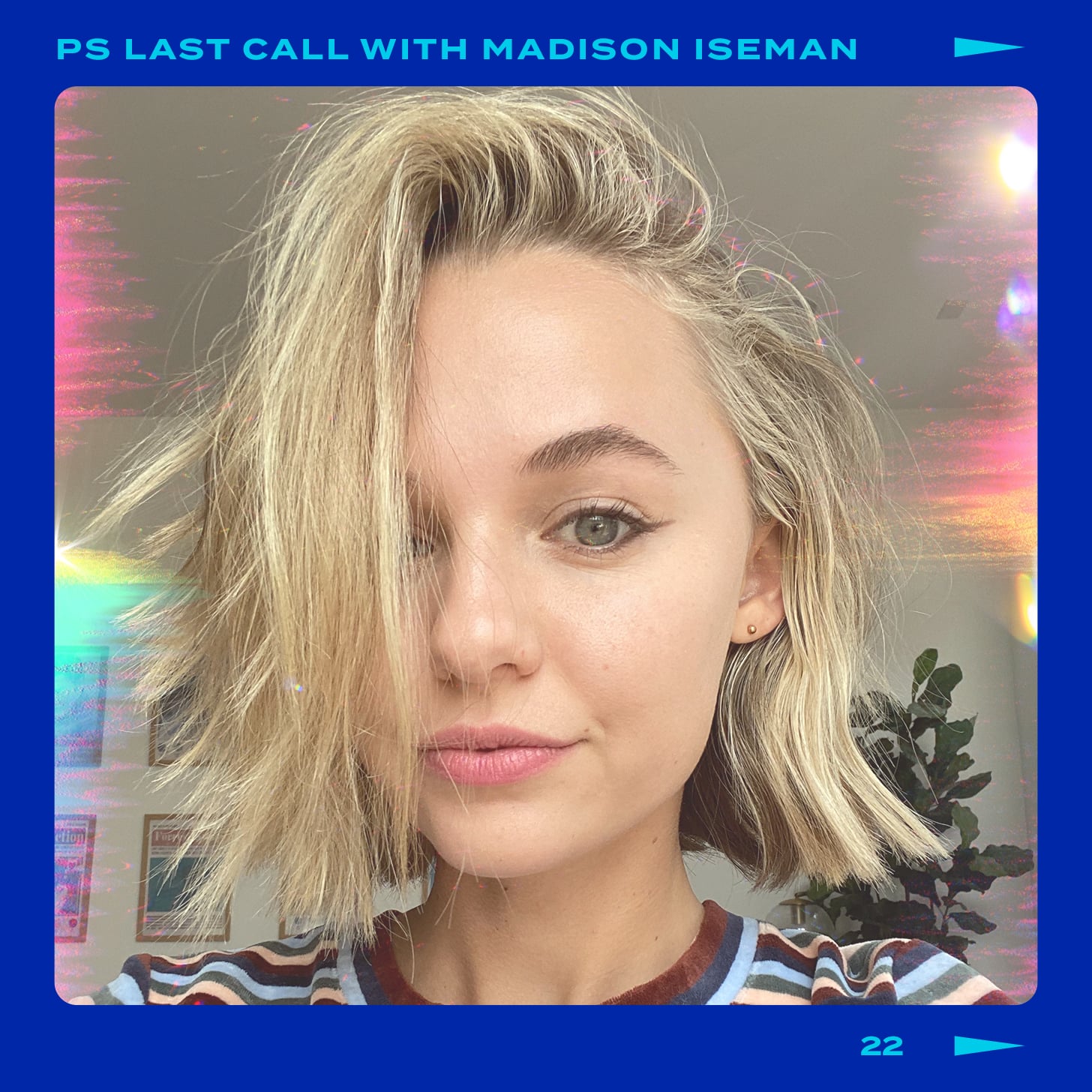 In our Q&A series Last Call, we get down to the bottom of every last thing with some of our favorite celebs — from the last thing they texted to the last thing they binge-watched. This week, actress Madison Iseman takes our call.

Madison Iseman is having a busy fall, bringing us not one, but two perfect October films. First up, the Blumhouse thriller Nocturne. She plays an exceptionally talented pianist and twin sister to Juliet (Sydney Sweeney), but their competitive nature with each other at their prestigious arts school begins to take a sinister turn. And if you need to balance out the thriller with an emotional drama, her next film, Clouds, is arriving just in time this Friday, Oct. 16 — based on the inspiring true story of 17-year-old Zach Sobiech, a high school student who chases his dreams of making music after being faced with terminal cancer. Read on for more from Madison on filming, what she's been reading, the last thing she watched on Netflix, and more!
What was the last day filming Clouds like?
So sad. But happy. I think we made something really special. Also made some lifelong friendships and mended some lost ones. Fin and I have been friends since we were 16. This is his first leading part in a movie ever. I'm so happy I was able to do it with him.
Last thing you texted?
"Is it her?" to my boyfriend, Spencer Sutherland. We thought we saw Jenna Fischer at our coffee shop.
Last thing you watched on Netflix?
Work It with my favorite lady, Sabrina [Carpenter].
Last piece of advice you received that changed your life?
"You can have it all if you want it hard enough. Happiness should always be your main goal and the rest will come."
Last thing you ordered online?
Hmmm . . . I think a dress from Reformation. Or batteries from Amazon. I can't remember.
Last photo on your camera roll?
A picture of a puzzle I completed. I'm still in the puzzle phase of quarantine.
Last thing you do before going to bed?
Play 20 questions with Spencer.
Last gift you received?
A Blue Bottle Coffee gift card.
Last workout?
I took a run around my neighborhood.
Last book you read?
You Must Not Miss by Katrina Leno. It's so good, I highly suggest if you enjoy a darker storyline.
Last album you listened to?
Lennon Stella's Three. Two. One. alternate-version album. It is *chefs kiss*.
Last thing you took home from set?
My chair back from Clouds.
Last time you were starstruck?
I was in line next to Ian Somerhalder at some Oscar party. I wanted to cry. I love Damon Salvatore.
Last great fashion purchase?
My new Jimmy Choo stilettos.
Catch Madison in Clouds when it premieres on Disney+ on Friday, Oct. 16, and in Nocturne, which is out now on Amazon Prime Video!
Image Source: Madison Iseman