During Monday night's VMAs, Madonna seemed to pay tribute to Aretha Franklin, who very recently passed away at age 76. The operative word here is "seemed," since a new Instagram post from Madonna insists it wasn't meant to be a tribute at all. The photo shows the singer posing with Camila Cabello, to whom she presented the video of the year award. In the lengthy caption accompanying the picture, Madonna seemingly clarified the situation. She wrote:
I was asked to present video of the year by MTV! And then they asked me to share any anecdotes I had in my career connected to Aretha Franklin! I shared a part of my journey and thanked Aretha for inspiring me along the way. I did not intend to do a tribute to her! That would be impossible in 2 minutes with all the noise and tinsel of an award show. I could never do her justice in this context or environment.
Unfortunately most people have short attention spans, and are so quick to judge. I love Aretha!
To return to the moment in question, Madonna walked out on stage while one of Aretha's best songs played in the theater. A gargantuan, gorgeous photo of the legendary icon — it must have been 30 feet at least — was on display behind her.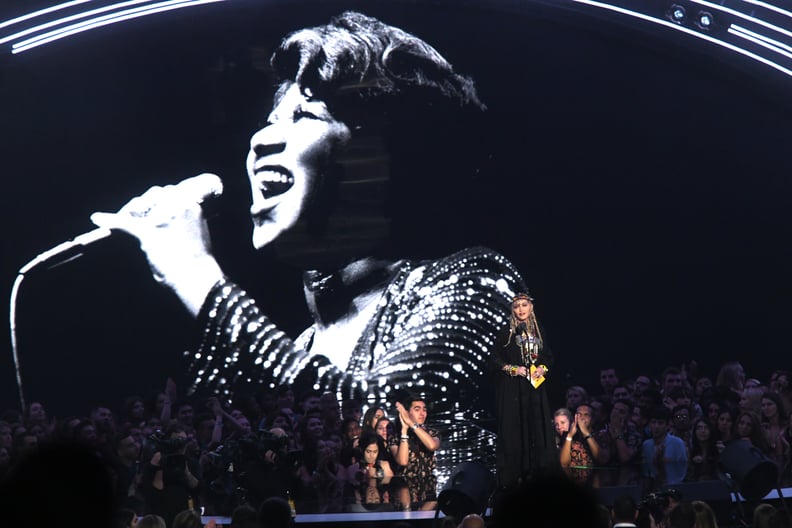 To be fair, Madonna's speech wasn't an Aretha tribute. She told a five-minute story about her own life that involved this one time she sang an Aretha song. Fans and viewers were perplexed and angered by the moment. As for the rest of Madonna's caption, which insists that she was not meant to be the one to pay said tribute? Well, days before the show, executive producer Jesse Ignjatovic did say those working on the show were definitely planning on paying tribute to the late icon. And having watched all three hours of the show, I can safely say there was no other moment that could have been designated as such. At this point, it's unclear whether MTV failed to communicate the task to Madonna or she just failed to do it properly. All we know for sure is that it didn't happen.