Before Megan Fox and Brian Austin Green announced their sudden split in August 2015, the couple had been together for a whopping 11 years, which is practically a lifetime by Hollywood standards. A relationship that lasts that long is bound to come with its fair share of ups and downs, but it was still a surprise when it was reported that the couple was postponing their divorce in April because they're expecting their third child together. Since there's no better time to take a look back at the long, winding road that is their relationship, keep reading to see how Brian and Megan met, what led to their breakups, and everything in between.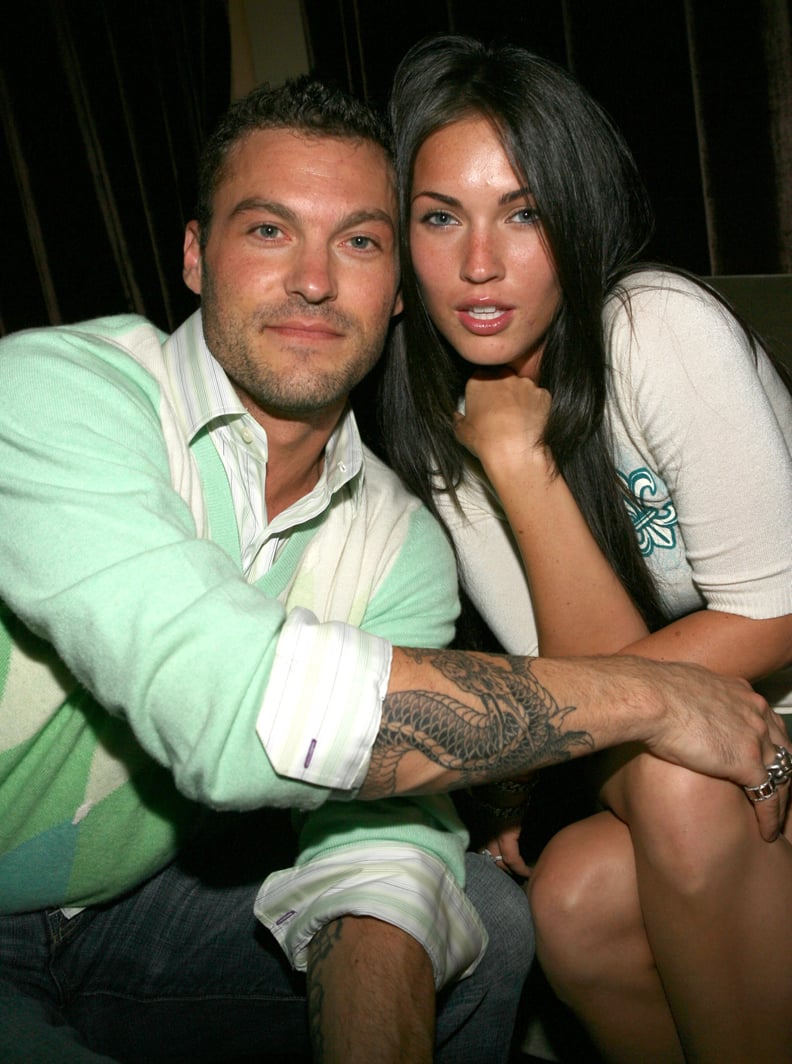 The Early Years
2004: Brian, who was 30 at the time, guest starred on an episode of then-18-year-old Megan's show Hope & Faith, and the attraction between them was instant. In a 2009 interview with The New York Times Magazine, Megan said she "liked him right away," and added, "I remember literal electricity shooting through me and out me from every direction. It was like magic."
2006: Undaunted by a 12-year age difference and the fact that Brian already had a child, Kassius, from his first marriage, the private pair dated happily for two years, staying relatively under the radar. Megan's biggest role was still on Hope & Faith, and Brian acted in the sitcom Freddie. After moving in together (along with their dog, potbellied pig, two cats, two birds, and a squirrel), Brian and Megan got engaged in 2006.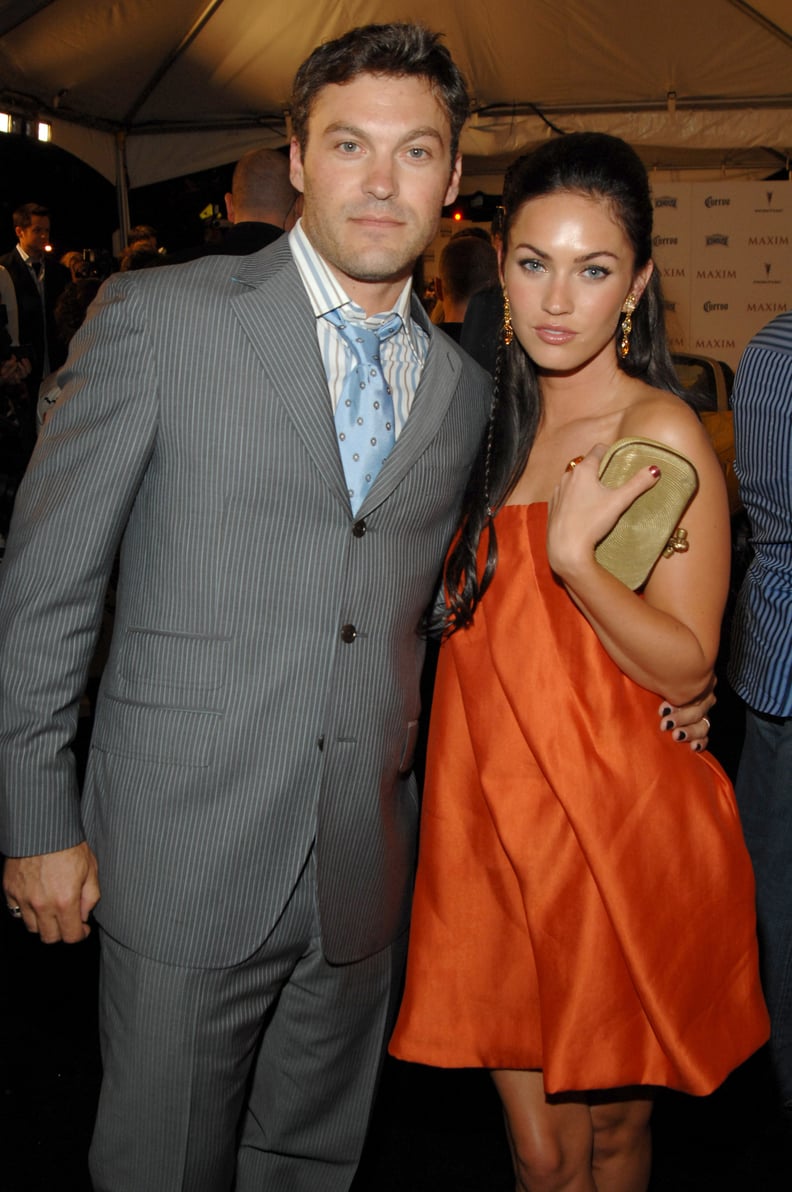 First Major Breakup
2007: Megan scored a lead role in Transformers in 2007 opposite Shia LaBeouf, which was a major turning point in her career. Brian also kept busy with a role on Fox's Terminator: The Sarah Connor Chronicles, but reports of animosity between the two over their careers began to swirl.
2008: With the success of Transformers under her belt and quickly on the way to being America's biggest sex symbol, Megan went on to rack up plenty of roles in big hits like Jennifer's Body, while Brian acted in a collection of smaller roles on CSI: Miami and Smallville. With two careers booming, their relationship seemed to feel a strain, with Brian admitting to TV Guide, "We have more time away from each other now than we'd like."
2009: After being engaged for nearly four years, the couple called off the wedding in February 2009. Neither Megan or Brian commented publicly on their reported split (or the rumors of Megan cheating with costar LaBeouf), but Megan did give a glimpse into what led to their breakup when she spoke to Us Weekly on the red carpet for Transformers: Revenge of the Fallen in June 2009. "Marriage isn't a realistic goal for someone who is 23, that's all," she told the magazine. "I just wanna concentrate on becoming a better person before I try to commit to being someone else's wife."
Back Together Again
2009: The pair rekindled the flame at some point in 2009, and Brian got extremely candid about what led to their brief breakup in an interview with Access Hollywood, saying "She was 18 when I met her, and she went through an enormous change in her life because of her career in general. So she went through the natural period of, 'I'm not sure if I'm ready to be in such a settled relationship.' I have an 8-year-old, and he was 2 at the time that Megan and I met. She helped me raise him, and that's a huge responsibility."
2010: Megan's views on marriage clearly changed, since they got engaged once again in June 2010, over four years after their first engagement. Of their do-over, Megan claimed it was "really not a re-engagement . . . nothing is different," and that it would be "years" before she walked down the aisle, saying "I'm going to be 44 when I get married!" Just two weeks after announcing their re-engagement, however, they wed in a private ceremony in Hawaii in late June, with only Brian's son, Kassius, in attendance (at which point Megan was 24, by the way).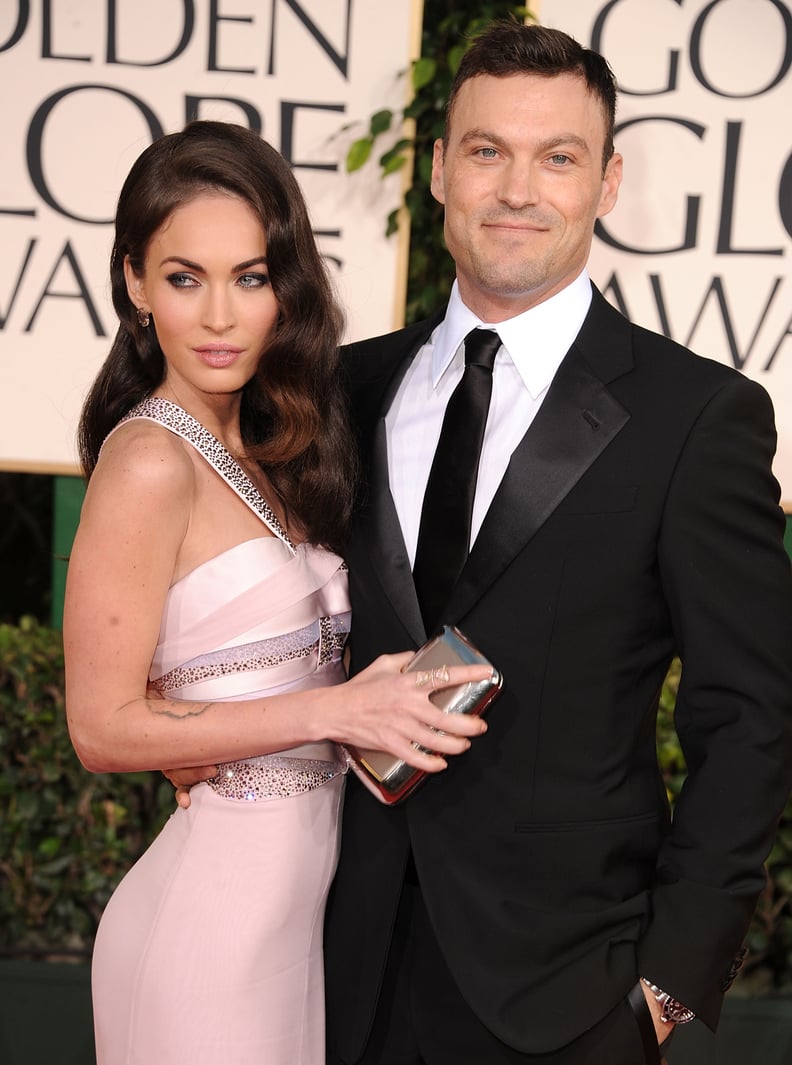 One Big, Happy Family?
2012: Megan and Brian welcomed their first child together, Noah Shannon, in September 2012. "I gave birth to our son Noah Shannon Green on September 27th. He is healthy, happy, and perfect," Megan shared on Facebook. "We are humbled to have the opportunity to call ourselves the parents of this beautiful soul and I am forever grateful to God for allowing me to know this kind of boundless, immaculate love. Thanks to those of you who wish to send your positive energy and well wishes. May God bless you and your families abundantly."
2013: Megan had no qualms about sharing the details of her sex life postbaby with the public. "Brian doesn't get any intimacy whatsoever," she revealed to Entertainment Tonight.
2014: Despite an apparent drought in romance, the couple announced the birth of their youngest son, Bodhi Ransom, in February 2014. During an appearance on The View a few months later, Megan hinted that her physical relationship with Brian was still suffering, saying, "My [2-year-old son Noah] sleeps in bed with us, so there's really no way." She also said that although Brian made it clear he wants more kids, it was only because "he doesn't have to do any of the work." Yikes.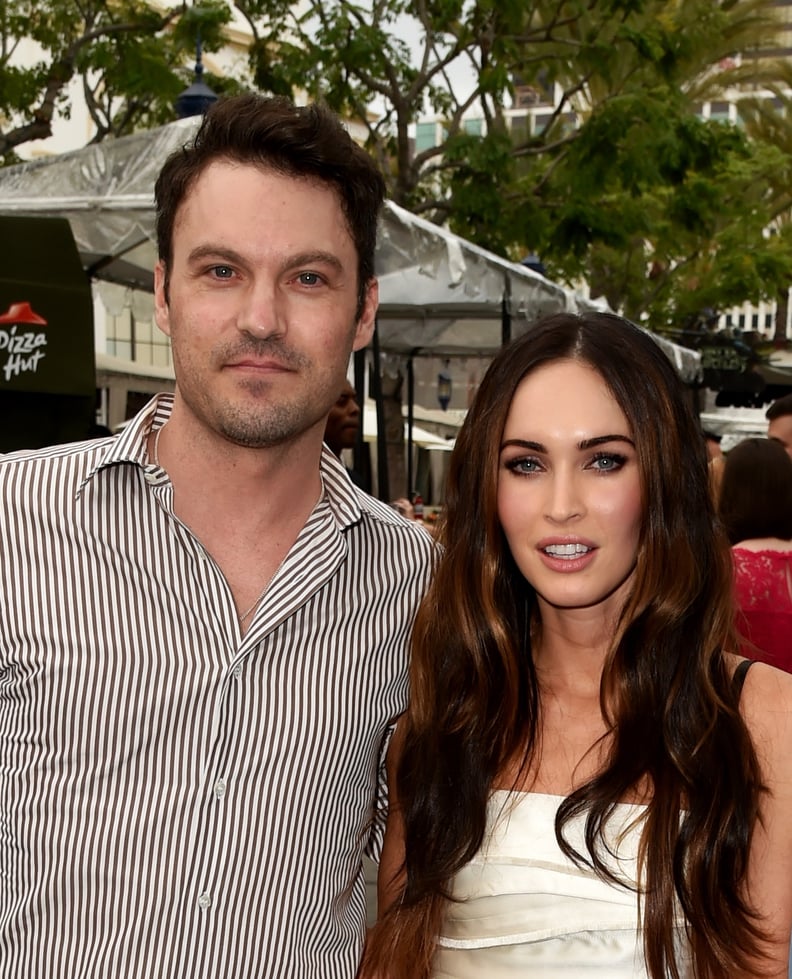 Breakups and Makeups
2015: In August 2015, Megan filed for divorce from her husband, citing irreconcilable differences. The breakup was described as a long time coming, but a source told People that, "They will always love each other very much and are devoted to their kids. Anything could happen in the future, but for now they've decided it's best to take some time apart."
2016: Megan is pregnant again! The actress announced her pregnancy in April 2016, and although there was speculation as to who the father could be since Megan was publicly single, it was quickly confirmed that Brian is going to be a dad for the fourth time. E! reported their divorce "will likely be put on hold for a while," and, "This pregnancy was not planned, but when they found out they were extremely happy." Judging from the couple's frequent outings together as of late, their relationship seems to be back on track.