Millie Bobby Brown Gives Inspiring Speech About Children's Rights at UNICEF Summit
Millie Bobby Brown took the stage during UNICEF's summit for Universal Children's Day on Nov. 20 at the United Nations headquarters in New York. Millie, 15, is UNICEF's youngest-ever Goodwill Ambassador, and her work involves raising awareness about children's rights and issues affecting youth around the world, from education to violence. At Wednesday's summit, she was introduced by fellow UNICEF Ambassador David Beckham and gave an impassioned speech about lifting up the voices of children and taking action for those who don't have one. "I'm in this for the long haul," she said.
She also took the opportunity to speak on a topic near and dear to her heart: bullying. She said, "Like David, I've been very lucky in my life. I take nothing for granted. But I also know what it feels like to be vulnerable. At school, I was bullied by a group of students." Millie has rallied against bullying many times, especially when it comes to social media. The actress talked in her speech about how social media "doesn't have to be a place of fear, bullying, and harassment" for kids.
Millie continued by touching on the next generation of young people who are rising up against a variety of issues and getting legislators' attention. "I'm joined by tens of thousands of other young people from every part of the world demanding to be heard," she said, praising 16-year-old climate change activist Greta Thunberg for her efforts. "Now, Greta's message is being echoed every Friday, when thousands of children and young people leave their classrooms to protest the world's inaction on climate change. Young people like her are shouting for world leaders to hear, to listen, and to act." You can read Millie's entire speech in UNICEF's press release.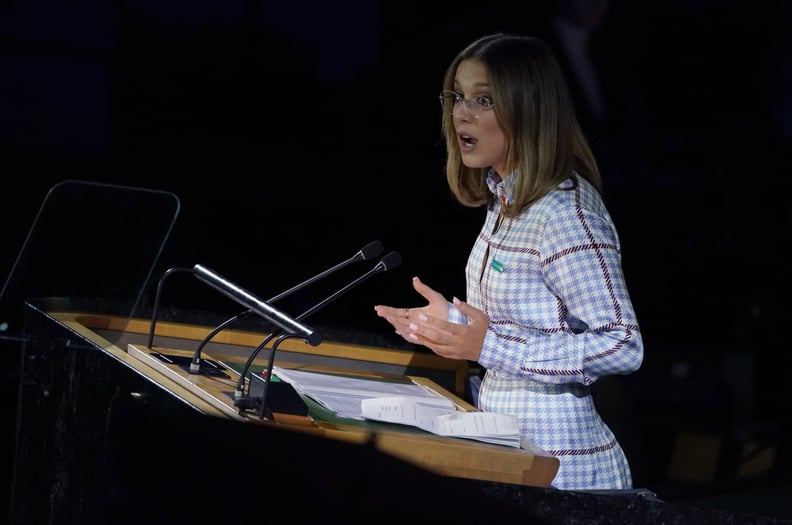 Millie Bobby Brown Speaking on Behalf on UNICEF at the United Nations Headquarters
Millie Bobby Brown Speaking on Behalf on UNICEF at the United Nations Headquarters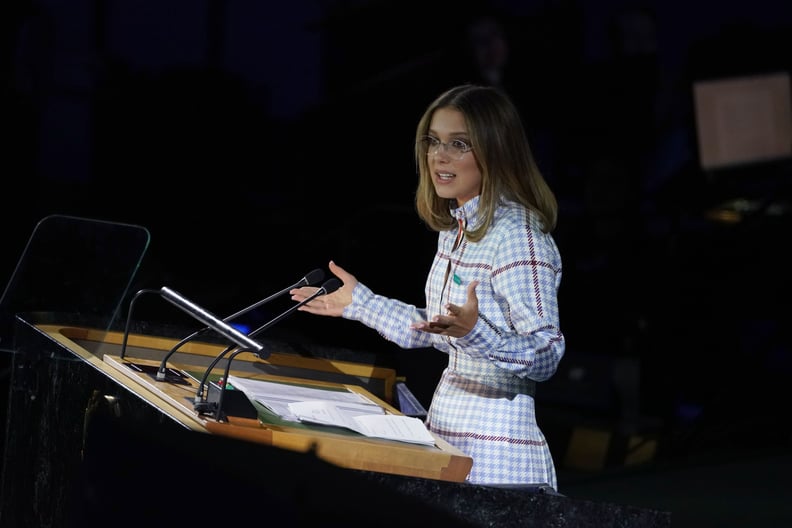 Millie Bobby Brown Speaking on Behalf on UNICEF at the United Nations Headquarters
Millie Bobby Brown With Henrietta H. Fore, UNICEF's Executive Director