Dear Olivia Jade: Leaning on Black Women Is Peak White Privilege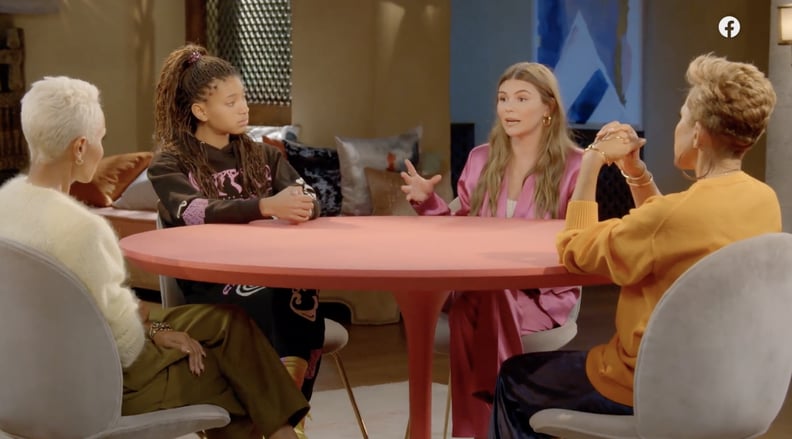 Facebook Watch | Red Table Talk
Facebook Watch | Red Table Talk
Just minutes after I pressed play, Olivia Jade Giannulli's Red Table Talk interview brought tears to my eyes. Angry tears, the kind that well up as your heart races. Watching the 21-year-old influencer — whose parents, Lori Loughlin and Mossimo Giannulli, were sentenced to prison for the 2019 college admissions scandal — search for solace, warmth, and understanding in Jada Pinkett Smith, Willow Smith, and Adrienne Banfield-Jones was a trigger I could not bear.
It was my high school senior year in 2006 when the United States College Board changed the maximum SAT score from 1600 to 2400. And in true fully-committed-lifetime-nerd fashion, I earned the highest score in my class: a whopping 1800. My achievement was praised throughout the student body, with "Ms. 1800" often taking the place of my actual name. I was 17 years old, and still naive enough to believe that my score would make the world my oyster.
Spoiler alert: the world was indeed not my oyster. Much to my disappointment, it was the first time I'd learn that even my brilliance wasn't enough to cancel out my socioeconomic status. I was a poor Black girl from the projects in Brooklyn, and despite being accepted to Howard University, St. John's University, the University of Pennsylvania, and North Carolina State University, I'd eventually earn my bachelor's degree from the City University of New York, because it was all my single father could afford; he was fresh out of $500,000 in bribes.
With that lived experience in my blood and bones, imagine my aggravation while witnessing a filthy-rich white woman run to the arms of three Black women for refuge. Imagine my face when Giannulli said, "I wanted to be somewhere where I didn't feel attacked, and maybe I could feel more understood." Imagine my exasperation when women who look like me were being tasked with being Giannulli's "safe" and "honest" space.
Baby, Black women's boots have been on the ground all year. When Breonna Taylor's body was littered with bullets, we hit the streets. When six Black trans women were found dead in a span of nine days, we hit the streets. When Sha-Asia Washington died before she could meet her newborn daughter, we hit the streets. When this country needed saving from Donald Trump, we hit the streets — and became vice president.
Thankfully, one of those Black women on Red Table Talk spoke the words that Giannulli truly needed to hear. When Banfield-Jones delivered this sermon, I almost threw my shoe:
There is so much violent dehumanization that the Black community has to go through on a daily basis. There is so much devastation, particularly this year with the pandemic, and everything being brought to the table. Just how there's so much inequality and inequity, that when you come to the table with something like this, it's like, "Child, please." I'm exhausted. I'm exhausted with everything we have to deal with as a community, and I just don't have the energy to put into the fact that you lost your endorsements!
The grace, class, and tenderness that Pinkett Smith exudes on her show is the same grace, class, and tenderness that the world seeks to extract from Black women daily.
The grace, class, and tenderness that Pinkett Smith exudes on her show is the same grace, class, and tenderness that the world seeks to extract from Black women daily — while we remain severely underrepresented, underpaid, and underprotected. Despite her trips to Watts, CA, to sit with disadvantaged youth, despite her "listening and learning," and despite her acknowledgment of white privilege, Giannulli still sought out the emotional work of Black folks. So, what does any of that "growth" really mean?
"A huge part of having privilege is not knowing you have privilege," Giannulli admitted. "So when it was happening, it didn't feel wrong."
I guess I should also assume it didn't "feel wrong" to lean on a group of Black women for support through her whiteness.