How Olivia Rodrigo Went From Ultimate Swiftie to Taylor Swift's Child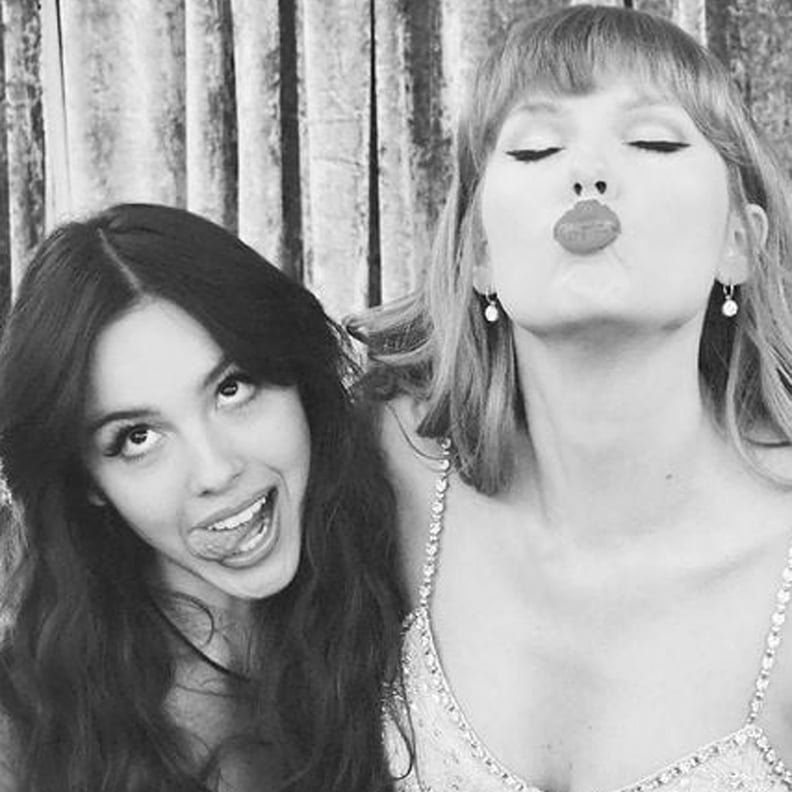 It finally happened! Olivia Rodrigo met her music idol Taylor Swift. During the BRIT Awards on Tuesday, the pop superstars came face to face for a sweet picture backstage. Needless to say, the interaction has been a long time coming! Olivia has been a fan of Taylor since she was a little kid, and has often discussed how Taylor's songwriting has influenced her own music. After getting the attention of Taylor when she covered one of her songs last year, Olivia has actually developed a closer relationship with the singer these past few months.
"I feel really lucky to be an industry at such a young age where I get to walk through so many of the doors that she's opened," Olivia told Capital FM in March. "I'm really, really lucky to have her as a mentor." Taylor's ongoing battle for ownership of her music has even inspired Olivia to retain control of her master recordings. In honor of the two singers finally meeting, let's relive Olivia's journey from ultimate Swiftie to "Taylor's child."
April 22, 2020: Olivia Rodrigo Covers Taylor Swift's "Cruel Summer"
During MTV's #AloneTogether concert series, Olivia performed a cover of Taylor's hit "Cruel Summer" from her Lover album. Not only did the cover get the attention of fellow Swifties who praised her vocals, but it even got the attention of Miss Taylor Swift herself. Giving her a seal of approval, Taylor shared the cover on her Instagram Stories, writing, "THE TALENT. Love this!!!" Naturally, Olivia freaked out, as she shared a screenshot on her Twitter, writing, "I AM GONNA FRAME THIS SCREENSHOT AND HANG IT ABOVE MY FIRSTBORN'S CRIB."
Jan. 10, 2021: Taylor Swift Reacts to Olivia Rodrigo's "Drivers License" Success
As Olivia's single "Drivers License" gained critical acclaim following its release, she noted that she was next to Taylor on the United States iTunes chart. "I'm in a puddle of tears," she wrote on Instagram alongside a screenshot of the iTunes chart. Once again, Olivia got the attention of Taylor, who commented, "I say that's my baby and I'm really proud," echoing her mom Andrea's famous quote about her. Olivia reacted to Taylor's comment with a hilarious video, which used audio from Taylor's acceptance speech for the horizon award at the CMAs in 2007.
March 26, 2021: Olivia Rodrigo Teams Up With Fellow Swifitie Conan Gray
Following the release of Taylor's vault track "You All Over Me" from Fearless (Taylor's Version), Olivia teamed up with fellow Swiftie Conan Gray for a dramatic listening session. Just like Olivia, Conan has also received high praise from Taylor for his music and songwriting over the past year. It didn't take long for Swifties to start dubbing Olivia and Conan as "Taylor's children," which Conan hilariously referenced in his comment on Olivia's post.
April 8, 2021: Olivia Rodrigo and Conan Gray Give a Sneak Peek of Fearless (Taylor's Version)
Further solidifying themselves as Taylor's children, Olivia and Conan were treated with a first glimpse of Taylor's rerecorded versions of "White Horse" and "You Belong With Me" from Fearless (Taylor's Version), which they brilliantly showcased on their Instagrams.
May 11, 2021: Olivia Rodrigo Finally Meets Taylor Swift at the BRIT Awards