Queen Elizabeth's Relationship With Princess Margaret
The Crown: Inside Queen Elizabeth and Princess Margaret's Complex Relationship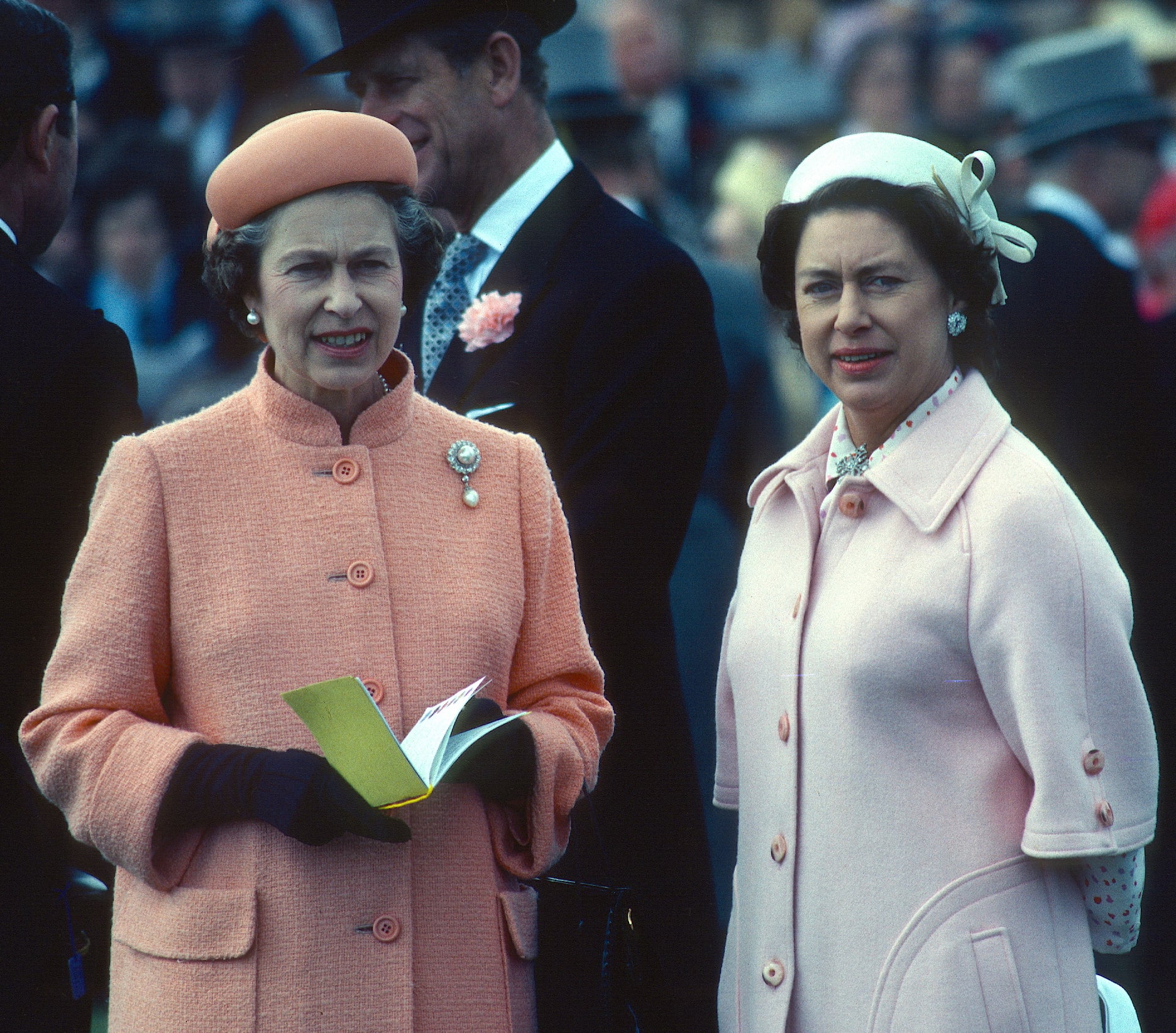 Queen Elizabeth and Princess Margaret were as different as two sisters can be. One was thrust into a life of duty, forced to give up her own wants and needs for the sake of her kingdom. The other was the proverbial spare heir, a trendsetting rebel princess who defied conventions at every turn. Their vastly different personalities and lifestyles should have put them at odds, but Queen Elizabeth and Princess Margaret's relationship was full of love and mutual respect, despite rumors of feuds and jealousy.
As seen in The Crown season two, the sisters didn't agree on whether or not Margaret should marry divorcé Peter Townsend. Like her uncle before her, Margaret would likely have been required to renounce her title had she chosen love over duty. She ultimately chose her family, and in later years, she rarely spoke of her decision and seemed to have no interest in blaming her big sister for the relationship not leading to marriage. During a Royals podcast interview in 2018, royal expert Angela Mollard discussed how turning down Townsend devastated Margaret at the time, and led to a brief rift between the sisters. Ultimately, the princess came to see that her sister had little choice in the matter than to give Margaret an ultimatum due to the social conventions of the time. "Margaret grew to realize that really the Queen had had little choice at the time," Mollard said. "They did become very close."
Their bond existed long before Townsend, and it continued long after he was no longer a part of Margaret's life. King George VI and Queen Elizabeth The Queen Mother raised their daughters to be close. Their whole family unit was seen as a package deal, as the King would often refer to his family as "we four." That mentality bonded Elizabeth and Margaret from an early age. During World War II, the sisters put on elaborate Christmas plays to lift their family's spirits, and once Elizabeth was crowned Queen, she and her sister had a private phone line installed so that they could chat and gossip with each other daily.
Author Andrew Duncan shared some of the more interesting observations from his conversations with Princess Margaret with Radio Times in 2018. Most notably, the princess shared how she saw her big sister. "My sister has an aura," she told Duncan. "I'm enormously impressed when she walks into a room. It's a kind of magic. She's a pretty young woman and the longer she's sovereign the more her experience will affect decisions by prime ministers. She'll have an influence and be the great hope of the country in the future."
Margaret's admiration for her sister is clear, but that sense of admiration went both ways. Elizabeth was equally impressed by her sister and the way she could charm in any situation. "Oh, it's so much easier when Margaret's there — everybody laughs at what Margaret says," the Queen reportedly said, per Newsweek. It's another quote from the Queen that perfectly sums up the love between the royal sisters. A scandal broke out when Margaret's affair with Roddy Llewellyn, a man 17 years younger than her, was revealed to the public in the '70s. It would have been understandable if the Queen was upset about having to deal with the fallout, but her feelings about the situation weren't what people might expect.
In the documentary Elizabeth: Our Queen, Lady Anne Glenconner, who introduced Margaret to Llewellyn revealed that the Queen approved of her sister's relationship because it brought her happiness. "After Princess Margaret's funeral, the Queen, she said, 'I'd just like to say, Anne, it was rather difficult at moments, but I thank you so much [for] introducing Princess Margaret to Roddy 'cause he made her really happy,'" Glenconner said.
When Margaret died in 2002 at the age of 71 after suffering from a stroke, the ever stoic Queen Elizabeth showed a rare moment of emotion with the world. In footage from her sister's funeral, Elizabeth can be seen wiping a tear from her eye. Family friend Reinaldo Herrera wrote in Vanity Fair of the moment, "I think it was the only time anyone ever saw the Queen show her emotions in public. Never explaining anything to the world — what she feels, or why she does what she does — is part of her greatness. But for a few minutes that day, as she stood by the steps of St. George's Chapel at Windsor Castle, watching her sister's coffin being borne away, her eyes betrayed her."
When she lost Margaret, the Queen lost her greatest confidant and her first friend. Their relationship wasn't without its arguments and rifts, but the love between the royal sisters was undeniable.