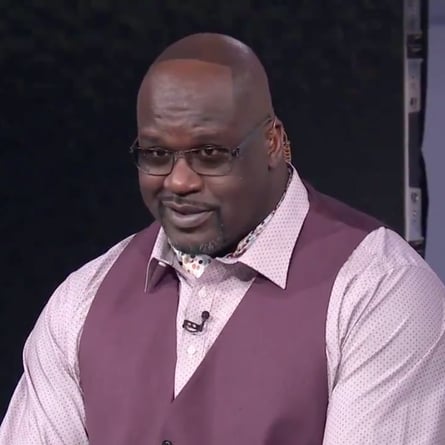 Hairlines can be a point of contention in the NBA. LeBron James was trolled over his for years, and Paul George gets praised for his strong one, but others just avoid the commentary and shave it off altogether. Take Shaquille O'Neal, for example. For as long as we can remember, the 7'1" big man has been a part of the hide-the-hairline club and simply rocked some facial hair . . . that was, until Dwyane Wade decided to mess with him. On Tuesday night, Shaq appeared on NBA on TNT as he always does, but this time, he was sporting a rather mysterious new look.
"Let's just get it out of the way, America," Shaq said during the pregame show. "I had a bet against one of my good friends, D. Wade, Milwaukee versus the Heat. I said Milwaukee was going to win by 20, and the Heat won." He offered to pay Dwyane for the bet, but the retired baller had other plans for Shaq's repercussions. "So I just lined it up for y'all, so y'all could see where my hairline starts. I look good, and I'm proud to do it, and I'm keeping it like this all week."
If there's anyone who can take losing a bet in stride, it's Shaq. He embraced his new look and all the insane comments that followed. "I want to hear all your comments; hurt my feelings, because I look good. I don't give a damn what you're talking about. I want to hear all the mean comments," he said on Instagram.
He's a four-time NBA champion and one of the most talented players in NBA history, so of course he can handle the hate, but we just have one question: what kind of friend is Dwyane to be asking this of Shaq?! It's like daring your girlfriend to go out without her hair extensions or fake eyelashes — you just don't do that! And Shaq should know better than to bet against the team he won his last championship with in 2006 (with Dwyane on that same team, too).
It's obvious that a professional athlete's hairline has no relevance to his skill, but the fan obsession with players' hairlines remains undefeated. See what fans are saying about Shaq's hairline and how he's embracing his look ahead.
Shaq Explaining His Bet With Dwyane Wade on NBA on TNT
Reactions to Shaq's Hairline