Jack Brooksbank's First Words When He Saw His Bride Princess Eugenie Will Make. You. Melt.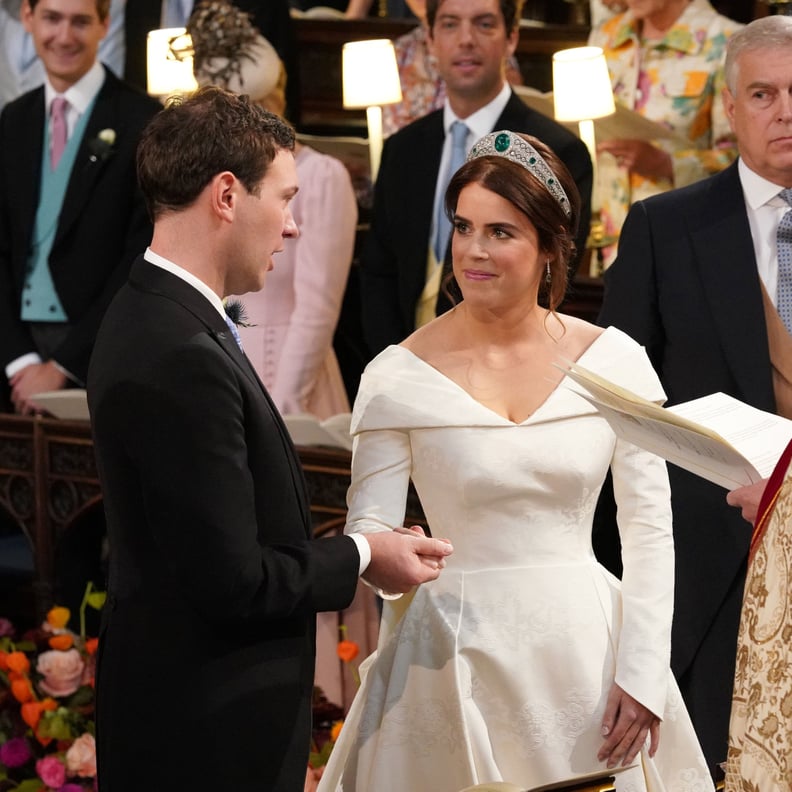 Jack Brooksbank and Princess Eugenie might have dated for seven years before they officially tied the knot on Friday, but their romance was more alive than ever at St. George's Chapel. The moment Eugenie entered the ceremony with her father, Prince Andrew, all heads turned to the bride, while Jack adorably put on his glasses so he could see his bride clearly. The first words that came out of his mouth upon seeing Eugenie? "Oh, my heart. . . Oh, break my heart," he said, according to the Daily Mail's lip-reader.
This isn't the first time a choked-up groom had the internet swooning over his first words for his bride. It was just a few months ago when everyone collectively freaked out over Prince Harry's infamous lip bite as he told Meghan Markle, "you look amazing," during their wedding in May. It was a gorgeous ceremony and a beautiful moment for Princess Eugenie and her husband, Jack. Read on to witness the emotional first moment Jack saw Eugenie (around the 0:15 mark), and see how stunning the couple looked on their big day.
The Video of Princess Eugenie Entering St. George's Chapel
You can see Jack speaking around the 0:15 mark.