Here's Everything We Know About Kiernan Shipka's New Beau, Charlie Oldman
Kiernan Shipka is officially off the market, and if you haven't heard of her boyfriend, then you've at least heard of his dad. The 19-year-old Chilling Adventures of Sabrina star sparked rumors of a relationship earlier this Spring when she was spotted hanging out with 20-year-old Charlie Oldman. Then, a day after Kiernan accompanied Charlie as his date to the premiere of the documentary Be Natural: The Untold Story of Alice Guy-Blaché at the Harmony Gold Theatre in Los Angeles, Charlie posted a cute selfie of the two on his Instagram captioned with a heart emoji, leaving no question of their relationship status. Though the actress claimed back in November that she was too busy to date, it seems as though she couldn't resist Charlie's charm (and his seriously cool tattoos).
Who's Charlie famous dad, you ask? Charlie is the son of legendary actor Gary Oldman, known for iconic movie roles like Sirius Black in the Harry Potter franchise, Lieutenant James Gordon in The Dark Knight, George Smiley in Tinker Tailor Soldier Spy, and Sid Vicious in Sid and Nancy, among countless others. The 61-year-old actor also took home a Golden Globe in 2018 for his portrayal of Winston Churchill in Darkest Hour — which was not only his first win but also his first nomination — and celebrated with his family by his side (including, of course, Charlie, as well as Charlie's equally cute brother, Gulliver).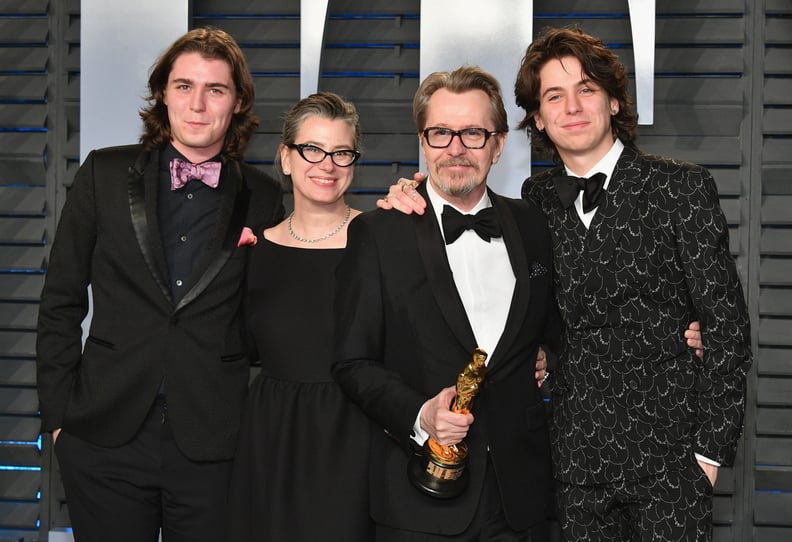 Charlie, however, did not catch the acting bug from his father. A quick look at his Instagram page can tell you that his interests include music and photography, though he is best known for his up-and-coming modeling career. He first rose to fame for taking on the catwalk at the Saint Laurent show at Paris Men's Fashion Week back in June 2015, where he modeled alongside fellow celebrity children Dylan Brosnan, son of Pierce Brosnan, and Jack Kilmer, son of Val Kilmer.
The then-16-year-old was first discovered by Yves Saint Laurent Creative Director Hedi Slimane after Charlie was spotted wearing a YSL jacket at a concert. His dad was both proud and anxious watching his son make his big debut. "I'm a little nervous for Charlie," he told the Associated Press. "The Yves Saint Laurent house is such a tradition . . . It's great that he, in a small way, can be part of it." Since then, Charlie has also walked in the Dolce & Gabbana Fall/Winter 2108-2019 show in Milan and appeared in the music video for C-Tru's 2018 bop "California Party" featuring Snoop Dogg and Lysee J.
Charlie's mother, Donya Fiorentino (Gary's third wife), is also a model and photographer, so that might be where Charlie developed his interests. As well as his older brother Gulliver, the model has an older half-brother named Alfie from his dad's marriage to actress Lesley Manville and an older half-sister named Phelix Imogen Fincher from his mom's earlier marriage to filmmaker David Fincher.