Everyone Kylie Jenner Has Dated, From Travis Scott to Timothée Chalamet
Kylie Jenner is known as the billionaire beauty mogul who grew up in front of the world on "Keeping Up With the Kardashians." The 26-year-old star has become one of the most popular influencers in the world due, in part, to her immensely popular line of cosmetics and her high-profile romances. Considering Jenner tends to date long term, her list of relationships isn't all that extensive. Still, she's been romantically linked to some of the biggest names in the music industry, ranging from Cody Simpson and Jaden Smith to Tyga. There have been some false dating rumors along the way (because no, Jenner and Drake did not date).
Jenner also had a long on-and-off relationship with "Astroworld" rapper Travis Scott, and the pair share two kids together: Stormi (born in 2018) and a son (born in 2022) they initially named Wolf but whose name has been changed to Aire. The pair reportedly split again in April, though, and since then, Jenner has been linked to Timothée Chalamet. Ahead, see everyone Jenner has dated over the years.
01
Kylie Jenner and Cody Simpson (November 2011)
Jenner's first reported public romance was with Australian pop singer Simpson. The pair seemingly met for the first time when Jenner was conducting interviews for "On Air with Ryan Seacrest" at the Nov. 18, 2011, premiere of the "Breaking Dawn: Part 1." Rumors had already been swirling that the pair were an item, so flirty banter broke out between the pair almost instantly. "You're my rumored boyfriend on Twitter," she said to Simpson. "Nice to finally meet you." Ten days later, it was reported the pair were dating, with a source telling Us Weekly at the time, "Yes, they went on a date, and have been inseparable since." Pictures of the pair PDA-ing at an event also circulated online.
As relationships go when you're barely 15, theirs was short-lived, and it's unknown exactly when Jenner and Simpson stopped hanging out.
Jenner denies there was ever a romantic connection between them. "Cody and I are just good friends. That's it," she told Seventeen Magazine in 2012 (via Us Weekly). "We can say that as much as we want and people will still listen to gossip."
Meanwhile, Simpson seemingly didn't mind fanning the flames of the rumor mill. He joked about his relationship with Jenner in a 2014 interview on E!'s "Hello Ross" (via Seventeen), saying, "No, the whole K-O-D-Y thing didn't really work for me." Later, in October 2019, he told "The Kyle & Jackie O Show" that his new music was influenced by his previous celebrity relationships, saying, "I'm writing about the sh*t relationships I've had with the industry, the people in it, women and friends. All that stuff."
02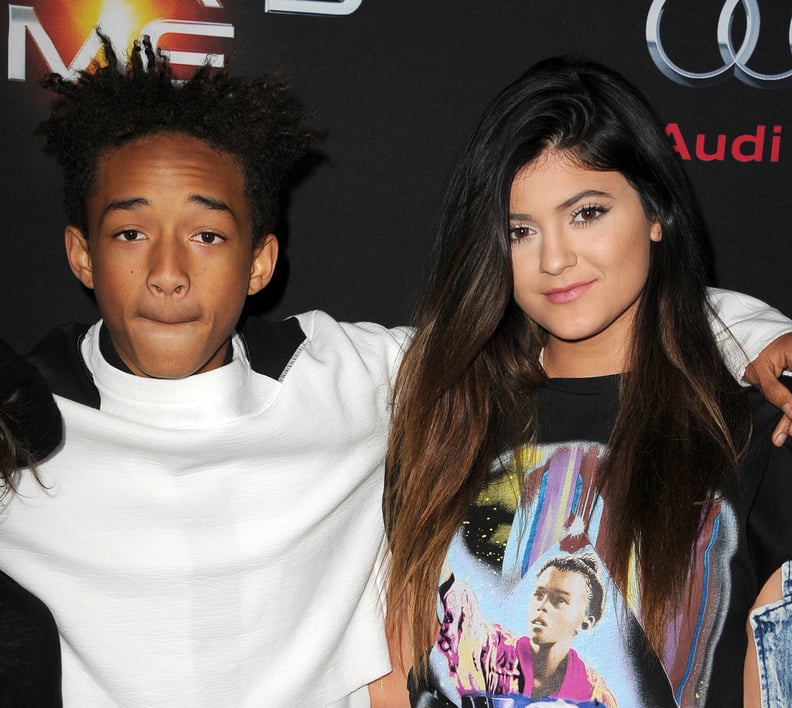 Kylie Jenner and Jaden Smith (March 2013-December 2013)
Jenner reportedly started dating longtime friend and actor Smith in March 2013, with a source telling Us Weekly, "They're dating. It's new, but they've been friends forever," at the time.
Jenner, however, insisted things were friendly in interviews. In the December 2013 prom issue of Seventeen, Jenner revealed she didn't have a boyfriend, but did want the "boyfriend prom experience." She went on to describe her perfect prom date, admitting she would be glad to take a friend, and then namedropping Smith. "If I couldn't find a boyfriend, I would want to go with one of my best guy friends, like Jaden [Smith]. I know I'd have fun with him – he makes me laugh and he is a great dancer," the 16-year-old said at the time.
Little is known about the extent of Jenner and Smith's relationship, but they've seemingly remained friends throughout the years, as they're often spotted hanging out.
03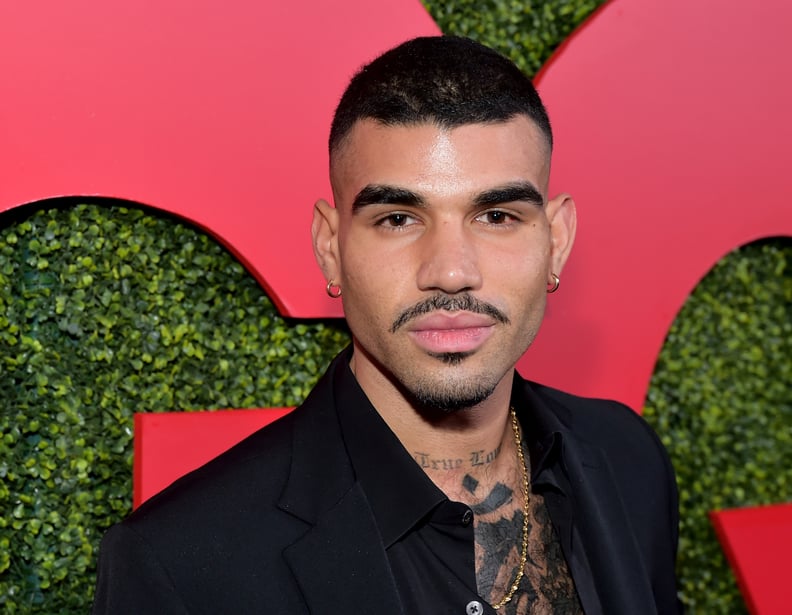 Kylie Jenner and Miles Richie (Summer 2014)
In May 2014, dating rumors swirled when Jenner was seen tattooing the hand of Miles Richie, son of music icon Lionel Richie. In a video obtained by TMZ, a green-haired Jenner is seen holding Miles' hand while seemingly tattooing her initials on him. Given that getting someone's initials tattooed on oneself is typically an expression of love, fans immediately began speculating the pair were dating. A month later, Jenner and Richie were seen in a car together getting close. Their reported romance did not last long, however, as Jenner would soon be linked with rapper Tyga.
04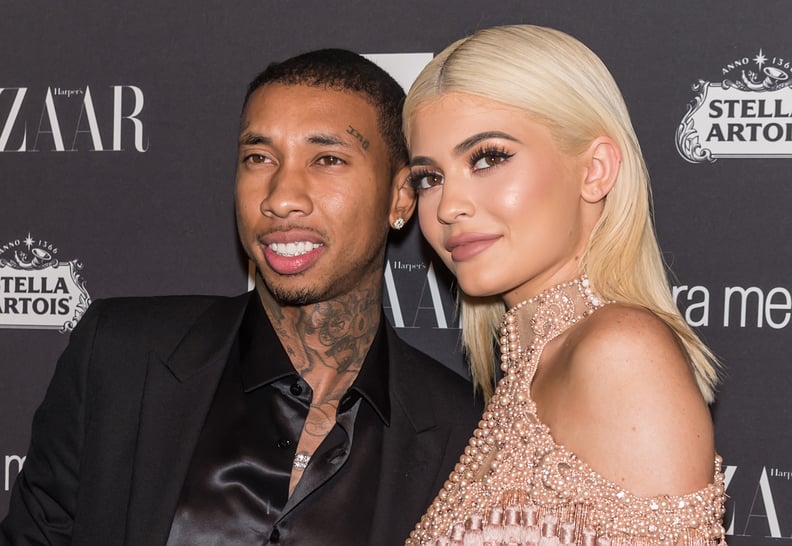 Kylie Jenner and Tyga (2014-2017)
Kylie first met her longtime boyfriend Tyga in 2011 at Kendall Jenner's 16th birthday party, but the two wouldn't start dating until years later. On Aug. 10, 2014, Tyga hosted Jenner's 17th birthday, and the two were seen getting close at the celebration, according to video obtained by TMZ. Just two days later, on Aug. 12, 2014, Tyga and his then-fiancée Blac Chyna officially broke up.
Tyga and Jenner would be romantically linked in the months that followed as they appeared together both in public and on social media, but the two didn't officially confirm their relationship until March 2015, when Tyga posted a picture of Jenner on Instagram with the caption, "Certain things capture your eye, but only few capture the heart."
Jenner and Tyga's relationship sparked plenty of criticism, as Tyga was 24 years old when he started dating the 17-year-old reality TV star. Nonetheless, their relationship remained strong, with Tyga gifting Jenner a special Ferrari 482 Italia (worth $320,000) for her 18th birthday in August 2015, the two appearing on "Keeping Up With The Kardashians" together, and Jenner appearing in two of Tyga's music videos.
By November 2015, the pair hit a rough patch, breaking up and reconciling multiple times amid various cheating scandals involving Tyga. The two would reconcile by March 2016, and continued appearing in public together and sharing their relationship on social media for some time. By April 2017, however, the pair called it quits for good.
In August 2017, Jenner opened up for the first time about her breakup with Tyga in an episode of her solo reality TV series, "Life of Kylie," revealing there was no "crazy fight" that split them up, and continued to say that they will "always, always have a bond."
05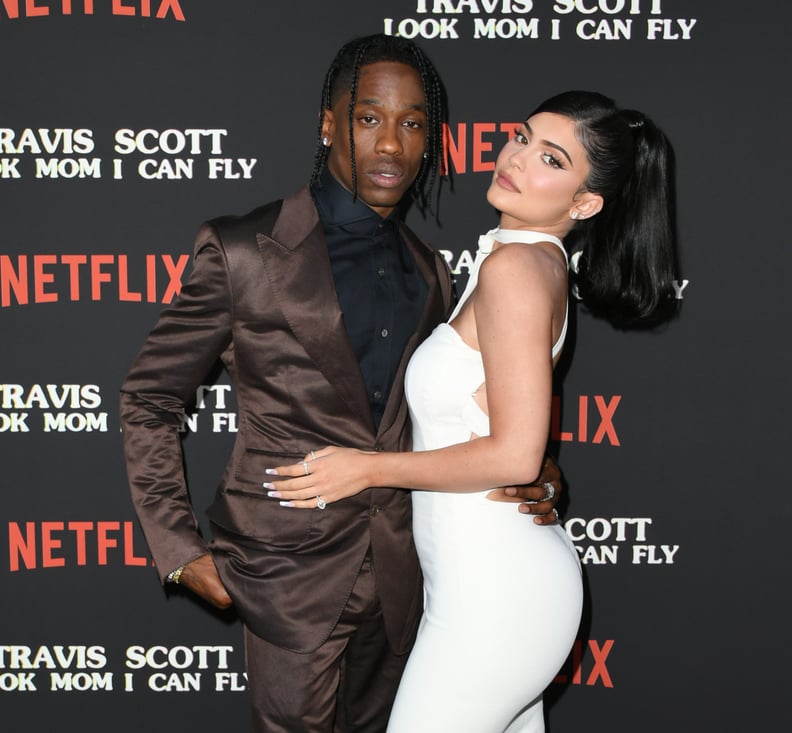 Kylie Jenner and Travis Scott (2017-2023)
Jenner and rapper Scott were first linked romantically when they were spotted together at Coachella on April 17, 2017. A week later, the pair were spotted getting close at an NBA playoff game. By May 2017, Jenner posted a picture of the two amidst a group of friends at the Met Gala, making them Instagram official. The two remained together for the remainder of the year, but kept their relationship mainly under wraps.
On Feb. 4, 2018, Jenner and Scott managed to overshadow the Super Bowl by announcing they welcomed their first child, Stormi Webster, on Feb. 1, 2018. "My beautiful and healthy baby girl arrived February 1st and I just couldn't wait to share this blessing. I've never felt love and happiness like this I could burst!" the beauty mogul shared on Instagram.
After the birth of Stormi, Jenner and Scott's relationship thrived. The two appeared at the Met Gala together in May of 2018 and were featured on the cover of GQ that June. Jenner appeared in Scott's music video for "Stop Trying to Be God," and influenced much of his acclaimed "Astroworld" album, which dropped in August. Jenner often referred to Scott as her husband on social media and even openly discussed the possibility of having another kid in the future. By October 2018, the two grew even more serious by reportedly buying a $13.4 million mansion together.
In October 2019, Jenner and Scott split unexpectedly, with a source telling TMZ that they had been "trying to make the relationship work for a while, but . . . decided to step away." However, when the coronavirus pandemic hit the United States in early 2020, the pair decided to quarantine together to maintain a sense of normalcy for Stormi. Speculation Jenner and Scott had reconciled would rage throughout 2020 and well into 2021, but it wasn't until August 2021 that E! News reported the pair were back together. "They hold hands and are affectionate. They aren't shy about showing their love for another. They support each other and are a constant in each other's lives," a source told the publication.
Not long after their reported reconciliation, rumors of Jenner being pregnant with the pair's second child circulated on social media and in the press. Like her first pregnancy, she kept the matter private, but announced via Instagram that she gave birth to a baby boy, Wolf Webster, on Feb. 2, 2022. However, Jenner would later reveal that she had changed her son's name to Aire.
In January 2023, though, Scott and Jenner reportedly called it quits once again after spending holidays apart. "Kylie and Travis are off again, they were supposed to spend the holidays together, but she went to Aspen to be with her family and friends up there," a source told Us Weekly at the time. "This has happened so many times before, they're known to be on again off again, but always remain friends and great coparents."
06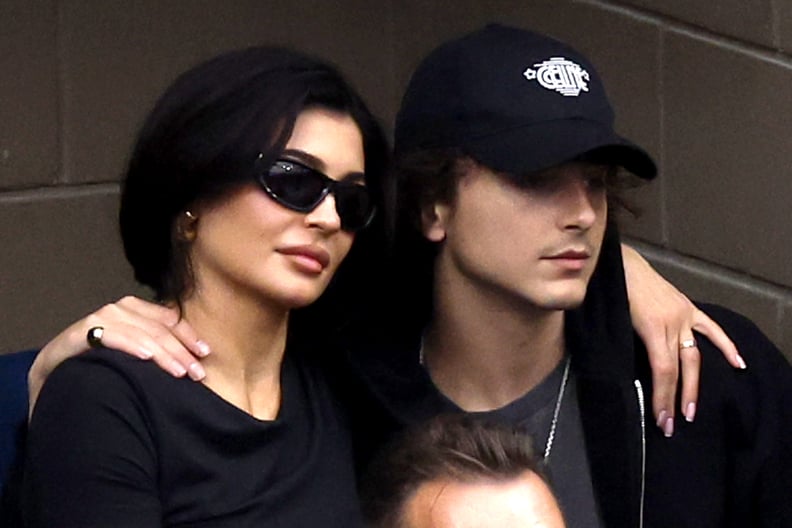 Kylie Jenner and Timothée Chalamet (April 2023-Present)
Jenner and Chalamet were first linked in April after Chalamet's car was spotted at Jenner's home. "It's not serious, but Kylie is enjoying hanging out with Timothée and seeing where it goes," a source told Entertainment Tonight at the time. "It's been really fun for her because it feels a lot different than her past relationships. It's new and exciting for Kylie and she's having a lot of fun."
The pair have yet to comment on their rumored relationship, but on June 1, Chalamet and Jenner were photographed for the first time at a Chalamet family barbecue. Despite a few recent split rumors, the pair proved they were still going strong when they were spotted kissing at the US Open in September.