After much speculation about her love life, Chlöe is putting all those romance rumors to bed. The "In Pieces" singer has been linked to stars like Gunna and Quavo in recent years, but according to her, she's not seriously dating anyone at the moment.
"Sadly, I have not been seeing anybody for almost a year now," the "Praise This" star told Cosmopolitan in her April 2023 cover story. "Your girl has just been working on herself, and I wish I was lying. I tell myself, God, I know what you're doing. You're sifting out the BS, so I can find good lovin'. When you don't know your worth and when you haven't mastered the art of loving yourself, you question why others would love you."
Chlöe added, "I think that's why I'm single right now, so I can grasp that concept a little more because I can't expect someone to love me wholeheartedly when I'm not there yet within myself."
Chlöe's comments come after romance rumors swirled around her and her "Praise This" costar Quavo following production on their movie, which premieres on Peacock on April 7. She addressed the speculation during an Apple Music interview with musical collaborator Latto on March 30 after the "Big Energy" rapper asked about the two. "The tea was that you was talking to Quavo," Latto said to Chlöe. To which the singer playfully replied, "Uh oh, well, we doin' a movie together," and added, "I don't know where that came from."
This wouldn't be the first time Chlöe was rumored to be romantically linked to a fellow artist. The singer/actor sent fans into a frenzy in late 2021 when she was spotted out a few times with Gunna. However, it was later revealed that the two were just friends and simply working together on music.
While Chlöe isn't too keen about putting her personal life on full display when it doesn't involve her music, she was forthcoming about how she acts in relationships when speaking to Cosmopolitan. "I am such a mush ball. I love cuddles. I love showing my passion through our physical beings. I'm such a physical touch and words of affirmation type of girl, and I want someone to be just as madly in love with me as I am with them," she said. "I'm one thousand percent a hopeful romantic."
Read ahead for everything else we know about Chlöe's love life.
01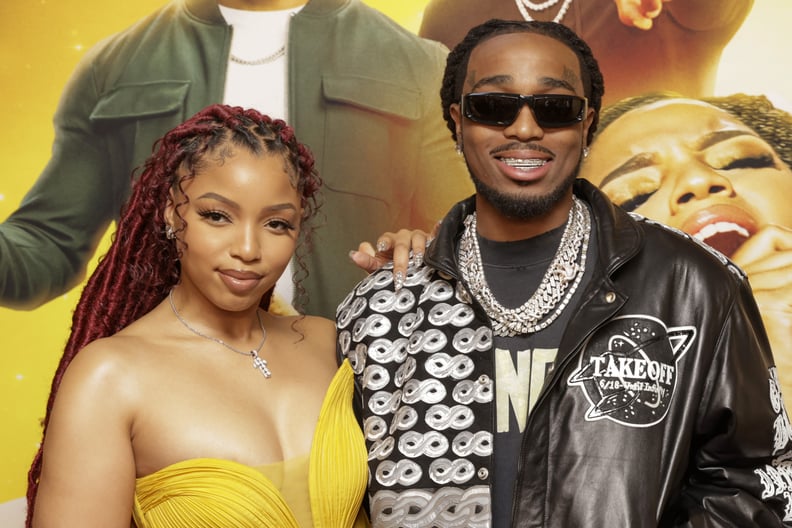 Quavo
Rumors about Chlöe and Quavo first arose in August 2022 after the costars finished filming their movie "Praise This." However, Chlöe shut down all rumors about the two when she spoke to Latto in March 2023, doubling down on the fact that she's single in her 2023 Cosmopolitan cover story. According to Chlöe, she and Quavo are just good friends. The pair posed together, along with the rest of the "Praise This" cast, at the "Praise This" premiere in Atlanta on April 3, 2023.
02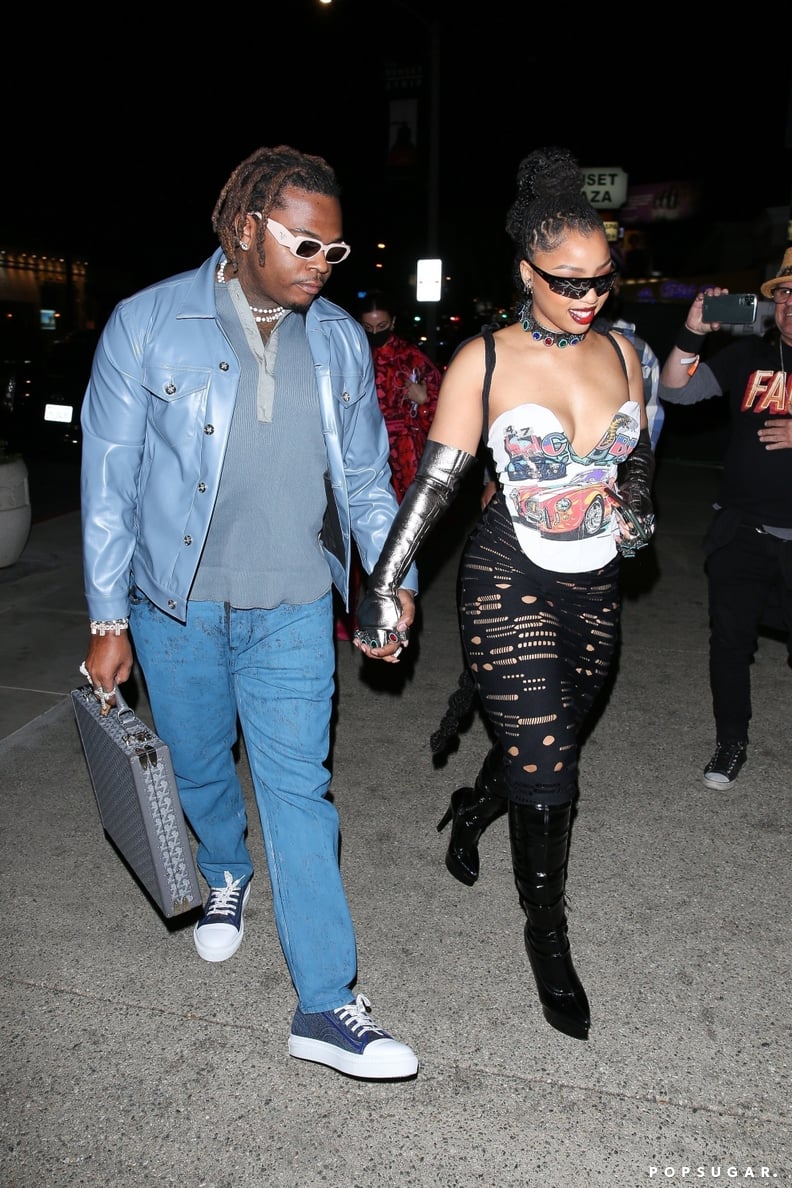 Gunna
Chlöe's fans began to wonder if she was dating the "Drip Too Hard" rapper after they were spotted sitting courtside together at an Atlanta Hawks game in October 2021. Their outing came a few short weeks after Gunna seemingly shot his shot with the "Treat Me" singer on Instagram. Right after her explosive solo debut at the 2021 MTV VMAs, the "YSL" rapper posted a since-deleted photo from Chlöe's performance where she's licking her microphone and captioned it saying, "It's the [tongue] for me."
Gunna then showed support to Chlöe at the 2021 American Music Awards, fueling more speculation, though he addressed it there in an interview with Billboard, saying, "We're not dating. That was just like a date where you go to the game and catch a vibe. But she's my friend."
The rapper also added that after the Hawks game, they headed to the studio and made two songs together — one of which appears on his "Drip Season 4" album.
Chlöe and Gunna ignited more dating rumors in February 2022 when they were spotted holding hands while shopping in West Hollywood. The Shade Room also posted footage of the two engaging in what appeared to be a little PDA during their outing, though it was later revealed to be a scene from their sexy music video for their song "You & Me."
The photos and videos of the two came after Chlöe downplayed the romantic speculation on Instagram Live on Jan. 16, 2022. "I feel like everybody wants to know about my love life," she said in a playful British accent. "My love life is music, darling."