PSA: Kate Middleton's Parents Are Every Bit as Adorable as Their Daughter
With another family member officially added to the Middleton-Cambridge bunch — Kate Middleton had a healthy baby boy on Monday (April 23) at 11:01 a.m. local time — we should probably know a little bit more about the baby's other grandparents.
On the one side, baby number three has the British royal family, which is made up of Prince William's father (Prince Charles) and stepmother (Camilla, Duchess of Cornwall) and his mother, Princess Diana, who died in a car accident in 1997. On the other side, there are the Middletons — Carole and Michael Middleton, to be exact — and there are actually a lot of interesting things to know about the Duchess of Cambridge's parents.
Kate — who will one day be married to the king of England and is the mother of the future king or queen of England — grew up in Bucklebury, England, which is a village near Newbury, Berkshire. She is the oldest of three and has two siblings, Pippa, who was the maid of honor at her wedding, and James, who owns a personalized marshmallow company called Boomf.
The Middleton family still resides in the Berkshire area, and they have always been successful in their own right — not royal family status, but successful nonetheless. In fact, Carole and Michael run a party-planning business called Party Pieces, which is a mail-order party-supply company worth an estimated $50 million. Clearly, they know their stuff since they've been in business over 30 years.
While the couple worked hard to put their children in posh private schools like St. Andrew's School and sent them to nice universities, living a nice and semiposh lifestyle wasn't a big surprise based on their upbringing.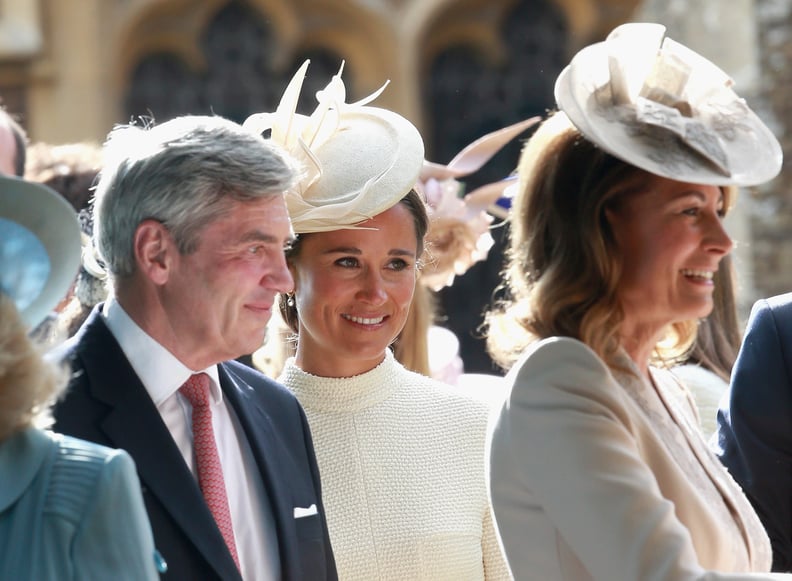 Carole was born Carole Goldsmith in London and is a very, very distant relative to The Queen Mother, which is insane. She met Michael while working as a flight attendant, and they wed in June 1980. She launched Party Pieces the same year she had her youngest child — 1987. She comes from a semicommon background, with part of her family working as laborers and miners, but being related to The Queen Mother in some way is pretty neat.
Michael, however, comes from a well-to-do family in Yorkshire with blood ties to the British aristocracy. His lineage actually links back to King Henry VII, which again is insane. According to The Telegraph, he inherited a chunk of money from his paternal grandmother, who was a descendant of the Lupton family, which made their fortune as wool merchants back in the 18th century. He attended Clifton College in Bristol and went on to work for British Airways — where he met his wife — as a flight dispatcher. Over the years, his job moved him to other places, like Amman, Jordan, from 1984 to 1986.
The Middleton family has owned the spotlight ever since being thrown into it, thanks to their eldest daughter's relationship with and eventual marriage to the second heir in line to the throne, and we love them almost as much as the royal family!