Get Yourself Acquainted With the Badass Actress Behind Black Panther's Shuri
Letitia Wright is the talented actress who plays Shuri, the badass sister of T'Challa (Chadwick Boseman), heir to the African kingdom Wakanda. Shuri is 16, the princess of Wakanda, and tasked with designing new technology for the country. Black Panther producer Nate Moore has called Shuri "the smartest person in the world; smarter than Tony Stark (Iron Man)." Letitia herself described the character as "an innovative spirit and an innovative mind" who wants to "take Wakanda to a new place."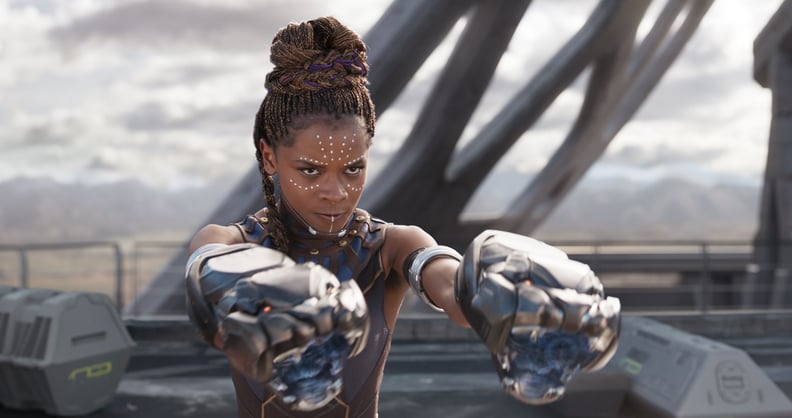 You may have seen Letitia as Nish in the "Black Museum" episode of Black Mirror season four, but British TV buffs will also recognize her from shows like Top Boy, Banana, and Doctor Who. Now that her star is definitely on the rise, get yourself acquainted with Letitia with these five facts.
She was born in Guyana. Letitia was born on Oct. 31, 1993, in Georgetown, Guyana. Her family moved to London when she was 7 years old.
She credits God for pulling her out of a deep depression. Letitia hasn't been shy about her struggles with mental health and her strong spiritual outlook; she told Vanity Fair that when she was 20, she was hit with a crippling depression. "I was in the dark going through so many bad things, when the world didn't know about Shuri and Letitia and whatever is happening now," she said. "Everybody has their thing that they're truthful about. My thing is just a love of God . . . so that's what I'm going to do." She also revealed that she prays when preparing for scenes.
She was inspired to be an actor after watching Akeelah and the Bee. Letitia thought that the movie — about a young girl who participates in a national spelling bee — had a positive role model in lead actress Keke Palmer. Fun fact: Angela Bassett, who played Akeelah's mother in the 2006 film, stars alongside Letitia in Black Panther as Shuri's mother, Queen Ramonda!
She got her big break in a coming-of-age film. Letitia starred as Jamie Harrison in the 2015 British movie Urban Hymn about a disenfranchised teen with a powerful singing voice. Her performance earned her a nomination for most promising newcomer at the British Independent Film Awards in 2016.
She's just getting started. In addition to playing Shuri in Black Panther, she'll be reprising the role in Avengers: Infinity War in May. Letitia will also be starring in the Steven Spielberg sci-fi thriller Ready Player One and The Commuter with Liam Neeson.