Will Smith Apologizes to Chris Rock: Video
Will Smith Says "No Part of Me" Thinks Chris Rock Oscars Incident Was "Right" in Apology Video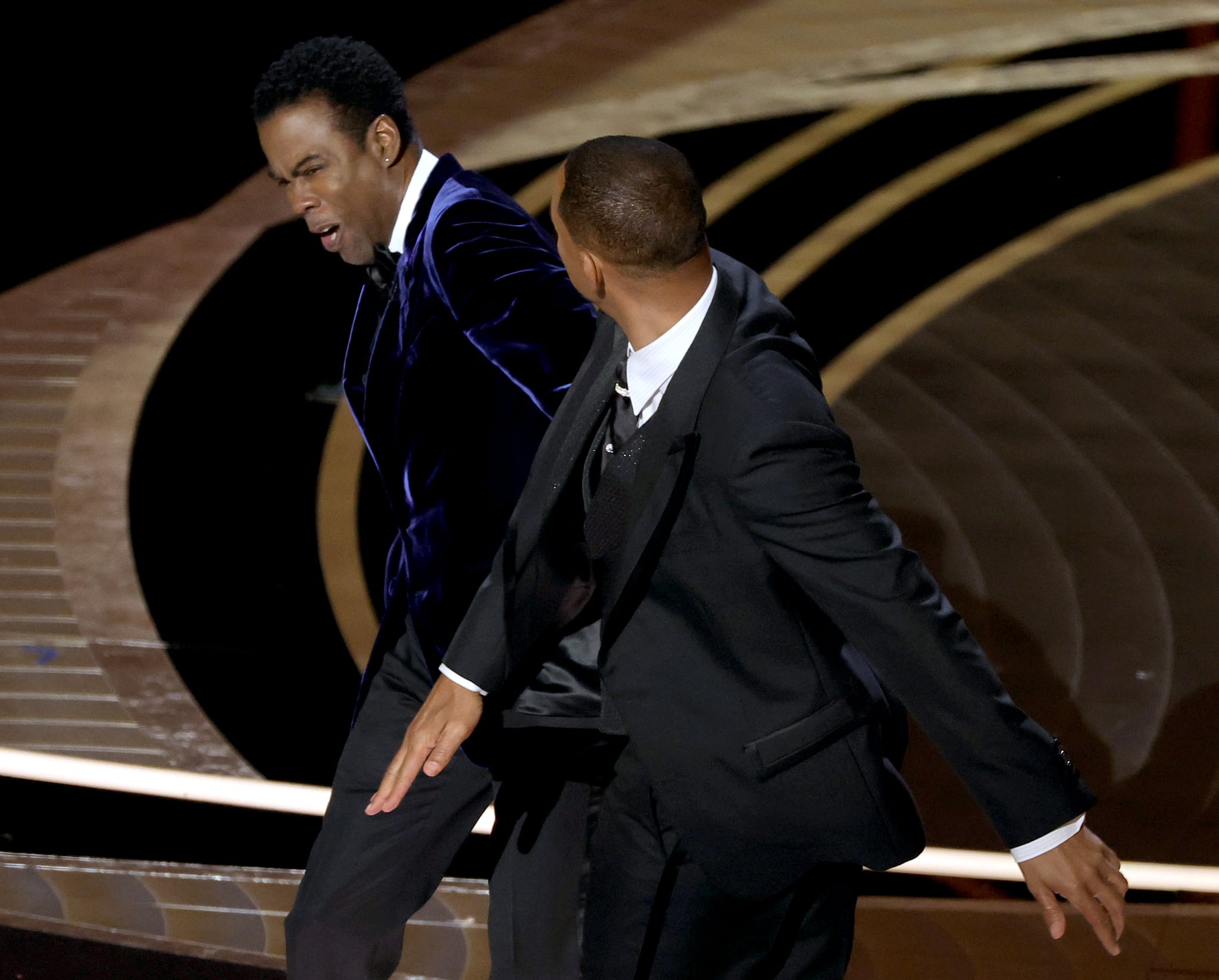 Image Source: Getty / Neilson Barnard
Will Smith is, again, apologizing to Chris Rock for slapping him on stage at the 2022 Oscars back in March — this time on camera. In a new video uploaded to his YouTube Channel titled "It's been a minute . . . ," Smith addressed the incident and told Rock that he's ready to talk when he is. Watch the full video ahead.
At the beginning of the almost six-minute-long video, a message on screen reads, "It's been a minute . . . Over the last few months, I've been doing a lot of thinking and personal work. You asked a lot of fair questions that I wanted to take the time to answer." Smith then answered questions that came up on screen.
Smith said he didn't apologize to Rock in his acceptance speech because he was "fogged out" and his memories remain unclear. "I've reached out to Chris, and the message that came back is that he's not ready to talk, and when he is, he will reach out," Smith said. "So I will say to you, Chris, I apologize to you. My behavior was unacceptable, and I'm here whenever you're ready to talk."
Smith also addressed Rock's family directly. "I saw an interview that his mother did. That's one of the things about that moment I didn't realize, I wasn't thinking, but how many people got hurt in that moment," he explained.
He continued, "So I want to apologize to Chris's mother; I want to apologize to Chris's family, specifically [his younger brother] Tony Rock. We had a great relationship. Tony Rock was my man. This is probably irreparable."
Later in the video, he said, "I'm not gonna try to unpack all of that right now, but I can say to you, there was no part of me that thought that was the right way to behave in that moment."
On July 24, Rock also addressed the incident during a stand-up show. According to Us Weekly, he said, "I'm not a victim, motherf*cker."
The outlet reported Rock said, "Anyone who says words hurt has never been punched in the face. Yeah, that sh*t hurt, motherf*cker. . . . But I shook that sh*t off and went to work the next day."
Back on March 27, Rock presented the award for best documentary and made a joke about Jada Pinkett Smith, who has recently been wearing her hair in a buzz cut. The actress has been open about her journey with alopecia and hair loss. Rock said he looked forward to watching her in "G.I. Jane 2."
The camera then cut to Pinkett Smith and Smith. Smith jumped on stage, walked over to Rock, and slapped him in the face.
"Oh wow," Rock said. "Wow. Will Smith just smacked the sh*t out of me." From the audience, Smith yelled, "Keep my wife's name out of your f*cking mouth." Rock defended himself, saying, "It was a 'G.I. Jane' joke," and Smith repeated what he said. Then, Rock awkwardly moved on to presenting the award.
Diddy was the next presenter after the commercial break, and he addressed what happened when he got on stage. He said, "Will and Chris, we're going to solve that like family. Right now we're moving on with love. Everybody make some noise."
Shortly after the altercation, Smith won the Oscar for best actor and apologized to the Academy, his fellow nominees, and the "King Richard" cast and crew. He did not comment on Rock at the time.
The Academy released a statement on Twitter hours after the ceremony concluded: "The Academy does not condone violence of any form. Tonight we are delighted to celebrate our 94th Academy Awards winners, who deserve this moment of recognition from their peers and movie lovers around the world." On Monday, March 28, it announced it would be investigating the incident. In April, it banned Smith from the Oscars for 10 years.
A source told People that the Oscars organizers considered having Smith removed after the slap. "Behind the scenes there were a lot of people, and different voices and bifurcated opinions, weighing in on what had just happened and what was the best and quickest course of action. People were also checking that Chris Rock was okay," they said. "Having Will removed was definitely discussed seriously."
"You can't plan for something like this and make a split-second decision that needs everyone's buy-in, and in any iteration that would have consequences," the source said. Variety later reported ABC executive Rob Mills's recollection of the night's events from the network's control room.
According to Mills, Rock's "G.I. Jane" joke was not included in the script, and him swearing on live TV signaled to producers and director Glenn Weiss that the situation was escalating. "You started to realize this is real once Chris, who certainly knows the limits of broadcast standards, said, 'Will Smith slapped the sh*t out of me.' That's when it became obvious that this was not a joke."
On March 28, Smith posted a public apology on his Instagram account, reflecting on his behavior as he addressed the Academy and Rock directly. "Violence in all of its forms is poisonous and destructive," he wrote. "My behavior at last night's Academy Awards was unacceptable and inexcusable. Jokes at my expense are a part of the job, but a joke about Jada's medical condition was too much for me to bear and I reacted emotionally."
Smith continued, "I would like to publicly apologize to you, Chris. I was out of line and I was wrong. I am embarrassed and my actions were not indicative of the man I want to be. There is no place for violence in a world of love and kindness. I would also like to apologize to the Academy, the producers of the show, all the attendees and everyone watching around the world. I would like to apologize to the Williams Family and my 'King Richard' Family. I deeply regret that my behavior has stained what has been an otherwise gorgeous journey for all of us. I am a work in progress."