Jane Fonda, Lily Tomlin, Rita Moreno, and Sally Field Are Super Bowl-Bound in "80 For Brady"
The Tom Brady fandom has no age limit in the trailer for "80 For Brady." The new movie is about four friends and octogenarians, played by Jane Fonda, Rita Moreno, Lily Tomlin, and Sally Field, who decide they need more excitement in their lives. New England Patriots super fans, they decide to road trip to the Super Bowl to watch Brady and company play in the 2017 Super Bowl, which — spoiler — would end with the Patriots defeating the Atlanta Falcons in a legendary comeback. The women are worried that Brady, who was 39 at the time, will retire soon, which is a little ironic, since Brady wouldn't retire until January 2022 — then he quickly unretired.
The trailer, released Nov. 17, shows the four best friends getting into all sorts of Super Bowl-related hijinks. It turns out they didn't actually think to buy tickets for the big game before arriving in Texas, so they have to try to sneak their way in, bedazzled jerseys and all. The trailer previews cameos from Brady and some of his famous teammates, too.
Back in July, Brady, who no longer plays for the Patriots, talked to Variety about getting back together with some of his old teammates for the movie. He said, "We've been part of a lot of battles together. We've never been on a movie set together, but it felt like we were back in the locker room when we were there. Anytime I get my friends involved in things that I'm doing, it makes it that much more enjoyable for me."
Ahead, watch the trailer for "80 For Brady."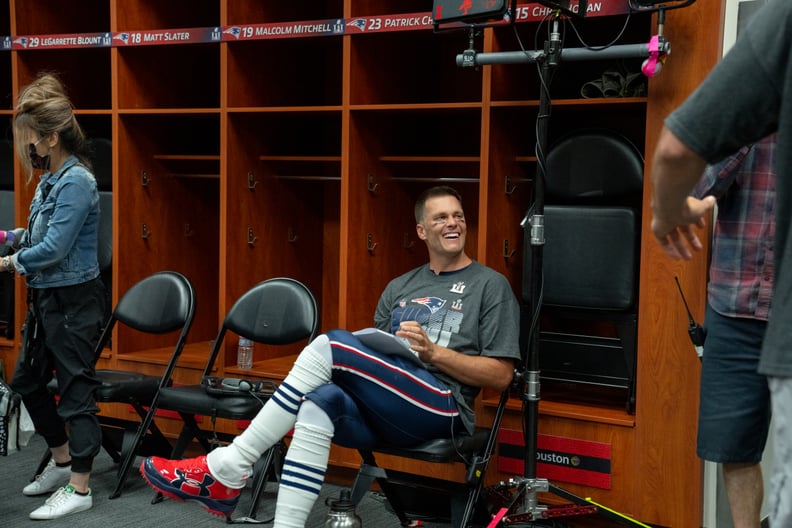 "80 For Brady" Cast
Moreno, Fonda, Tomlin, and Field star as the four Tom Brady-obsessed friends intent on attending the Super Bowl. Brady appears as himself, circa his tenure with the New England Patriots, as do his friends and former teammates Rob Gronkowski, Danny Amendola, and Julian Edelman. The trailer also spotlights a cameo from Guy Fieri as himself and features Billy Porter and comedian Ron Funches in supporting roles.