Does Stephen Bonnet Survive the Jail Explosion in Outlander?
If You're Curious About Outlander's Big Stephen Bonnet Cliffhanger, Read This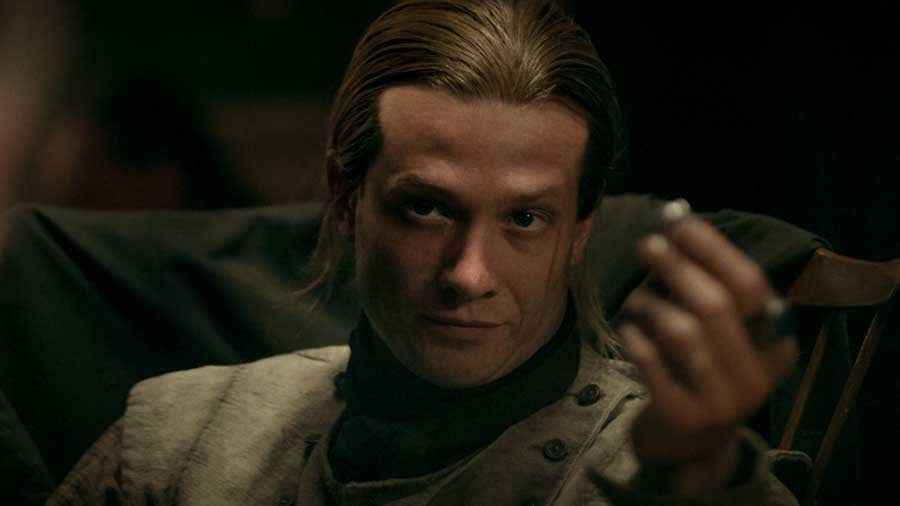 In the latest episode of Outlander, titled "Providence," there is indeed a bit of providence in the way the show's writers figured out how to dovetail a storyline from the book with a storyline that is wholly invented for the show. It works really well, so major props on that front, but it also leaves a big cliffhanger. Read on to find out where that might end up, but be warned: spoilers from the book to follow.
On the show, Bonnet (Ed Speleers) is jailed alongside Murtagh, whom the Red Coats find with Bonnet's unconscious body and recognize from his wanted poster. So when Brianna (Sophie Skelton) and Lord John (David Berry) show up so that she may say her piece to her rapist and possible father of her baby before he dies, they run into Fergus (Cesar Domboy) and the Regulators in the midst of a plan to bust Murtagh out of jail and escape to Fraser's Ridge. It's quite clever, and it forces Murtagh and Lord John to grudgingly call a truce with each other to protect Brianna's safety.
The diversion to allow the Regulators to escape is an explosion at the jail, and when we last see Bonnet, he is straining to get his hands on the dropped jail keys so that he may escape himself. But we don't know if he was successful.
In the novel, Drums of Autumn, things happen a bit differently, especially since Murtagh is dead in the books. Instead of being caught with Murtagh, Bonnet is caught smuggling tea and brandy and jailed in Cross Creek. He is kept beneath a warehouse, awaiting transportation to Wilmington to be hanged for his crimes. When Brianna (Sophie Skelton) goes to see him, a sergeant who was helping Bonnet's smuggling enterprise knocks out Lord John and is threatening Bree when she gets his gun and knocks him out. But before that, he had informed her that the warehouse was set to explode at any moment in order to destroy the evidence of the smuggling operation.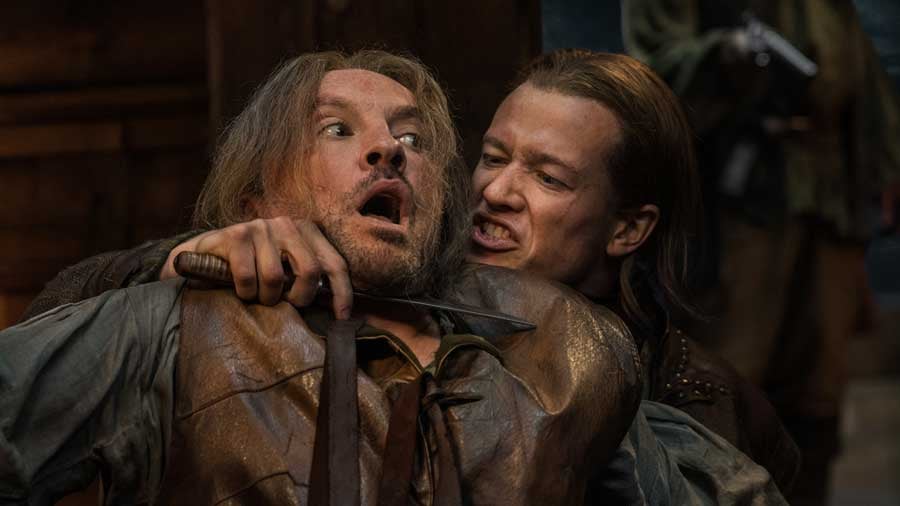 Bonnet kills the sergeant and runs for it, leaving Bree behind to try to carry Lord John's unconscious body out of the makeshift jail. But Bonnet can't bear to let his unborn child die in the explosion and comes back to help Bree with Lord John. They all make it safely out of the warehouse and Bonnet escapes into the night, though not before he gives Bree a black diamond to help her take care of the baby.
So, while the show may have left it open-ended, the book definitely does not. Bonnet is alive and well, and this is not the last we see of him before his eventual demise. He comes popping up in book five in Wilmington, plotting to try to steal Jocasta's (Maria Doyle Kennedy) gold and also quite interested in Brianna's son, Jemmy, still believing himself to be Jemmy's father. Brianna shoots Bonnet and it is left up in the air as to whether he survives . . . until he appears in book six.
In book six, Bonnet once again attempts to contact Jemmy and then later kidnaps Brianna with the intent of selling her. He is eventually captured and sentenced to death by drowning, which is his greatest fear, so Brianna actually puts him out of his misery before he can be subjected to such a fate.
Outlander has been renewed for seasons five and six, so we will undoubtedly see at least some of this play out on screen in the years to come.