Outlander: Nervous About Roger and Brianna's Fate? Here's What Happens to Them in the Books
Non-book readers may be wondering just what is to become of Roger (Richard Rankin) and Brianna (Sophie Skelton) on Outlander this season and into the future. The pair have had quite the tumultuous relationship so far, between the time travel, Brianna's rape, the kidnapping, and Roger being kind of a jerk on several occasions. Read on to find out what's in store for the star-crossed lovers, but be warned: spoilers from the books to follow!
Thus far on Outlander, Roger and Bree haven't had too many happy moments together. They begin a relationship, only to have Roger freak out that Brianna wants to sleep with him — in his mind, they must be at least engaged first, though he has slept with other women already, so that's a touch hypocritical on his part. Then, when Brianna discovers that her parents soon perish in a fire back in the 1770s, she abruptly travels through time to find them and warn them, leaving Roger with nothing more than a letter that he isn't even supposed to receive for a year. That is not exactly the most loving gesture, either.
But Roger loves Bree so much that he follows her through time and across an ocean, where they conduct a layperson's marriage commitment and consummate their relationship, only to then have a huge fight because Roger knew about Claire (Caitriona Balfe) and Jamie's (Sam Heughan) deaths in the fire and didn't tell Bree, completely taking away her agency in making the decision about warning them.
When he storms off, Bree is then raped by the villainous pirate Stephen Bonnet (Ed Speleers), and when she realizes she is pregnant, she doesn't know if the baby is Roger's or Bonnet's. There is a giant misunderstanding about the rape, so when Roger comes looking for Bree (again), Jamie beats him senseless, and Ian (John Bell) sells Roger to a Mohawk tribe that is traveling through the area.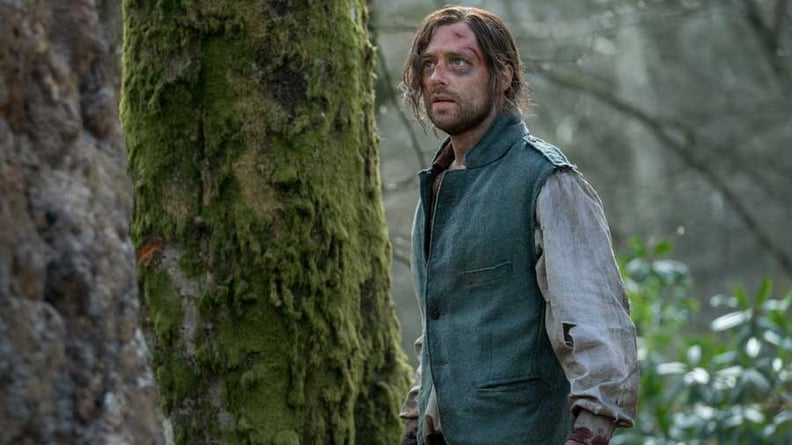 So, non-book readers certainly cannot be blamed if they think perhaps Roger and Bree should just throw in the towel because their relationship has been a total train wreck so far. In fact, many book readers probably felt that way when they read Diana Gabaldon's story.
Fortunately — or unfortunately, depending on how you feel about Bree and Roger — the calamitous couple is going to find each other again and all will be well . . . more or less.
Currently on the show, Jamie and Claire are off on a rescue mission to bring Roger back to Brianna, who is cooling her heels at River Run as she grows ever more pregnant. They are successful in their mission, but initially, Roger doesn't want to return to Bree. In what is another upstanding choice on Roger's part, he isn't sure if he can raise another man's baby, despite the fact that it's not like Bree went out and took a new lover — she was raped. In the book, Roger takes more than a month to make up his mind. We don't yet know if the show will go the same route; Roger could do with a little image rehabbing, so perhaps they won't let that choice linger for quite so long.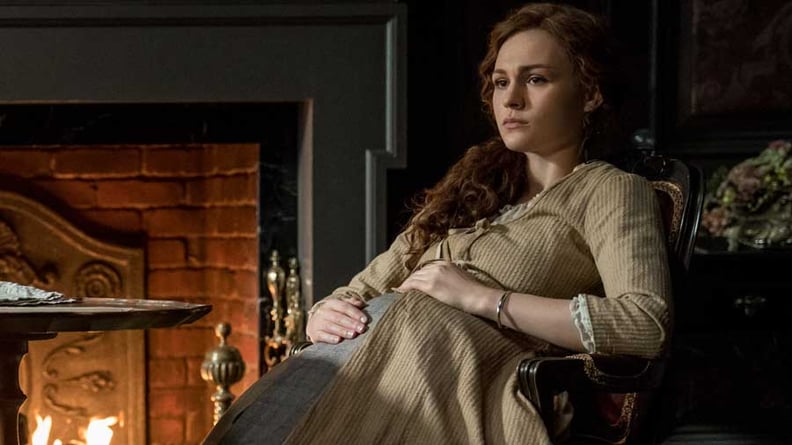 Either way, he eventually returns to Brianna and pledges his loyalty to her and their son, Jeremiah (nickname Jemmy). Bree and Roger are then officially wed during a Scottish gathering at River Run. Things are fairly quiet for them for a while, with Roger taking part in the militia Jamie is ordered to form by the governor. But Roger just can't help himself when it comes to Morag Mackenzie, a woman he met on his sea voyage who happens to be his great-great-grandmother. He feels compelled to help Morag whenever he can, and it puts him in the path of another militia by Morag's husband, who thinks Roger is romantically interested in her. The militia hangs him, and he almost dies before he manages to escape.
Years later, an outbreak of lice necessitates the shaving of Jemmy's head, which reveals a birthmark on his scalp — the same birthmark that Roger has, which means Jemmy is his biological son. Bree becomes pregnant again shortly thereafter, and she and Roger welcome their daughter, Amanda, in 1776. But baby Mandy is born with a heart murmur, something Claire cannot safely repair in that time, so the Mackenzies return to their own time to save Mandy's life.
It is at this point that we don't yet know if we'll get any more Outlander. The return to the 20th century is how Bree and Roger's story ends in book six, A Breath of Snow and Ashes. The Starz series is renewed for seasons five and six, so that may be all we get of Bree and Roger on screen.