Was GLOW a Real TV Show?
GLOW: Gorgeous Ladies of Wrestling Was Real, and It Was Spectacular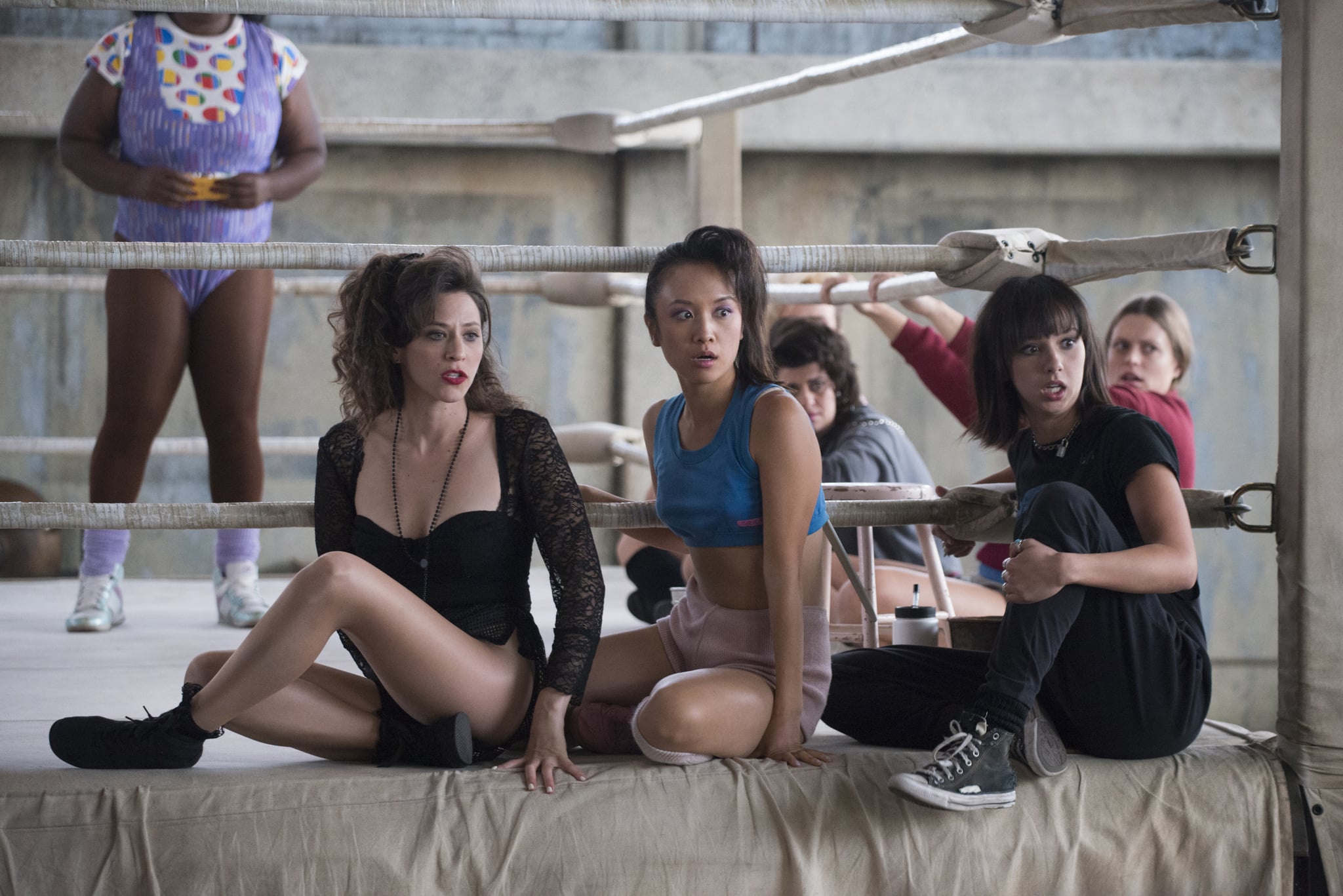 Netflix dropped the first season of a new dramedy in 2017 called GLOW, which stands for the "gorgeous ladies of wrestling." Both season one and this year's second installment tells the story of struggling actress Ruth (Alison Brie) auditioning for a mid-1980s all-female answer to Vince McMahon's World Wrestling Federation shows, and hoping for wrestling stardom — but was it a real TV program?
The answer is yes, it was. The original Gorgeous Ladies of Wrestling ran in syndication from 1986 to 1990, notching 104 episodes in the original run. There was also an attempt to revive the show in 2001, but it ultimately failed to get off the ground.
With the Netflix series, all the characters being portrayed are fictional, though a few do bear some resemblance to the original cast. There's a wrestler named Emily Dole who went by the moniker "Mt. Fiji" who bears a passing resemblance to Machu Picchu (Britney Young); there was a wrestler/trainer named Cynthia Peretti, who wrestled under the names Princess Jasmine and Pepper, whose likely counterpart on the show is Cherry (Sydelle Noel); and there was a wrestler named Lori Palmer who competed as Colonel Ninotchka, which is similar to Ruth's (Brie) in-ring Russian persona.
In addition to the mostly unknown women who were cast as the wrestlers, there were a few famous faces involved in Gorgeous Ladies of Wrestling. Sylvester Stallone's mom, Jackie, played the owner of GLOW and manager of the Good Girls team. She brought her grandson, Sly's son Sage, to a few tapings, where he made a guest appearance on the show.
Mariska Hargitay's half-brother Tony Cimber also appeared on the show as Nature Boy, led around the ring by a female wrestler called Jungle Woman. Cimber is the son of actress Jayne Mansfield (who is also Hargitay's mother) and GLOW director Matt Cimber, who may be the inspiration for director Sam Sylvia (Marc Maron) in the Netflix series.
Prior to being cast in Netflix's GLOW, Brie says she had never really watched wrestling before, but she familiarized herself with it after signing on to the show. "It's wild to go back and watch wrestling from the '80s and watch what an American sport it was, and how all the villains are foreign and all the heroes are American," she told A.V. Club. "And there are some really dark wrestling matches that happened even in the '70s and the early '80s that are almost kind of scary to watch."
She's definitely aware of Colonel Ninotchka, her original GLOW counterpart.
"I enjoyed watching Colonel Ninotchka's videos to get a handle on her accent, which is much more Boris and Natasha than it is Eastern Promises," said Brie. "As we were getting toward shooting our finale, I would go back and watch some of her matches just to look for inspiration in terms of moves. It was like, what moves can I steal?"
"Then when we first started shooting the show, I took a step away from it because all of our characters are fictional and I didn't want to read into who these women were. Because we're not playing them. Ruth has a storyline unto herself, and I wanted to create the character from within. Towards the end of the season I was like, 'Ooh, I've got to go back and watch.'"
Writers Liz Flahive and Carly Mensch add that they actually got hooked on old episodes of GLOW after seeing a documentary about the series and that's where the idea of the Netflix show started.
"We had never heard of GLOW, we had never watched it in the '80s, we had never watched wrestling," Flahive told Variety in 2017. "We were so moved by the way that these women were talking about how this crazy experience transformed them and changed their lives, how it took them down these paths they would have never have walked down if not for this totally weird opportunity that they all came together."
"There was something about seeing how they used their bodies in this way that was really exciting to us," added Mensch, "and I think we both have a history of writing for strong but flawed, weird women."
GLOW is definitely full of flawed, weird women — in the best way. The entire first season is available now on Netflix, and season two drops on June 29.