Are Lauren and Arie Engaged?
Did Arie Get the Happy Ending He Wanted With Lauren? Here's Your Answer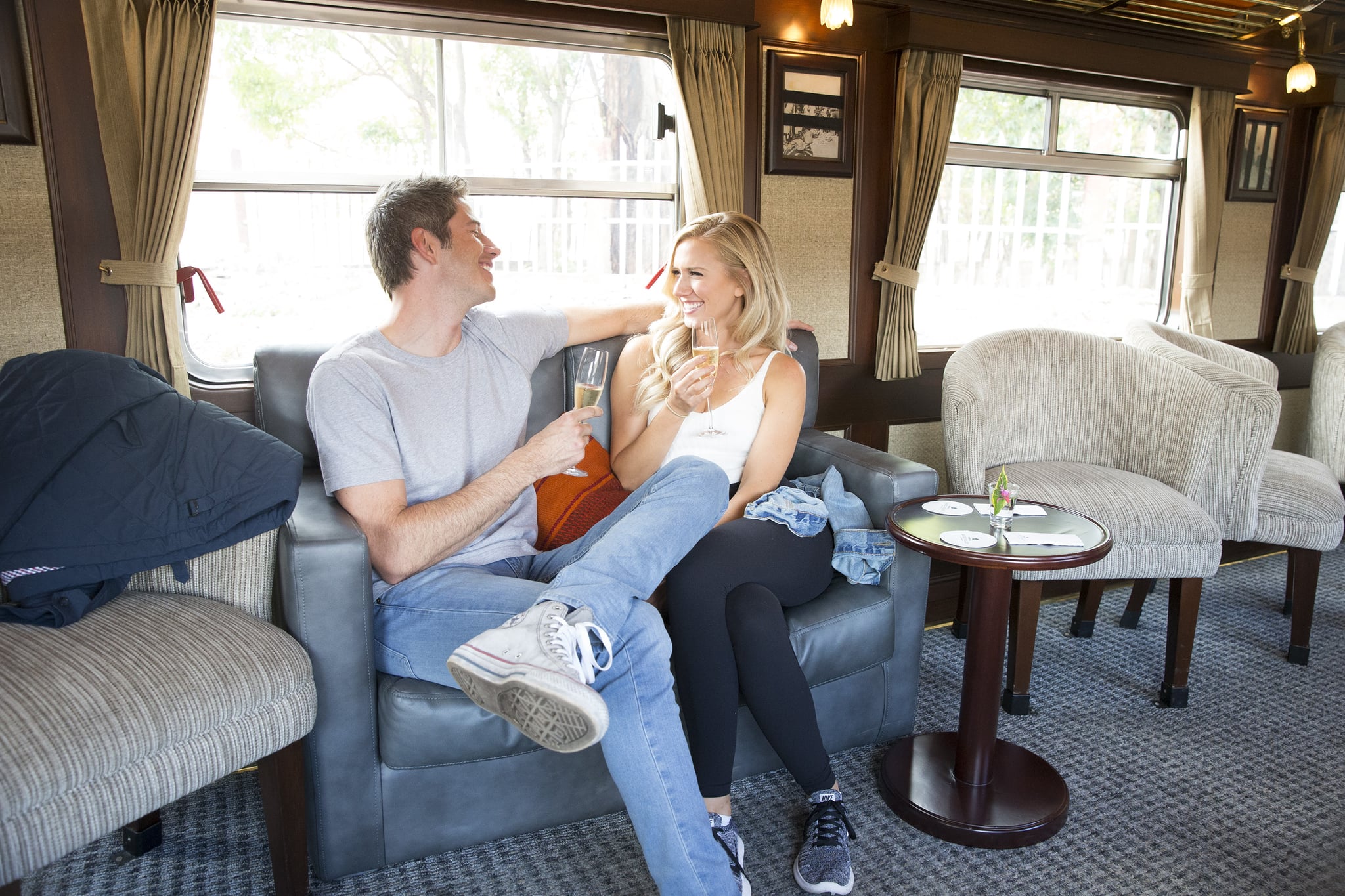 Warning: spoilers from The Bachelor: After the Final Rose lie ahead.
Update: After the absolutely insane finale of Arie's season of The Bachelor, during which he broke up with his fiancée, Becca Kufrin, on live TV, the 36-year-old took to the After the Final Rose stage with his runner-up, Lauren Burnham. The pair revealed that since their reconciliation, they've been more in love than ever and plan to move in together after taking a vacation out of the country.
But that's not all — before jetting away, Arie decided that yet another one of his relationship milestones should take place in front of the entire nation, and he chose to get down on one knee and propose to Lauren. The 25-year-old said yes, so as Chris Harrison noted following the impromptu proposal, let's hope this one lasts a *bit* longer than his last.
Original Story: Well, well, well, Bachelor Nation, we've got quite the bumpy road ahead. It looks like Chris Harrison has finally delivered on his promise that this season of The Bachelor would end in a way no season has ended before, and we're all buckled up and ready for the drama. Arie Luyendyk Jr. shocked the world when he broke up with the charming Becca Kufrin on live TV after proposing to her in Peru just weeks earlier. While the franchise veteran basically had every single viewer screaming and throwing chocolate at the TV à la Elle Woods after her breakup with Warner, Bachelor fans will soon find out if Arie's epiphany about his feelings for Lauren ended with another proposal.
Despite the snooze-worthy conversations between front-runner Lauren and the 36-year-old race car driver, the Luyendyk family (and even Arie himself!) were smitten with the Virginia Beach woman — so smitten, in fact, that weeks after his televised engagement to Becca, Arie doubted his decision and called the camera crew to pack their bags and get ready to film his breakup. Ice cold, Arie, ice cold.
While some fans have been sending Becca money on Venmo for some much-needed wine, others are wondering about the status of that gorgeous engagement ring, but the most important question of all is what will happen with Arie and Lauren? Alexa, call my BFF Neil Lane. Only time will tell if Arie dishes out engagement rings as frequently as he says "I love you."
The second part of the emotional finale will air Tuesday night on After the Final Rose, and we'll find out exactly what went down after Arie finally left the crime scene of Becca's broken heart. Back in January, Bachelor brainiac Reality Steve reported that the two had reconciled, and we're assuming Arie "loved that."
"Arie ended his engagement with Becca a little over a week ago and is now dating Lauren," he wrote after someone spotted crew vans outside of Lauren's parents' house in Virginia. The blogger more recently reported that there was an engagement between Arie and Lauren after he received a tip that there was a "set up happening in the early evening at the Monarch Bay Resort in Dana Point, the same place where Tanner & Jade had their wedding." While he couldn't officially confirm the engagement, he wrote that he heard there was a film crew and whispers of a "Bachelor proposal."
Arie, man, you suck. Check out some tweets from fans who most definitely have some feelings about the possibility of yet another Neil Lane rock.
Arie: Would it be possible to be engaged to both women at the same time?

Producers: 🤦🏼‍♀️

Arie: Okay one at a time it is. #smh #fuckboy #thebachelor #thebachelorfinale

— RFGang (@Knuckler22) March 6, 2018
*Arie all season long, asking every woman if they're ready to be engaged*

*His dumb ass at the end of the season*
"Duhhhh.." #TheBachelor #TheBachelorFinale

— chloe schmitt (@chl03km) March 6, 2018
Arie: I know we are engaged but I want to see if me and this other chick could work out
What Becca should have done:#Bachelor pic.twitter.com/naX21SB8f4

— Hannah Nido (@hannahnido) March 6, 2018
ARIE: "The more I hung out with you the more I was losing the possibility of reconciling things with Lauren." ARIE YOU WERE ENGAGED TO BECCA. ENGAGED. ENGAGED. #TheBachelor

— Lauren Zima (@laurenzima) March 6, 2018
Arie: "we're like the same person"
Lauren: "I was engaged once before this"
Arie: gets engaged to becca & calls it off for Lauren "me too" #TheBachelor

— Jessica Petersen (@JesLynnPetersen) March 6, 2018
Lauren, who has been engaged twice previously and is 25, says she's "never felt a love like this — with Arie."

Sure. #TheBachelor

— Nicole Auerbach (@NicoleAuerbach) March 6, 2018
Arie seems to think being engaged to Becca is hurting his chances with Lauren. pic.twitter.com/rRcBRpoaAK

— Billy Rosenbeck (@b_rosenbeck) March 6, 2018
If this season ends with Arie not being engaged to anyone than this season was a #success

— Chris Stinchcomb (@cstinch42wn) March 6, 2018