Margaret Atwood's Quotes About Drake in The Handmaid's Tale
Praise Be — Drake Might Appear in Season 2 of The Handmaid's Tale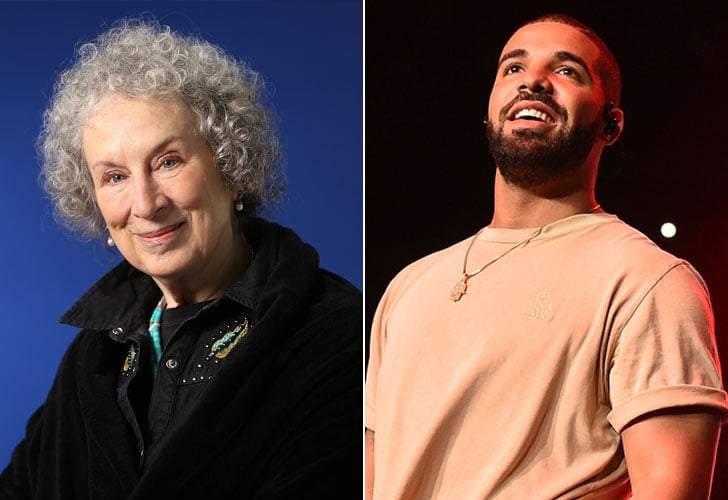 We already figured that season two of The Handmaid's Tale is going to be a little insane (Where did the Eyes take Offred?! Is Ofglen alive?! What's going to happen with Luke and Moira?!), but Margaret Atwood has an even better idea of how to spice things up. The Handmaid's Tale author and proud Canadian sat down with fellow writer Junot Díaz for an interview in the Boston Review, where she revealed she wants none other than Drake, one of Canada's other great exports, to cameo in season two.
"I haven't met Drake, but I have of course met people who have met Drake," Atwood explained. "But you have to realize how o-l-d I am. I'm not likely to go to the same parties. Or many parties at all, to be frank." After Díaz probably took a few minutes to recover from the shock of realizing Drake has never invited Atwood to one of his parties (the AUDACITY), he noted that Canada is "missing a great opportunity to put these two folks together." Atwood apparently agrees, and already has a plan in mind to bring her and the former Degrassi star together.
"Wouldn't it be fun for him to have a cameo in season two of The Handmaid's Tale?" Atwood said. "I'll drop that notion into the ear of Bruce Miller, the showrunner, and see what he can do with that, because of course the show is filmed in Toronto. Maybe Drake could help smuggle someone?" There is honestly no one we'd rather trust with a top secret mission out of Gilead than Aubrey "Hotline Bling" Graham.
Image Sources: Getty / Jeremy Sutton-Hibbert and Getty / Paras Griffin