The Handmaid's Tale Season 1 Recap
The Handmaid's Tale: The Spoiler Guide to Season 1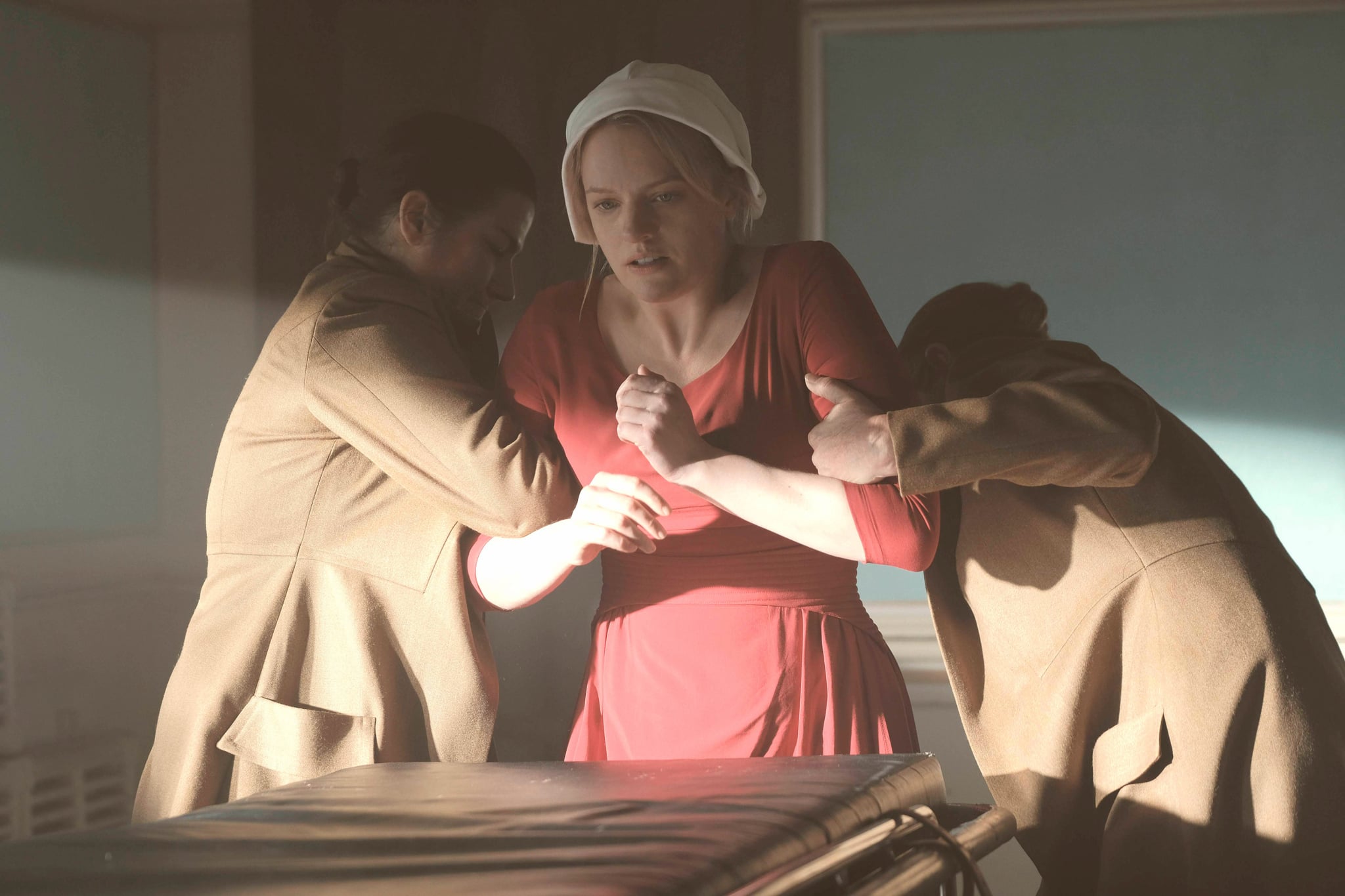 Hulu's adaption of Margaret Atwood's 1985 dystopian novel, The Handmaid's Tale, has easily become one of the most talked about shows in 2017 — and for good reason. The idea that one day women are stripped of all their rights, separated from their families, and forced to bear children for wealthy Commanders and their barren wives is a pretty terrifying reality. Throw in a few Tinder and Uber references, and it feels all too real. The show follows a handmaid named Offred (Elisabeth Moss) and flashes back and forth between life before the government falls and what happens when she decides it's time to fight back and join the resistance. Let this serve as your guide to season one, since the season two premiere is basically upon us — spoilers follow!
1. Life Before the Republic of Gilead
Before she is captured and renamed Offred, June is a wife and a mother. She has an affair with a married man named Luke, who ends up leaving his wife and marrying her. Despite the birthrate decline, June gets pregnant with her daughter, Hannah. June's best friend's name is Moira, and for all intents and purposes, life is normal . . . until it's not.
2. How Gilead Came to Be
One of the most important plot points of the first season is introducing viewers to Gilead and how the world gets to this terrible place. We learn pretty early on in the series that a religious group called the Sons of Jacob plans a series of attacks to overthrow the government. They blow up Congress and the president, blaming it on Islamic terrorists. In the wake of the bombings, they establish martial law, suspending the Constitution and, you know, basic human rights, apparently.
June goes into work one day and is told by her boss that women are no longer able to have jobs. All females clear their desks and leave, only to find that the banks have suspended their accounts and they are no longer allowed to own land. Believing in "traditional" values, the Sons of Jacob believe that women should be powerless and stand by their husband's side. This is also why handmaids are named "Of," followed by the name of the Commander they serve.
Naturally, people began to flee to Canada, especially because officials are rounding up fertile women. This is where the series begins; June and her daughter are captured by guardians, while she believes her husband Luke is shot and killed.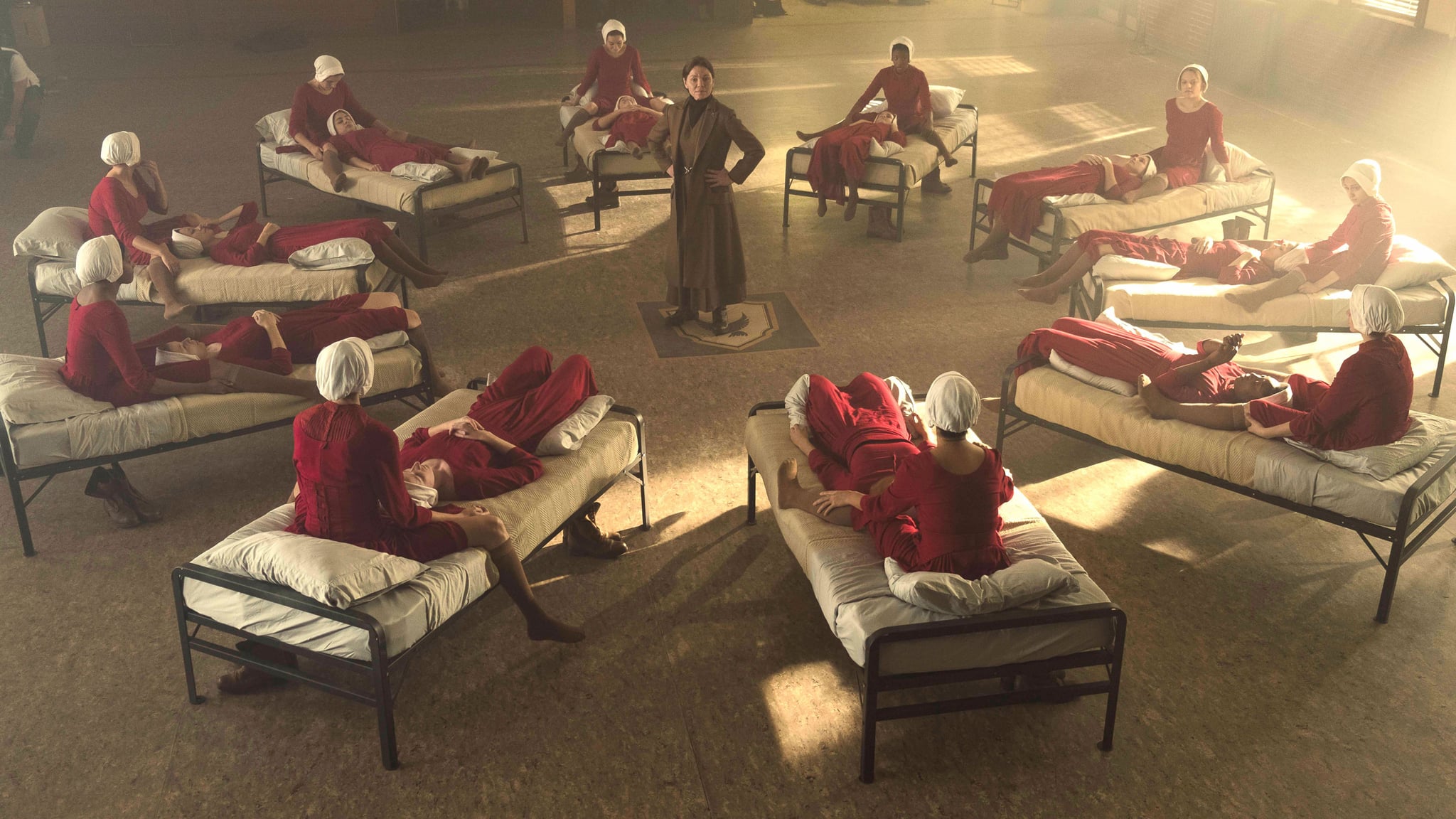 3. The Learning Center
Offred/June is taken to the learning center, where she's reunited with Moira. It's here that they're taught their handmaid duties and how "special" their role is in keeping the human race alive. Headed by Aunt Lydia, the girls are trained to perform their monthly "ceremony" in which their Commander will try to impregnate them while they lay in the wife's lap. It's no wonder that Moira and Offred attempt to escape by capturing an Aunt and stealing her clothes. They make it to the Boston subway before Offred is caught. However, Moira escapes. It's the last we see of her until almost the end of the season.
4. The Waterford Home
There are a couple characters you need to know in the Waterford home. Commander Waterford and his wife, Serena Joy, are major players in the government takeover. Serena, once a powerful businesswoman and traditionalist, is content giving up her spot in society to become a Commander's wife. Rita is a Martha (a housekeeper who does all the cooking and cleaning) and Nick is Commander Waterford's driver and an Eye, someone who reports traitors.
Commander Waterford begins to invite Offred into his office for late-night games of Scrabble and kisses, which is a major no-no in Gilead. She begins to use the talks and games to her advantage, asking for favors. For example, toward the end, she asks him to protect her daughter, who, as it turns out, is at a school not far from the Waterford home. This is also where we find out that the handmaid before Offred had killed herself.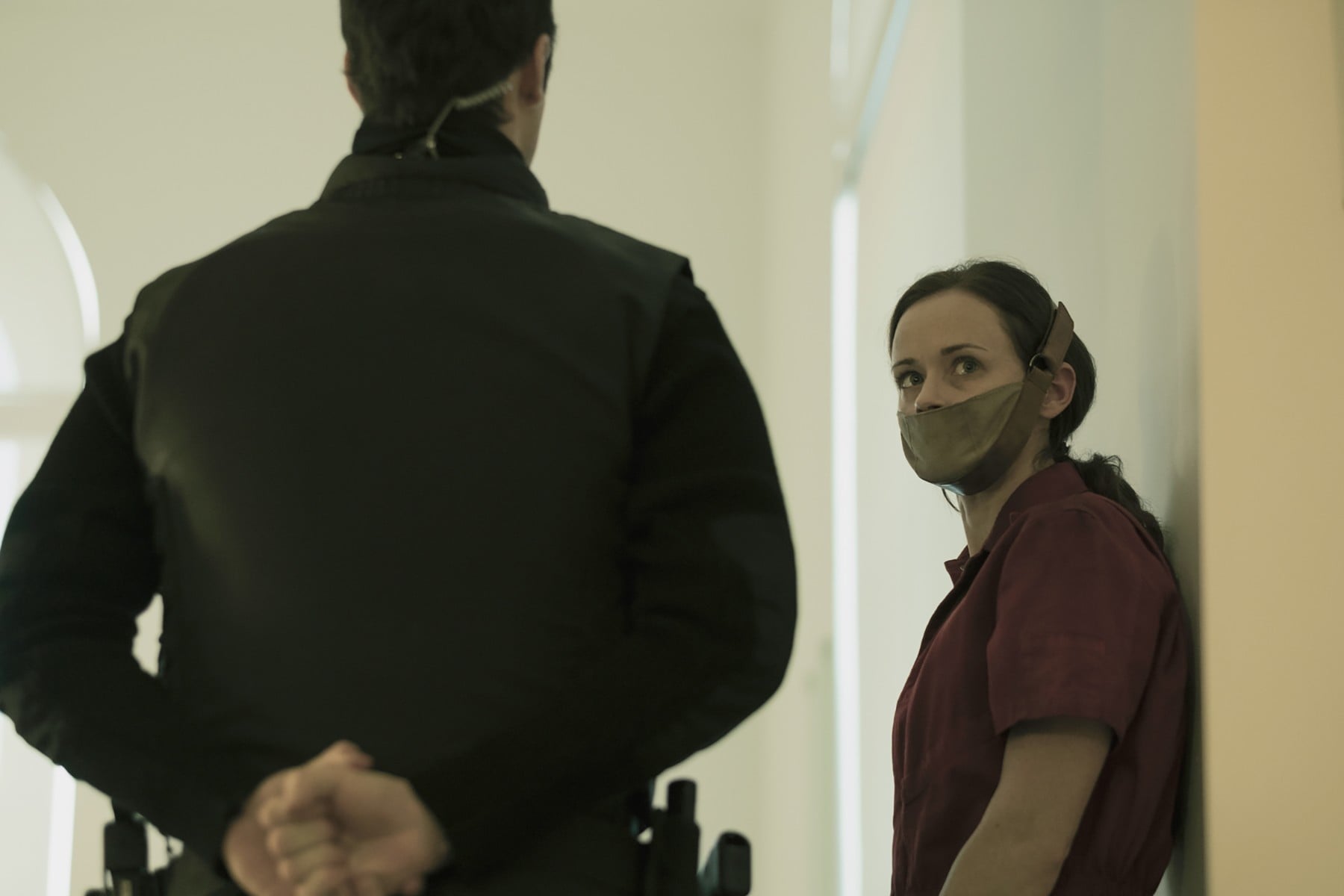 5. Ofglen Might Be Dead
Every handmaid has a partner they walk to the store with. Offred's partner, Ofglen (or Emily as she had once been called) is a lesbian working with the resistance called Mayday. One day, she doesn't show up at the gate and a new Ofglen has taken her place. We learn that she's been charged with having an affair with a Martha and they're both punished for their crimes. The Martha is hanged as Emily watches and she soon wakes up in a hospital having what Aunt Lydia calls "female genital mutilation surgery." She can still have babies, but she can't enjoy sex ever again.
She is sent back to a new Commander and her new name is Ofsteven. One day at the market, Emily jumps into an open car and tries to drive away before she's trapped by Guardians and Eyes. She's dragged away and thrown in a black van. It's the last we see of her . . . for now, that is.
6. Janine's Grave Mistake
Janine is someone who isn't super important, but also kind of is. Janine is used as an example throughout season one. For instance, when she disobeys rules at the learning center, she comes back without an eye. She's the first one of that particular group to get pregnant, and it's how we learn that the babies are ripped away from the handmaids, who are then sent along to their next house to do it all over again. In the finale, she's also the one who gives the handmaids cause to rebel.
After a failed suicide attempt, Janine is brought forth at a Salvaging, which is what they call public executions in Gilead. Handmaids are supposed to help with the executions, and, in this case, they want the girls to stone Janine to death. One by one, they each refuse to kill a fellow handmaid. We don't know what the punishment is for disobeying yet, but it seems their refusal could be a big part of the uprising next season.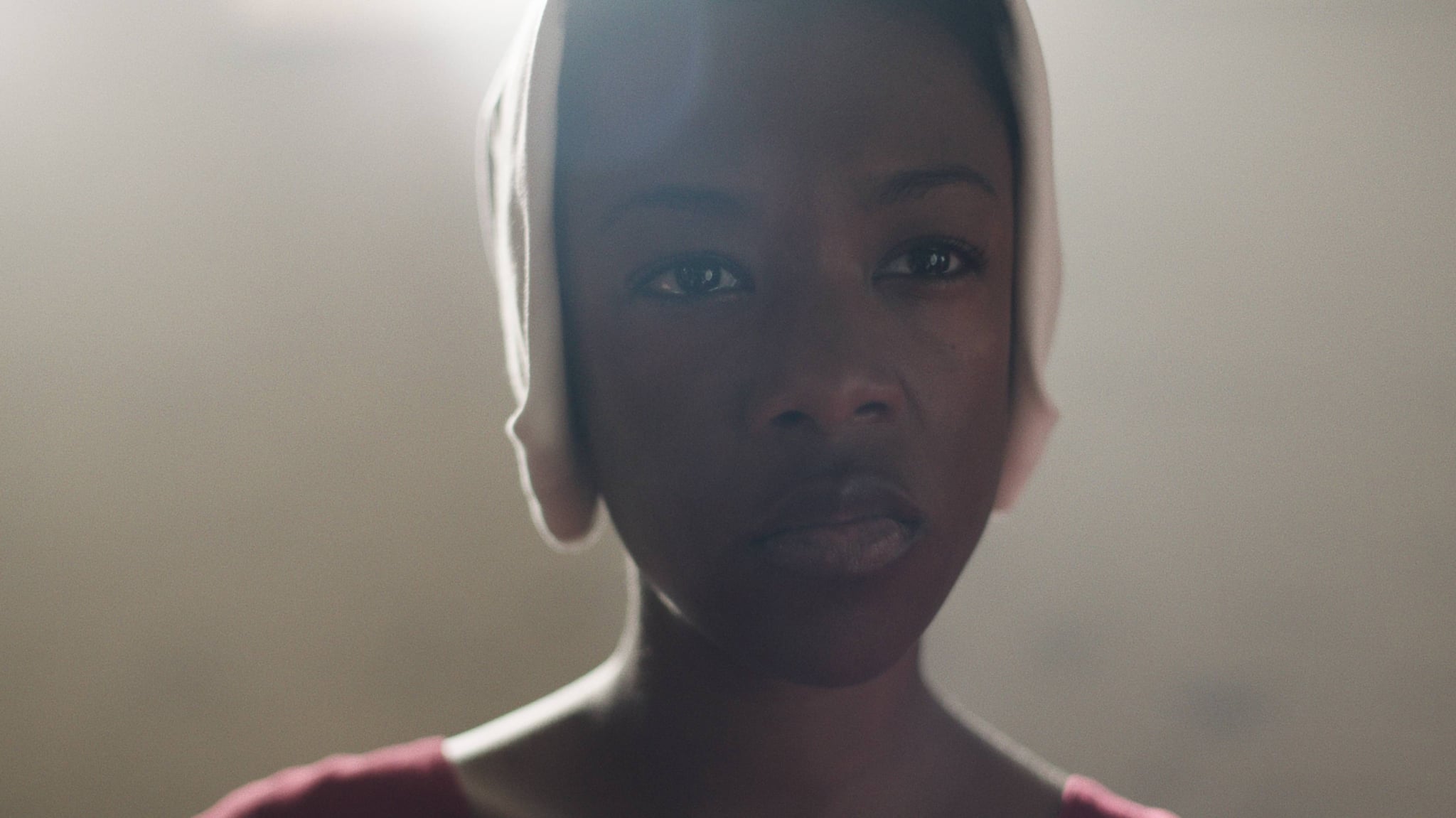 7. An Update on Moira
We finally see Moira again at Jezebel's, a secret brothel for Commanders. Waterford brings Offred there as a surprise and to have sex with her outside the confines of their home. Moira tells Offred that she was almost free when she was caught and forced to come work as a prostitute at the club. If she disobeys any of the rules, she will get sent to clean up toxic waste in the colonies until she dies. It seems like Moira's hope of escaping has completely dwindled, until Offered tells her to "keep her f*cking sh*t together" and keep fighting.
We then see Moira take out a guard, dress in his clothes, and drive away. She ends up making it to Ontario and out of Gilead. Who's there waiting for her? Luke, who we learn halfway through the season is alive. He had escaped with a group of people and made it into Canada. Now that Moira and Luke are together, we will get to see them hopefully join the resistance together in season two and try to save Offred.
8. Offred Is Pregnant
Saved the best spoiler for last. About halfway through the season, when it's clear that Waterford would not be able to get Offred pregnant, Serena takes matters into her own hands and arranges for Nick to sleep with her. Little does she know that Nick and Offred start making their visits a regular thing. This is when we kind of start to realize that even though Nick is an Eye, he definitely has feelings for Offred that are sure to play out more in season two.
In the final episode, we learn that Offred is pregnant, presumably with Nick's baby, but because of her defiance at Janine's salvaging, a black van comes to take her away and punish her. Nick tells her that it's OK and to trust him. The season ends with Offred getting into the back of a van with an unknown future lying ahead of her.
Chilling, right? Season one wraps up the same way the novel ends, but luckily it's not really the end for us. The Handmaid's Tale season two will be here on April 25.