Michiel Huisman Interview on Game of Thrones Season 5
Game of Thrones Star Michiel Huisman Dishes on Daario and Season 5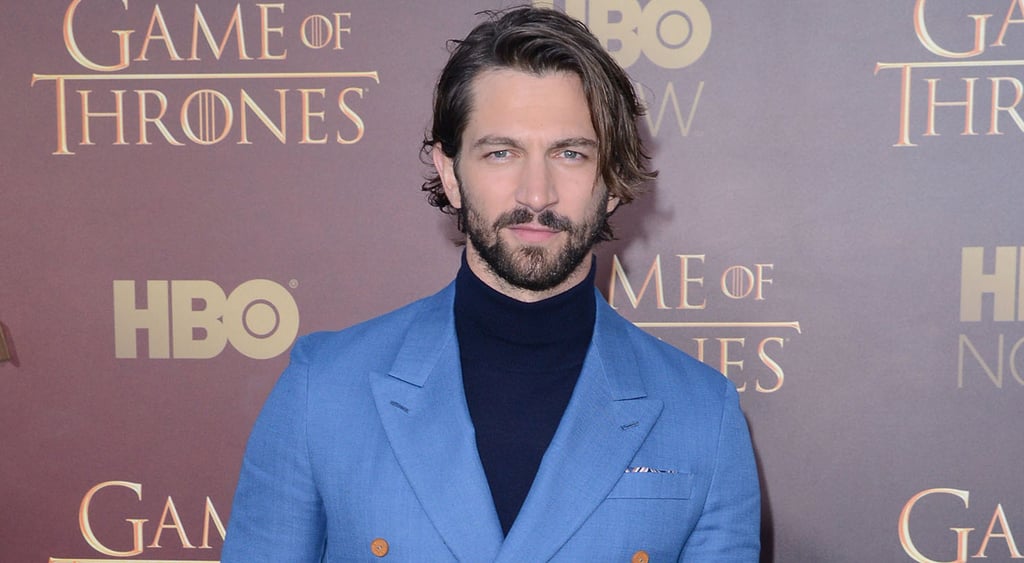 Game of Thrones returned this week with an exciting start to season five, and just after the show's premiere, we sat down with actor Michiel Huisman to talk about his character and what's in store for the season. The actor stepped into the role of Daario Naharis last year, bringing a fresh take to the character that was previously played by Ed Skrein. In just a short time, he's won over fans with his onscreen charm and some pretty sexy moments, and he promises even more action (maybe in more ways than one?) in upcoming episodes. Keep reading for his behind-the-scenes scoop on Game of Thrones, then check out more from our interview with Michiel Huisman to see what he had to say about his upcoming film, The Age of Adaline, and his costar Blake Lively.
POPSUGAR: Game of Thrones premiered this week, and we saw . . . a lot of you.
Michiel Huisman: [Laughs.] Awkward!
PS: Things are heating up between Daenerys Targaryen and Daario. What do you think draws her to Daario so much?
MH: The obvious answer would be that he is one of the few people around her that is not afraid of her — is not afraid to die, basically. And he's very straightforward in his desires. Really, he would do everything for her, but he's not afraid to tell her what he thinks is the truth. So maybe she appreciates that.
PS: What is it like to film Game of Thrones? Obviously it's a totally different experience compared to a TV show or a movie. What is that experience like?
MH: If I compare the differences between shooting for TV shows versus film, then Game of Thrones doesn't fit into either one. It's a whole different experience. The scope is larger than any movie set I've ever been on. I worked on World War Z, which was this big production, and you could feel it in everything. But Game of Thrones feels like it's up there.
PS: It's a world.
MH: It's a world! Really. And this season, there are going to be a couple of moments where the scope is just so big. This was like no way that I thought that a TV show could ever feel, with lots of extras and special effects and people coming in that I haven't seen before. We already have a large crew, but then all of a sudden, there are 40 people — only visual effects — for some dragon stuff or something. It's really amazing to be a part of it, and then to be part of it when it's just exploding the way it is makes it very, very special.
PS: Kit Harington has mentioned that he's trying to know only his own storyline this season. He wants to be surprised and watch it with everybody else. Do you know what's going on everywhere, or will it be a surprise to you?
MH: I only joined last year for the first time, and I only did a couple of episodes and only knew my own storyline. This year, for season five, I was granted all the scripts in advance and I really enjoyed that. I wanted to kind of get a better sense of how everything relates to everything we're doing in our world just in case that will feed into our stuff. I could totally see that if you're doing the show for a number of years, then maybe you're saying, "You know what, I'm not gonna read anything else. I'm just going to focus on my own thing." But I like to [know]. And it's such good stuff. I can't help myself. I've got to read what's happening.
PS: I'm hoping you'll play a game with me to decide what Daario's dating profile would look like. What would his ideal first date be?
MH: I think his ideal first date would be taking his date to some journey through a land that he knows well or something. Take her and show her some wonder of nature or something like that . . . That's a double entendre, right?
PS: That is a double entendre. And what do you think he's looking for in a mate?
MH: You know, he's a very strong man, right? He's a warrior who is not afraid to die. I think that's a big thing for him. In that sense, finding someone that he really cares for, like he does with Dany. It's kind of dangerous, too, for someone who wants to be strong and kind of his own island. You're not yourself anymore. You have a weak spot.
Related: