Michiel Huisman Interview on Blake Lively and Age of Adaline
Michiel Huisman on Blake Lively: Something in Her Has Kind of "Always Been a Mom"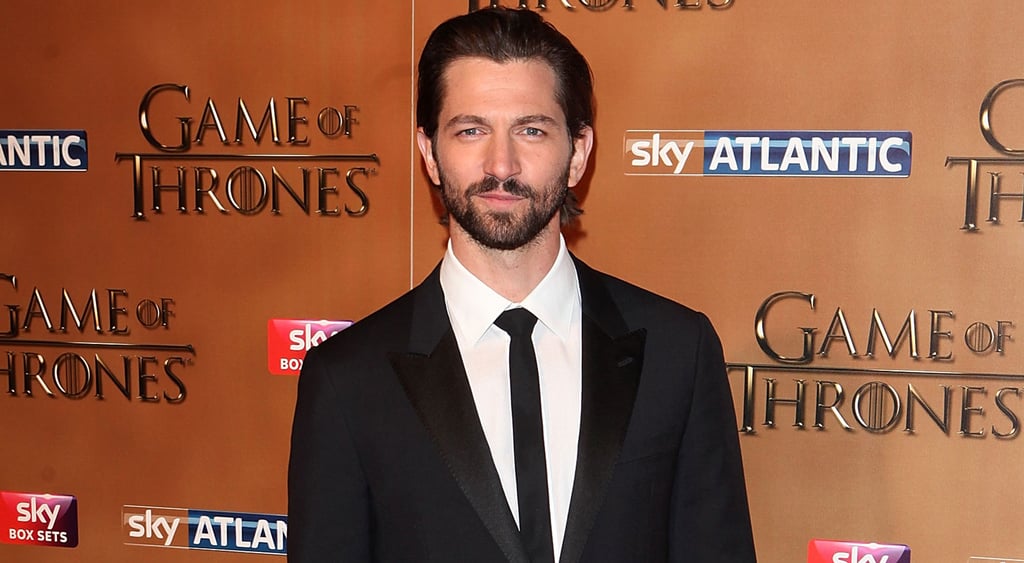 Michiel Huisman is well-known for his many standout TV roles, but this month, he's hitting the big screen opposite Blake Lively in the romantic drama The Age of Adaline. Chances are you recognize the handsome actor from shows like Game of Thrones, Nashville, and Orphan Black, or maybe you remember him as Jonathan in Wild. In this month's film, Michiel plays Ellis, the charming, romantic man who falls for Adaline (Blake), a woman who never grows old. We recently sat down with the actor to talk about the movie, and he touched on what he loved about the film, what he had a hard time accepting, and why it felt like such a "natural thing" for Blake to become a mother in real life. Keep reading to see what Michiel had to say about his costar and his upcoming film, then check out what he told us about Game of Thrones.
POPSUGAR: What drew you to the movie?
Michiel Huisman: Coming off of a lot of TV shows, I was really hoping to make that jump to movies. I couldn't believe that I would have the opportunity to make this much of a jump, to play the male lead opposite people like Blake and Harrison Ford and Ellen Burstyn in a proper Hollywood romantic drama. I love the story and the premise and how it played with that idea of immortality being actually a burden and not, you know — forever young is actually not something you want.
PS: What was your first impression of Blake when you guys met?
MH: It's always a little scary in a romantic movie like The Age of Adaline. I think it's very important that you believe that these two people are meant for each other, and that you buy into the chemistry, and that's something that's either there or it's not really there. I felt like right from the start we had a lot of fun, and I was very impressed by how she approached her role, which I think was very challenging. As we were shooting it, I thought, "Wow, she's really found a way to kind of dial in that 100-year-old woman, that old soul." When you're working with someone and you're looking at them and you're thinking, "Wow, you're doing a great job," that makes you want to step it up, too. It's very inspiring.
PS: Blake is a new mom now, so have you guys gotten to kind of bond over the parenthood during your press tour? Did you have any advice for her?
MH: I would never even try to give someone advice on parenting because it's so hard, and you kind of figure it out as you go. But Blake, even before they had their child, there's something in her that kind of has always been a mom, I think. To me it seems a very natural thing for her to now actually be a mom to their daughter.
PS: Did you have a favorite scene to shoot or a favorite moment in the filming process?
MH: God, there's so many. If I have to pick one, then I'm going to pick the moment that has also been used in the trailer quite a lot — when she's finally at my house and we're about to kiss and then she holds back and she says, "Tell me something to hold on to forever and never let go." It's one of the reasons why I love to act and being an actor, because maybe in real life, I would not know what to answer, and then my character just has such a great answer. So simple, and so true. It speaks to her life in general but also to the moment and it's so unassuming. It's great. He says, "Let go." That's it.
PS: Are there any words of wisdom, or is there a sort of mantra, that you hold on to?
MH: Not really. I don't really have a motto or anything. There's been an actor, once, who said something like, "You know what, don't try to do your best. Just be, you know?" And I think that sometimes for me, as an actor, you try to nail it or whatever. And actually, that's not really what it's about. It's about other things, and so, don't do your best. Of course, at the same time, I'm really doing my best. It's just sometimes it helps to kind of relax and think, "You know, I'm just going to breathe and be."
PS: One of my favorite moments in the film is when he plays jazz for her and she's like, "No, no, this isn't jazz."
MH: I had a very hard time accepting that.
PS: Right, you're a musician. So what would you have played on a first date?
MH: Oh, what a great question. I'm actually a big jazz fan. The first thing that comes to mind is Time Out by Dave Brubeck. I love that vibe, so maybe that song. If it was me during that date, I would have played that, and then hopefully she wouldn't have said, "This is not jazz."
PS: Yeah, that's a bad move when someone doesn't like it.
MH: It's funny that you mention that because as a music-lover, I always had a little bit of a problem with that. Like, really? I play a character who doesn't really know that this is not gonna be good?
PS: He also gives her books as "flowers," which I thought was clever. If you were going to give someone a book to try to win them over, what book would you give them?
MH: I'm thinking of the book I bought two weeks ago here in San Francisco at City Lights. It's this new book about a woman who fantasizes about being a man and all this stuff. I bought that book and I gave it to my wife and I hope I win her over. I hope I win her over and over again.
PS: Obviously Ellis has this great leading lady in Adaline, and you've had this awesome roster of awesome leading ladies on screen — Blake, Connie Britton, Reese Witherspoon, Emilia Clarke, Tatiana Maslany. The list goes on. Is there anything you've learned from working with all these strong actresses?
MH: They're there for a reason, you know? We look at them as the strong leading ladies of our time for a reason, because they are not only very talented, but also very fun to be with, professional, focused, and invested in what they do. I really admire all of them.
PS: One last question: if you could relive any one year of your life, which would you pick?
MH: A year, and then you can move on? . . . Time flies so fast. Maybe the year that our daughter was born. So you know, my wife being pregnant again, and then having the baby. Yeah, that was an amazing time. I'd do that year again. Without having another child! That's great.