Orange Is the New Black True Story
The True Story Behind Orange Is the New Black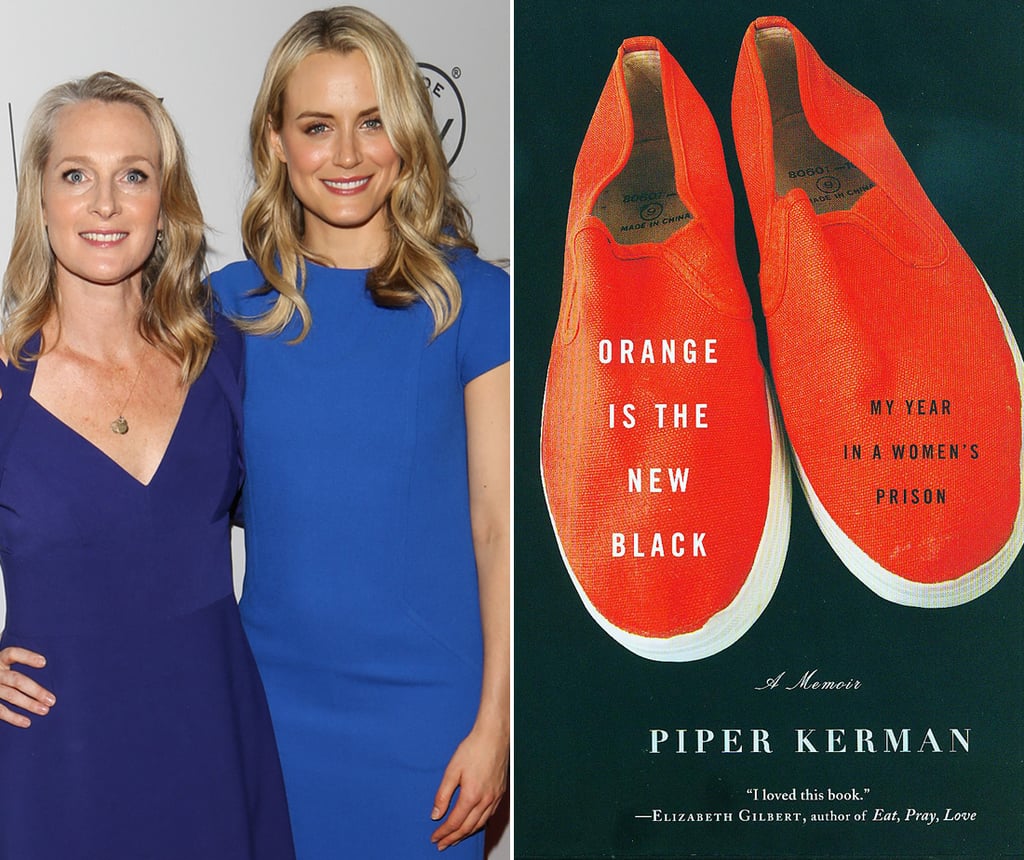 If you're a fan of Orange Is the New Black, then you know by now that it's based on the real experiences of Piper Kerman. Kerman, known as Piper Chapman (and played by Taylor Schilling) on the show, published a bestselling memoir of the same name. While Kerman says the show, headed by Weeds creator Jenji Kohan, is not a docudrama whatsoever, her real-life experience does come through in the series. Obviously, the show has diverted a lot since we've been through seven seasons now.
The Crime
After college, the real Piper Kerman fell for a woman caught up in an international drug ring. In the book, she calls her Nora, and if you watch the show, you know her as Alex (played by Laura Prepon). The real Piper smuggled $10,000 from Chicago to Brussels, Belgium, during her time with Nora, and 10 years later, the law caught up with her. In a 2010 interview with NPR, Kerman said that while she had long harbored resentment toward Nora, during her time in prison, she accepted full responsibility for the drug-ring days. She said, "It was a reckless and selfish time in my life."
The Author Fiancé
Just like in the show, Kerman had a fiancé named Larry (Larry Smith, who is a writer), who was by her side during her incarceration. In the show, Larry, played by Jason Biggs, writes a Modern Love article titled "One Sentence, Two Prisoners" in season one. The real Larry's Modern Love piece was published on March 25, 2010, with the title "A Life to Live, This Side of the Bars." In the real column, Larry recalls how he and Kerman reacted when her past came back to haunt her: "To say she was freaked out and wondering if I would stick around for the messes sure to come is an understatement. To say that it never once crossed my mind to bail on her is simply a statement of fact." In her own memoir, Kerman said this of the column: "Even here, without him, I couldn't imagine any sweeter Christmas present." Kerman wed Smith in 2006, and they're still married. Obviously, on the show, Larry has been long gone, having left Piper for her best friend.
The Prison Rules
In the Orange Is the New Black book, Kerman wrote about the official and unofficial rules of prison life, many of which are played out in the series:
"I had learned a lot since arriving in prison five months ago: how to clean house using maxipads, how to wire a light fixture, how to discern whether a duo were best friends or girlfriends, when to curse someone in Spanish, knowing the difference between "feelin' it" (good) and "feelin' some kinda way" (bad), the fastest way to calculate someone's good time, how to spot a commissary ho a mile away, and how to tell which guards were players and which guards were noth-in' nice. I even mastered a recipe from the prison's culinary canon: cheesecake."
In her NPR interview, Kerman also discussed how race played a part in how people organized in prison. But she also explained that as time goes on, the "tribal" organization becomes looser: "While initially people might sort of gravitate toward the people who are the same color of them, I think that matters less and less the longer you're there."
Kerman's husband's real New York Times column also touched on the strict rules that play out in the show's many visitation scenes. He wrote: "No one else in my life knew the reality of our circumstances, like why buying your lady a Diet Coke from the vending machine in the visiting room (because our women weren't allowed to touch money) was among the greatest acts of love you were capable of performing."
The Cast of Characters
One of the most distinctive aspects of the Netflix show is its diverse ensemble cast. While many are purely fictional, others are adapted from people Kerman actually came across in prison. While show writers created the backstory for Sophia, played by transgender actress Laverne Cox, there was a trans woman living next door to Kerman in prison, whom she calls Vanessa in the book. Also, Kerman dedicated her book to the Red character, whom she calls "Pop" in the memoir. In the book, she recalls Pop saying:
"Listen, honey, I know you just got here, so I know that you don't understand what's what. I'm gonna tell you this once. There's something here called 'inciting a riot,' and that kind of shit you're talking about . . . you can get in big trouble for that . . . so take a tip from me, and watch what you say."
Finally, the true nature of the relationships are also captured. "A lot of folks sort of ask salacious questions about the romantic relationships between women," Kerman said in 2010, "but I think the dominant paradigm of women's relationships in prison is the mother-daughter relationship."
The Ex
Kerman gave a TED talk in 2013 about the prison system, peppering it with details about her own incarceration. In it, Kerman shared bits about people who inspired characters on the show — like the ex-lover who got her into the drug trade. At the seven-minute mark of the video below, Kerman shares how confronting her ex helped her confront her past.
The SHU
Season two begins with Piper serving time in the SHU for attacking Pennsatucky, but in real life, Kerman never had solitary confinement. She did, however, testify before the Senate in 2014 on behalf of eliminating the use of solitary as punishment.
Furlough
A big season two plot point for Piper is how she gets furlough when she finds out her grandmother is dying. In the show, she misses her death but still gets to head home for a couple of days. In real life, Kerman also lost her grandmother but didn't get furlough or to say goodbye. She told EW in a 2010 interview: "It's devastating when you confront how selfish actions you've taken are preventing you from being there for the people who need you the most. That's a terrible, terrible thing."
— Additional reporting by Shannon Vestal