Will Roger Time Travel Back to the 1970s in Outlander?
Outlander's Executive Producer Dishes on That Roger Cliffhanger: "He's in a Dire Situation"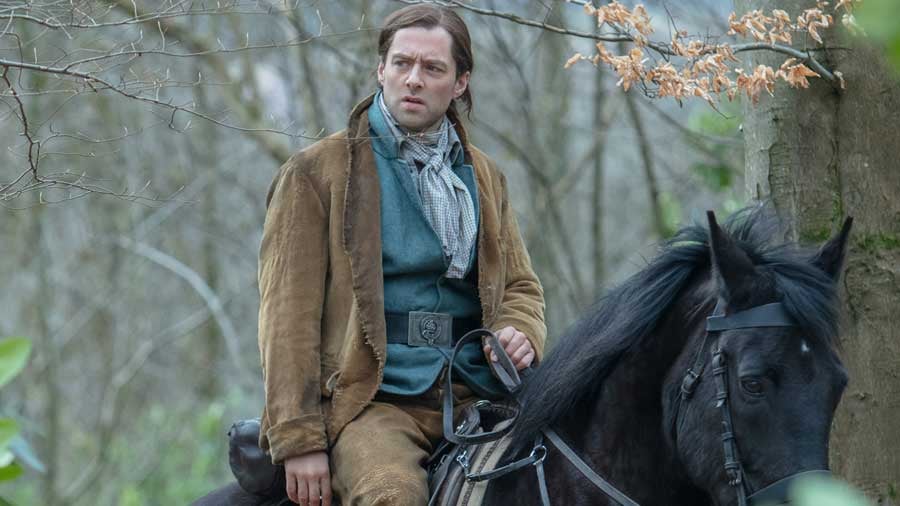 The latest episode of Outlander, "The Deep Heart's Core," ends on a suspenseful cliffhanger. Luckily we've got the scoop from executive producer Maril Davis about how it might not turn out the way viewers are expecting. Read on to find out what she teased for us about next week, but warning: spoilers for episode 10 ahead!
In the episode's waning moments, Roger (Richard Rankin) is on the run, having escaped from the Mohawk tribe to which Ian (John Bell) sold him after the spectacularly awful misunderstanding between everyone about Roger being the man who raped Brianna (Sophie Skelton). While captive, Roger has been counting the days and making note of landmarks so that he can find his way back to Fraser's Ridge and try to make things right with Jamie (Sam Heughan), unaware that it's kind of Jamie who needs to make things right with Roger.
During his dash through the woods, however, Roger happens upon a standing stone, making the same buzzing noise as the ones at Craigh na Dun in Scotland. He immediately realizes the significance of what he has stumbled across, and he even has some gemstones in his pocket, which should help him focus and be able to time travel back to the 1970s. So . . . is he going to leave Brianna behind in order to save his own life from the pursuing Mohawk?!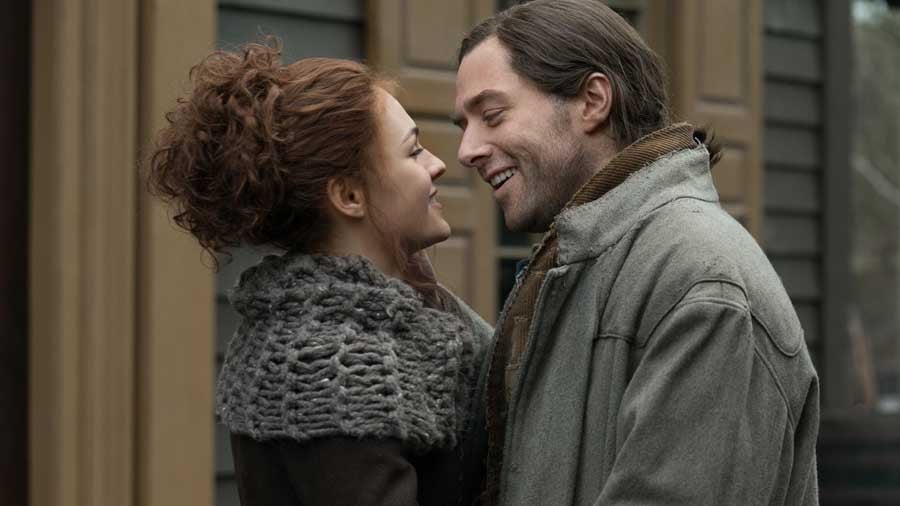 "What would you do?" EP Davis asked with a laugh when we brought it up to her, adding that anyone would have to consider it if their life were at stake.
"Things have not gone so well for poor Roger," Davis said. "He's had the worst journey of anyone. [laughs] The poor guy got on Stephen Bonnet's ship, he had a horrible falling out with Brianna, a horrible run-in with Jamie, a horrible time in this time. As has Brianna. But that's something we're trying to work with, all these things — you would clearly want to try to save yourself. You're in this time for the love of your life, but there are certain pressures that put the squeeze on you . . . he's in a very dire situation right now."
So, does that mean he's going back? Davis obviously won't say one way or the other, so non-book readers will just have to wait for next week. But she does say that even though there is a lot of book material left to cover in the final three episodes of season four, she thinks they crafted "a very satisfying ending to the season."
"I'm thrilled the way it all worked out," she assured us. "We certainly break out the season where we pull out the tentpole moments and want to make sure we hit everything, and I'm sure that we did that."