Spice Girls 2019 Tour Review
I Flew 3,000 Miles to See the Spice Girls in Concert, and It Was Worth Every Penny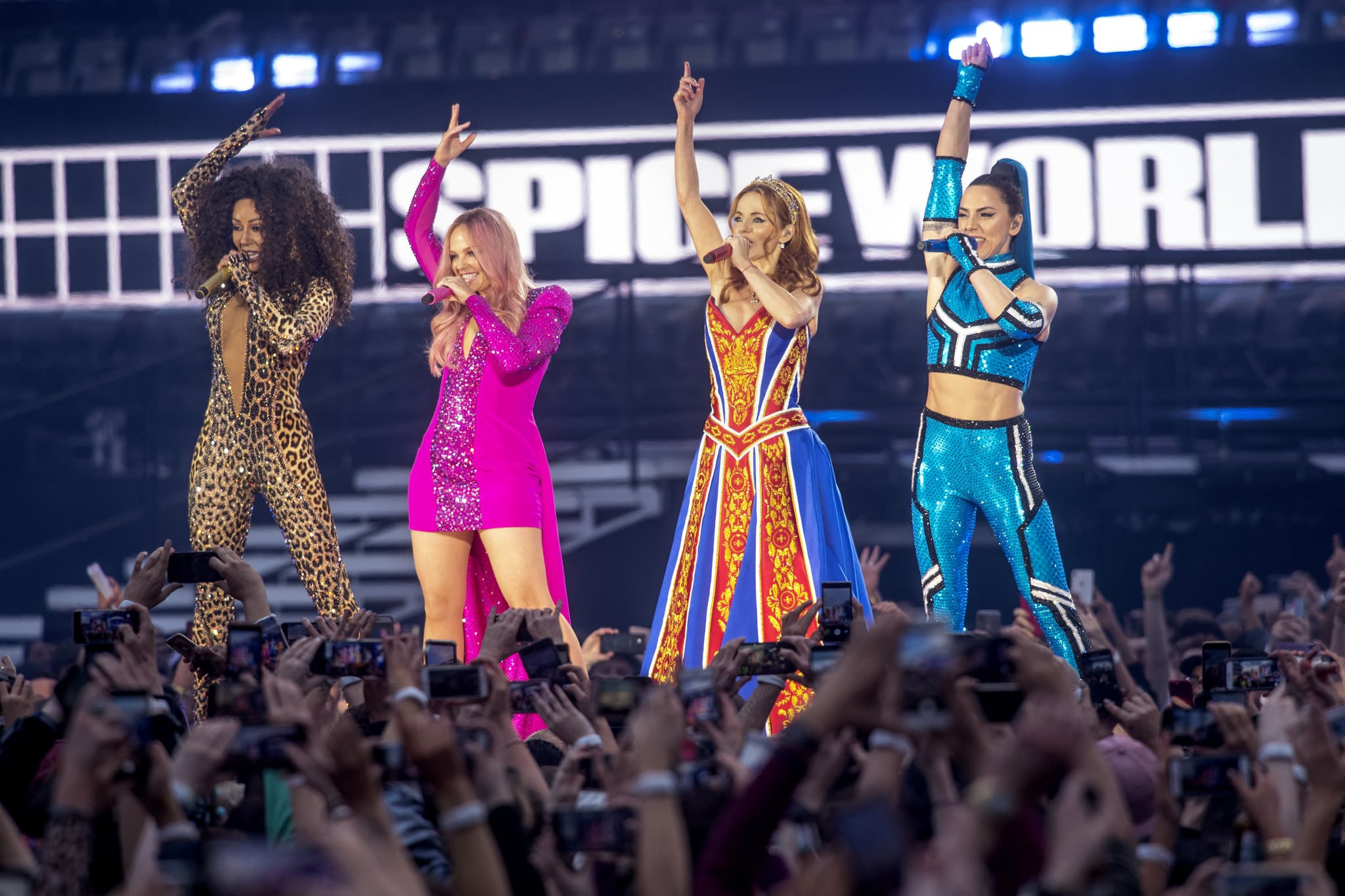 When I was 11, my parents did the unthinkable: they took me on vacation to Hawaii instead of letting me stay home in Ohio to go to the Spice Girls concert with my best friend. After 21 years of pain and suffering from missing seeing my idols live in concert (oh the horror!), I finally got to make my dreams come true when I saw the group perform on their reunion tour this year in London. The concert was everything 11-year-old Hedy dreamed of and more, and that is not even an exaggeration.
Today's Spice Girls — Geri "Ginger Spice" Horner, Emma "Baby Spice" Bunton, Melanie "Scary Spice" Brown, and Melanie "Sporty Spice" Chisholm — set out on a mini stadium tour this year to bring Spice World to their fans, 25 years after becoming a band. Though the group admittedly feels like its missing a piece, thanks to Victoria "Posh Spice" Beckham deciding not to participate, the four remaining members put on the show of a lifetime anyways. They performed their mega hits — which they made sure to remind the crowd that they had written themselves two decades ago — like "Spice Up Your Life," "Viva Forever," and "Mama" to tens of thousands of devoted fans who had waited years to see the girls on stage together again.
Seven months ago, I bought VIP tickets — aptly named the Zig Ah Zig Ah package — for one of three shows at Wembley Stadium in London and proceeded to spend all my time counting down until I could slam my body down and wind it all around and scream "Wannabe" and "2 Become 1" in a crowd of my fellow fans, with one of England's most iconic musical acts ever on a stage in front of me.
On Friday, June 14, the atmosphere at Wembley was electric. The stadium was packed with millennials — both men and women — decked out in custom-made Spice Girls gear, old-school Spice Girls merch, or even outfits meant to look like one of the girls themselves. As for me? I was the Mel C. to my friend's Mel B., of course. We immersed ourselves in a crowd of people from all walks of life and from literally all over the world, and on this night, we were all part of the Spice Girls family.
The show started with a group of dancers, dressed thematically like one of the Spice Girls, hyping up the crowd and readying us for the stars to take the stage — and when those four popped up from under the stage, the screams were deafening. And I say this as someone who has been to One Direction, Jonas Brothers, and Shawn Mendes concerts.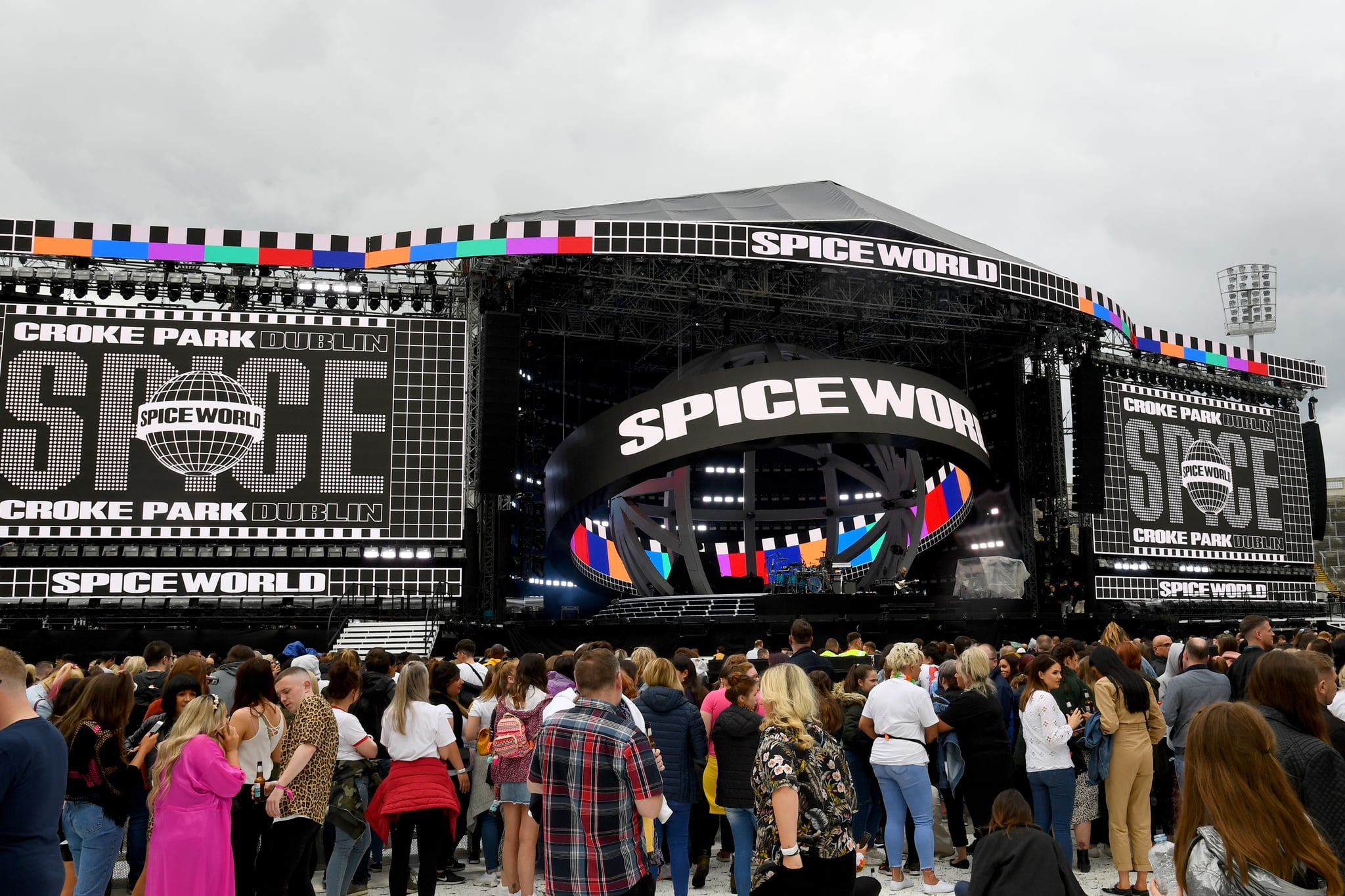 For two hours, Geri, Emma, Mel B., and Mel C. danced around a giant stage, changed outfits numerous times, cracked jokes, gushed about how much they loved each other, drank tea from little teacups, and sang the songs of our childhoods. What was so impressive is that these are women in their 40s — who joked about their ages over and over — and had the energy and spirit of their 20-year-old selves. Anyone who walked in those gates and thought they were going to get a half-assed performance by some tired middle-aged women was so incredibly wrong. These ladies — all moms and in way better shape than I've ever been — never flagged the whole night. Did I mention that Mel B. literally ran up and down the stage in heels? Because that happened.
But what made this show possibly better for 32-year-old me than it would have been for 11-year-old me is how much more I understand the concept of girl power now. Girl power has always been the root of everything the Spice Girls stand for, and the message was out in full force on this tour, but now they've expanded on it. While they're still strongly in support of other women, now the Spice Girls have embraced inclusivity as a whole. The show was packed with rainbows and messages of acceptance of anyone and everyone. And in a time when the world is so filled with hate and uncertainty, it's so wonderful to be in a place where you can feel safe and welcome.
With confetti raining down on the crowd and fireworks blasting off behind the stage, the Spice Girls delivered the show of a lifetime. They thanked us over and over for sticking with them after all these years and professed their love for each other — their sisters. But as a fan, I can confidently say they're easy to love. Sure, 11-year-old Hedy loved to dress up like them and choreograph horrible dances to their music, but as the years have gone on, I've realized there's so much more to love about them. I love how genuine they are, I love how supportive they are of each other, I love that they don't begrudge Geri for leaving the group or Victoria for not joining the reunion. I love that they bickered on stage like actual family members, poked fun at each other out of love, and let their vulnerable sides out while shedding a few tears of gratitude.
I've been to a lot of concerts in my life, and I can easily say this is one of the best I've ever seen. It's not easy to command an entire stadium, but the Spice Girls did it, and they did it with spirit and love. I know 11-year-old Hedy would be so glad I made that dream come true of getting to see them live in concert, in their home country no less. Now what I really, really, really want is another tour so I can do it all over again.